Many of us who identify with being a Highly Sensitive Person (HSP), frequently live in a near-constant state of sensory, emotional, and physical overstimulation, or overwhelm. Overwhelm is the emotion that rises up when we are overstimulated in one or more areas. It can be hard to plan ahead, evaluate a situation, adjust expectations, and experience overwhelm despite everything you've done to prepare. And yet, as HSPs, we need to be prepared with an arsenal to combat the overwhelm feeling that will inevitably overtake us from day to day. In this article, I'd like to share these bold affirmations for overwhelmed HSPs.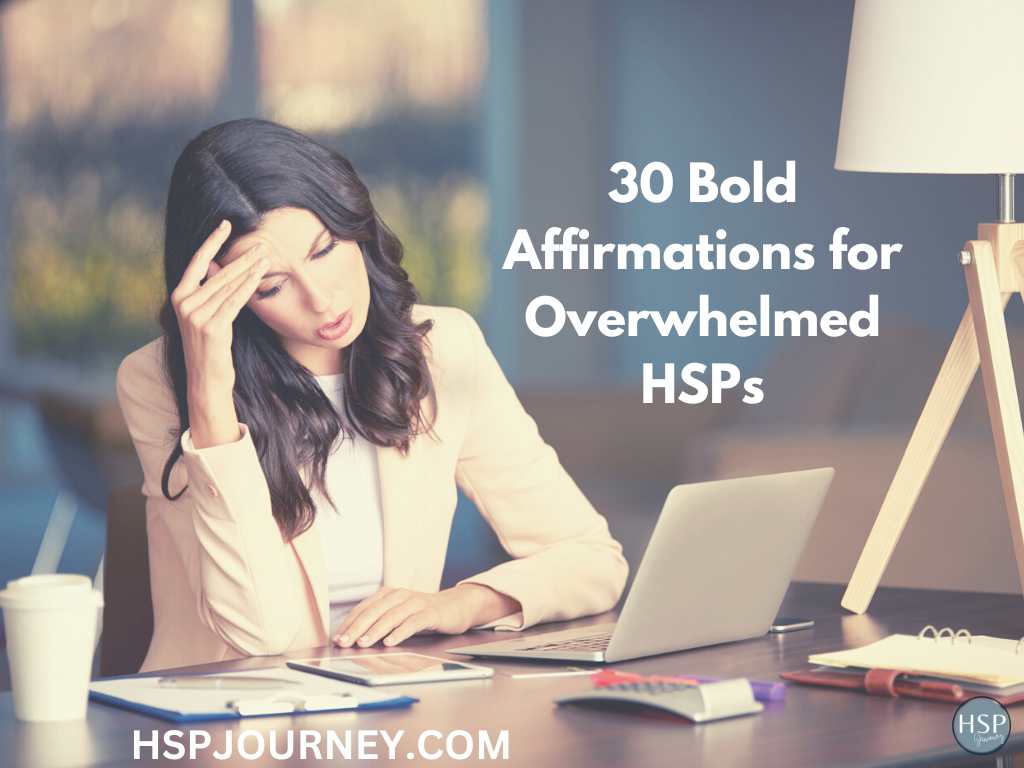 Table of Contents
Why do highly sensitive people get overwhelmed?
Highly Sensitive People (HSPs) tend to get overwhelmed more easily than others because they process sensory information more deeply and thoroughly. This means that they are more aware of subtle changes in their environment, such as bright lights, loud noises, or strong smells, which can be overwhelming and overstimulating. Additionally, HSPs tend to have a more active emotional response to situations, which can also contribute to feeling overwhelmed. They may feel more deeply affected by negative emotions, such as sadness or anxiety, and may need more time and space to process and recover from these feelings. Overall, being highly sensitive can be both a strength and a challenge, and it is important for HSPs to practice self-care and set boundaries to prevent becoming overwhelmed.
10 Self-Care Affirmations for Overwhelmed HSPs
I prioritize my self-care and make time for it every day.
Taking care of myself is not selfish; it is necessary for my well-being.
I am worthy of love and care, including from myself.
I listen to my body and give it what it needs to feel healthy and happy.
I am grateful for the opportunity to care for myself and improve my life.
I am patient and compassionate with myself as I work on my self-care habits.
I trust myself to make the best choices for my self-care.
I am deserving of rest and relaxation, and I allow myself to take breaks when needed.
I am committed to my self-care routine and will not let external factors derail me.
I am proud of myself for prioritizing my self-care and taking steps towards a healthier, happier life.
Sometimes the first step is to recognize that you need to acknowledge your self-care needs as an HSP. We aren't high maintenance, we are high sensory and sensitivity – these are two distinct things. The good news is that you can provide yourself with exactly what you need in most cases. The first step is the know that you have a body and mind with distinct needs. You have been created by God for good purposes and you are the best person to know your needs and equip yourself with the self-care necessary to flourish in your life today and every day.
10 Confidence Affirmations for Overwhelmed HSPs
I am confident in my ability to handle any situation that comes my way.
My sensitivity is a strength, and I embrace it fully.
I trust my intuition and inner guidance to lead me towards the right decisions.
I am capable of setting boundaries that protect my energy and well-being.
I am proud of my sensitivity and the unique perspective it brings to the world.
I am deserving of love and respect, and I will not settle for less.
I am confident in my ability to manage my emotions and handle stress effectively.
I trust myself to make the best choices for my life and well-being.
I am resilient and capable of bouncing back from any challenges I face.
I am worthy of success and happiness, and I will not let my sensitivity hold me back from achieving my dreams.
Sometimes we tell ourselves the story that being sensitive is holding us back from living a full life. In fact, our story is unique to us and can't be replicated by anyone else. You may have times when you feel energetic and extroverted and other times when you're feeling depressed and sad. The more you can focus on building confidence through affirming positive aspects of the sensitivity trait, the more you can lean on these affirmations in times of difficulty. While positive affirmations are not enough to pull yourself from a deep depression (please seek counseling or the suicide hotline for help: 988 on your mobile phone or text), they often can be enough to pull us from a momentary bout with overwhelm. Consider printing some of these affirmations or rewriting them on Post-it notes and placing them on the fridge, mirror, etc. to help yourself stay positive.
Sensory Overload tends to be one of our biggest challenges as HSPs. It is when our senses take in more information than our brain can keep up with processing. You might be surprised that it is often the culprit of symptoms of emotional reactivity, anxiety, irritability, sleep issues, exhaustion, and even loss of productivity, creativity, and focus. What makes it extra hard is that the world isn't set up for those of us with high sensitivity. Have you been challenged by your sensitivity and labeled as "too sensitive" or "overly emotional"? Do you know how Sensory Overload impacts you? Join me to learn more and uncover solutions that will help you thrive to your fullest level of wellness.
Sensory Overload & The Highly Sensitive Person Webinar with Julie Bjelland
10 Anti-Overwhelm Affirmations for Overwhelmed HSPs
I am able to deal with all the life throws at me, now and in the future.
I trust myself to make the best decisions for my well-being.
I take things one step at a time and prioritize self-care.
I am grateful for the good things in my life and focus on the positive.
I am strong and resilient, and I will get through this.
I am deserving of rest and relaxation, and I allow myself to take breaks when needed.
I am in control of my thoughts and emotions, and I choose to focus on the present moment.
I am open to asking for help and support when I need it.
I trust that everything will work out for my highest good.
I am proud of myself for taking care of myself and managing my overwhelm.
My HSP friend, you are worthy, enough, and valuable. I'm so happy you've read to this point in the article and I'm proud of you for taking care of yourself when you get overwhelmed. It's normal to feel this way and your are not alone.
HERE ARE SOME TIPS TO NAVIGATE OVERWHELM WHEN IT HITS:
Prioritize your tasks: Make a list of all the tasks that need to be done and prioritize them based on their importance and urgency. This will help you focus on the most important tasks first and avoid feeling overwhelmed by the sheer number of things to do.
Break tasks into smaller steps: Breaking down tasks into smaller, more manageable steps can make them feel less overwhelming. This can help you focus on one step at a time and avoid feeling like you need to tackle everything at once.
Practice self-care: Taking care of yourself is important to avoid feeling overwhelmed. This can include getting enough sleep, eating healthy, exercising regularly, and taking breaks when needed.
Learn to say no: If you feel like you have too much on your plate, it's important to learn to say no to additional tasks or responsibilities. This can help you avoid taking on too much and feeling overwhelmed.
Take breaks: Taking short breaks throughout the day can help you recharge and avoid feeling overwhelmed. This can include going for a walk, meditating, or simply taking a few minutes to relax and breathe.
Seek support: Don't be afraid to ask for help or support when you need it. This can include reaching out to friends or family, seeking assistance from a therapist or counselor, or talking to a trusted coworker or supervisor.
You can and will get through these feelings of being overwhelmed. Some of us tend to experience seasons where nearly everything feels overwhelming. If you have a chronic illness, you know the ups and downs that come with waxing and waning energy, pain levels, and overall health. You can and will get through this. You're a strong and sensitive person; be sensitive, be free.
Be sensitive, be free
*This post contains affiliate links and I will be compensated if you make a purchase after clicking on my links*