Many adults, as well as those who consider themselves Highly Sensitive Persons (HSP), have had times when they have felt down, lacked energy and motivation, and thought poorly of themselves. At these times, they may even describe themselves as depressed. In this article, I am to offer authentic self-care for the depressed HSP.
In a formal diagnosis of depression, these experiences occur along with symptoms like a loss of pleasure in things that you used to enjoy; changes in sleep and appetite/weight; difficulties with decision-making and concentration; hopelessness; and/or suicidal ideation or intention. Clinical depression is a serious, life-threatening medical condition, but treatment is available and effective.
Research has found that the Highly Sensitive Person (HSP) may be more likely to suffer from depression than the general population. The evidence speaks to the ways HSPs are wired. You may recall reading Dr. Elaine Aron's description of the DOES traits that define what it means to be a highly sensitive person: Depth of processing; overstimulation; empathy and emotional responsiveness; and sensitivity to subtle stimuli. These traits are what leave us vulnerable to mental health challenges.
But HSPs are not doomed to suffer.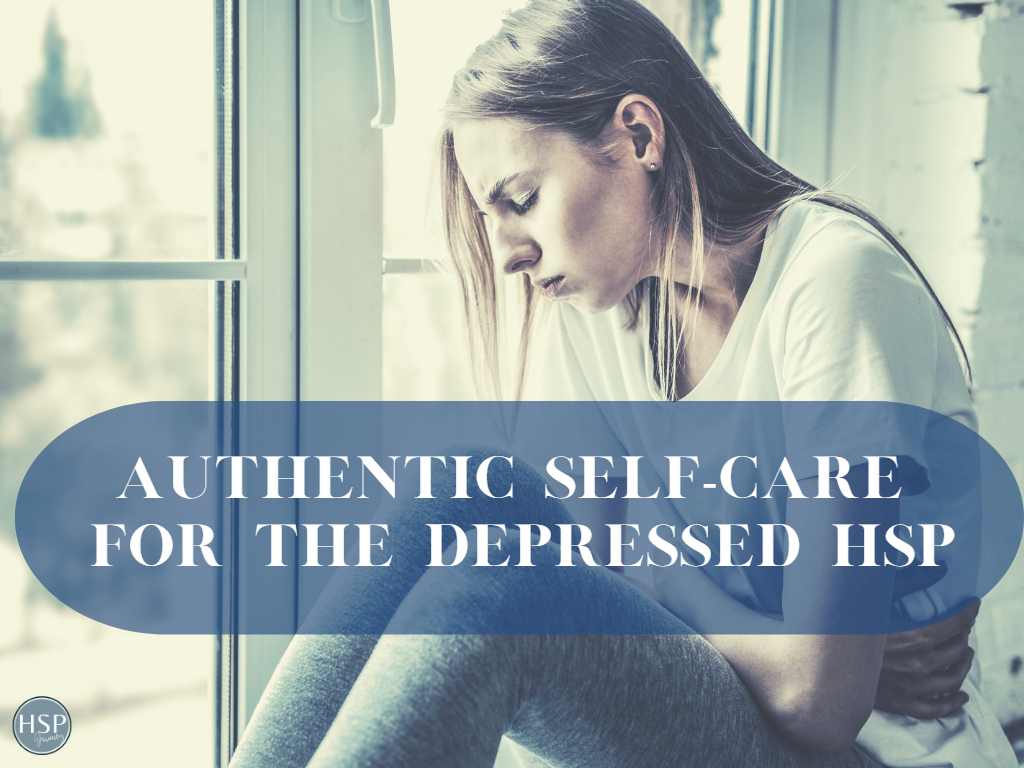 Table of Contents
Use the DOES Traits to Inform a Plan for Preventing and Coping with Feelings of Depression
Ask yourself:
What engages your mind away from your depression symptoms? (depth of processing)
What reduces your arousal level and helps you deeply relax? (overstimulation)
What soothes your depression? What cultivates positive states and emotions, such as contentment, gratitude, peace, love, and connection? (empathy/emotional responsiveness)
What small things comfort your mind, body, and spirit, and how do you bring more of those things into your life? (sensitive to subtle stimuli)
These questions point the way to finding authentic self-care for the depressed HSP.
What Exactly Is Authentic Self-Care?
Self-care gets a bad reputation for being frivolous. In reality, it is anything but indulgent. The World Health Organization defines self-care as "the ability of individuals, families, and communities to promote health, prevent disease, maintain health, and cope with illness and disability with or without the support of a health worker." In other words: self-care is essential for the health of people, families, and societies. It is even more vital for the HSP prone to feeling depressed.
If you struggle with the idea of self-care, especially when you are depressed, it can be helpful to remind yourself that it is essential.
Several clients I have seen over the years referred to these practices as self-maintenance, which highlights that they are not optional activities. Ignoring self-maintenance comes with a long-term price, just like ignoring the upkeep of your home or car would.
Whatever you call it, authentic self-care meets your genuine needs: physical, emotional, mental, relationships, safety, self-esteem, aesthetic, and spiritual. And when our needs are met, we are far less likely to experience depression. If we do, we have the resources, energy, and clarity of mind to address it.
How to Engage in Authentic Self-Care as an HSP
When you are depressed, opt for small practices that will be easier to complete. For example, set a goal of snuggling on the couch with your partner for half an hour while you watch a show, rather than going on a date night. You are more likely to reach your goal and enjoy the feeling of accomplishment that comes with it.
Feeling accomplished is a great antidote to the hopeless, helpless, worthless feelings that depression brings.
Set small goals
Set out to do one thing for self-care
Reward yourself after you've taken care of yourself
To maximize the likelihood that you will follow through on self-care practices, they need to be highly personalized and possible within the reality of your life and your relationships.
If you cannot afford a spa day or you live in a city and cannot sleep under the stars, those are not authentic forms of self-care for you at this moment. Even if you are able to do these things, if you shudder at the idea of someone giving you a facial or sleeping in a tent, figure out some other ideas for self-care that suit you and your unique highly sensitive nature.
8 Self-Care Tools for the Highly Sensitive Person
Some Self-Care Ideas for HSPs to Get You Started
Since depression impacts our ability to think and make decisions, it can be hard to know where to start. I'm sharing a long list of self-care practices that other HSPs have used to deal with their depression. You don't have to do all of them. There is no time pressure. This list is meant to show you a wide range of possibilities and inspire you to think about what fits you. See if you can imagine yourself engaging in:
Caring for your body through hydration, eating a reasonable quantity and variety of foods, basic hygiene, and gentle movement, like stretching, chair yoga, and walking.
Activities that bring you comfort, pleasure, or joy, even if you think they will not give you much of a boost because of your depression.
Mindfulness practices and/or guided imagery exercises (use an app or recording if you find it hard to get started on your own).
Complimentary approaches: tapping, aromatherapy, nutrition, acupuncture, massage, and other holistic services.
Getting help with life tasks. Maybe someone can do some household chores, deliver a meal, cut your grass, or do the carpooling for you. Ideally, people would offer this support unprompted, just like they might if they were dealing with other kinds of major medical issues or life stressors. If they don't offer, consider asking for help. People might appreciate knowing some concrete ways they can support you.
Keeping a daily gratitude journal, which research has shown can help reduce depression.
Spending time in nature (or looking at nature on Instagram, National Geographic, etc.).
Supporting your circadian rhythms and sleep by getting exposure to natural light, especially in the morning.
Allowing yourself additional time to transition between activities so that you don't feel pressured for time and have space to allow yourself to reset between activities.
Participating in religious or spiritual activities, especially those that cultivate a sense of awe and wonder.
Connecting with people in ways that fill your emotional bucket.
Spending time with a pet or other animals (zoo, farm, wildlife).
Making choices based on your values and what gives your life a sense of purpose, even if it is hard to connect to that purpose when you are depressed.
Working with your therapist. It is crucial that you are honest about how you are feeling and what is or is not working about treatment so your therapist can customize your treatment.
Consistently taking your medication if that is part of your treatment plan. Never stop your medication without contacting your prescriber first.
I emphasize to all my clients, but especially to people who are dealing with depression, that the best self-care practice is the one you will actually do. It is better to aim for progress, incorporating imperfect forms of self-care into your life bit by bit, rather than getting stalled by reaching for perfect self-care.
Be Gentle with Yourself
It is a cruel irony that the way out of depression—taking excellent, holistic care of yourself—can be the last thing you feel like doing. Be gentle with yourself, work with your treatment team, and trust that you will feel better. Your authentic self-care efforts will help you out of the darkness.
* This article is for educational purposes only. It is not intended to be a substitute for professional treatment by a healthcare provider. If you or someone you know needs immediate assistance, call the 988 Suicide and Crisis Lifeline for 24/7 assistance.
Be sensitive, be free
*This post contains affiliate links and I will be compensated if you make a purchase after clicking on my links*