*This post contains affiliate links and I will be compensated if you make a purchase after clicking on my links*
Today, we highly sensitives have more options for managing stress than ever before. With our smartphones–a mini-computer we all carry around with us everywhere–we can access calming music through mindfulness apps, medication, and mindfulness techniques through phone apps, and even text our therapists or spiritual leaders for help and advice when we need it. Mindfulness apps for a Highly Sensitive Person can make a huge difference in daily well-being. Never has there been a better time for accessing tools to assist each Highly Sensitive Person (HSP) with their individual mindfulness and calming needs.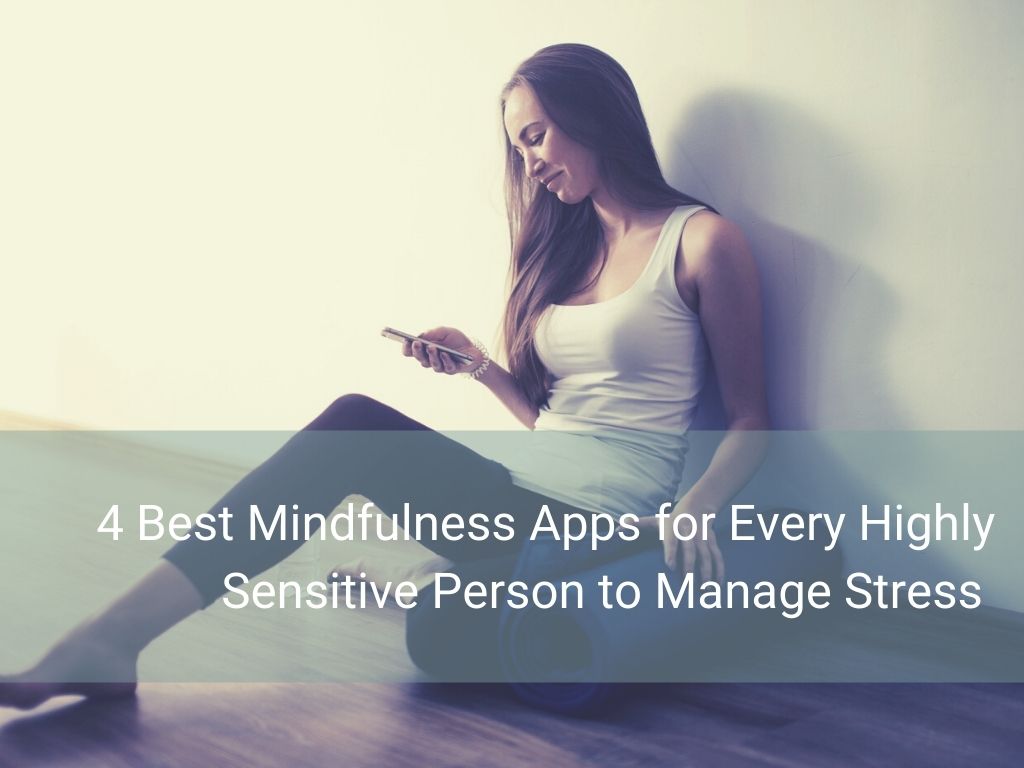 Below are four of the best mindfulness apps for every Highly Sensitive Person (HSP) to manage stress, in alphabetical order:
Cost: Free for 7 Days, then $69.99 for annual subscription
The Calm App is one of the top-rated meditation and mindfulness apps on the market. Offering meditation, sleep helps, music for relaxation, video lessons on stretching and mindful body movements, masterclasses, plus scenes–relaxing images and videos, the Calm App is recommended by many therapists and medical professionals.
The Calm App can be used for:
Meditation and mindful practice
Breathing exercises
Listing to calming music
Stretching and exercise
Learning new things through masterclasses
Cost: Free for 7 days, then $69.99 for annual subscription or $12.99 per month
Headspace has one mission: to improve the health and happiness of the world. And with millions of users in more than 190 countries, we're well on our way. You can try Headspace for yourself and learn the essentials of
meditation
and mindfulness with our free Basics course. If you enjoy it, then it's time to
subscribe
. Once you do, you'll have bite-sized minis for when you're short on time, exercises to add extra mindfulness to your day, and hundreds of meditations on everything from stress to sleep.
The Headspace App can be used for:
Taking courses to better understand meditation
Building a meditation practice
Manage feelings and emotions
Improve quality of sleep
Focus more intentionally for better productivity
Inspirational stories
Cost: Free version, $58.99 annual subscription, or $249 lifetime subscription
The Stop Breathe Think app combines mindfulness with self-awareness, activities for stress reduction, and much, much more. I've been using the free version for nearly a year and enjoy the daily "check-in" to name my emotions, then the app suggests simple mindful recordings to ground, relax, and destress. With over 400 activities including meditations, yoga, breathing techniques, guided journaling, plus much more, Stop Breathe Think is one of the top apps out there (I personally use this app and really love its simplicity).
The Stop Breathe Think App can be used for:
Dealing with chronic pain
Checking in with emotions and general awareness
Learning new stress-reducing breathing techniques
Yoga, stretching, and exercise
Cost: Free for 7 days, then $60 annual subscription
Remente is an online, mental health-based platform for individuals and businesses. The app includes daily interactive coaching and planner, a life assessment tool, goal-setting features, a mood journal, and a wide selection of courses and resources to promote and achieve healthier habits. Remente helps you ensure that you continue to give yourself self-care and love while also keeping track of your most important objectives. It offers you a wide selection of tools for personal growth, helping you create healthier habits to keep your mind safe and sound.
The Remente App can be used for:
Reducing stress and anxiety
Setting goals and forming habits
Being more organized
Practicing self-care and gratitude
Reflecting and being more mindful
With daily intention and focus, you can leverage mindfulness apps to Manage Stress as a Highly Sensitive Person. You have been gifted unique abilities and talents and when you take care of yourself in a way that enables you to manage the world around you well, you'll be more successful, better adjusted, and freer.
BONUS
Here's a great list of five free mindful apps. Plus I recently discovered the Abide Christian App, which has some wonderful features to help you meditate on scripture and sleep more deeply.
Be sensitive, be free
Be sensitive, be free
*This post contains affiliate links and I will be compensated if you make a purchase after clicking on my links*
Be sensitive, be free
*This post contains affiliate links and I will be compensated if you make a purchase after clicking on my links*