If you're anything like me as a Highly Sensitive Person, you love fall more than any other season. The transition between summer and fall offers nearly perfect weather (depending on where you live), a perk in the air of change, a shift in energy, and pumpkin-spice everything. While I love fall, I hate Halloween as an HSP because this holiday tends to focus on all things scary. I have memories from my childhood of being frightened (and I scare easily), I don't like scary movies, and I don't like blood, gore, or anything related to the occult. I adore fall, but Halloween not so much.
Table of Contents
HSPs Love Fall Weather
Highly Sensitive People Tend to Dislike Intense Summer Heat
As a Highly Sensitive Person, you might find the hot summer months to be overwhelming and uncomfortable. The intense heat, bright sun, and loud noises can exacerbate sensory processing issues and make everyday tasks more challenging. Fall brings cooler temperatures, which can provide a more comfortable environment for people with sensory processing sensitivity, commonly known as the Highly Sensitive Person trait.
I don't know about you, but I don't like sweating constantly for three or four months every time I head outside. I feel more irritable and cranky all the time, so fall feels like a huge break from everyday irritation.
Change of Season Brings New Energy and Life
Fall is a time of new energy, as the leaves change colors and create a vibrant scenery. This shift in nature brings a much-needed break from the intense summer and creates a more soothing atmosphere for highly sensitive people. The calmer weather conditions can help you reconnect with the natural world and find solace in the beauty of the season. I love being able to open the windows, let natural light and fresh air in, and be generally more comfortable throughout the day.
While enjoying walks or hikes, you may feel more in tune with your surroundings, as the quieter atmosphere allows you to focus on the beauty of the season. There may be fewer loud noises to deal with during this time, which can make outdoor activities more enjoyable and less overwhelming.
Highly Sensitive People Don't Like Change, but Fall is a Good Kind of Change
Change can often be difficult for highly sensitive people, but the transition from summer to fall offers a more peaceful and manageable shift. As you adapt to the cooler weather and embrace the new season, remember that it's okay to take time to adjust and find ways to make yourself feel comfortable.
During this time, you may want to create a cozy sanctuary in your home or adjust your schedule to allow for more relaxation and self-care. By acknowledging and addressing your sensory processing needs, you can embrace the positive aspects of the fall season and nurture a sense of comfort and balance in your life.
Fall is Sensory-Rich
Pumpkin Spice Everything
Fall is known for its lovely scent of pumpkin spice. During this season, you'll likely come across various pumpkin-spiced flavored items, from candles to lattes. While the aroma can be enticing for many, be aware that strong smells may be overwhelming for those with sensory sensitivities. Consider offering milder scent alternatives if you're hosting a gathering, or simply use unscented items to create a more comfortable environment for everyone.
Cozy, Warm, Comfy Everything in Fall for HSPs
As the weather turns cooler, you're probably drawn to cozy and warm textures, from soft sweaters to snug blankets. These items are not only great for keeping you warm, but they can also provide comfort for those with sensory issues. When preparing your home for visitors or loved ones, incorporating soft-textured materials, such as fleece or faux fur, can help create a more sensory-friendly space.
Colorful, Beautiful Nature
The vibrant colors of fall leaves and the crisp, fresh air provide a sensory-rich experience that many people love. However, this shift in nature can also bring attention to the changing textures underfoot, such as crunchy leaves or uneven terrain. If you're spending time outdoors with a sensory-sensitive person, consider providing proper footwear or additional support to guide them through these changes in the environment. By recognizing their needs and adapting your approach, you can ensure a pleasant and enjoyable experience during this wonderful season.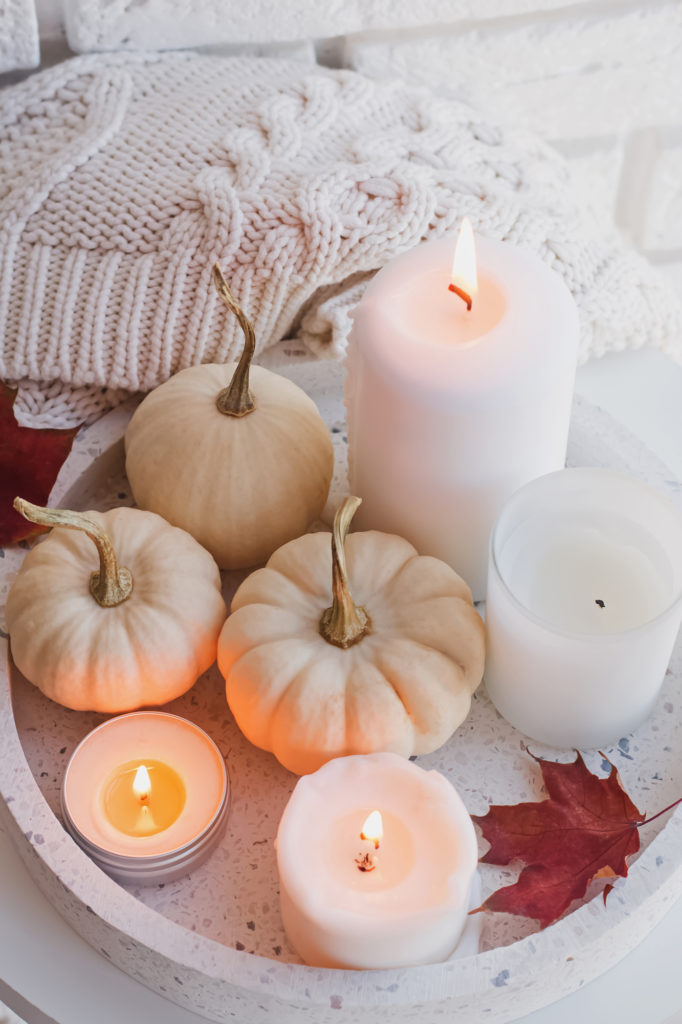 Highly Sensitive People Don't Love Halloween
I Don't Like Being Scared
For me as a Highly Sensitive Person (HSP), the concept of Halloween can be overwhelming. Many people enjoy the thrill of being scared, but for HSPs like us, it can be too much to handle. Just the thought of trick or treating in a neighborhood where you know there will be loud noises, frightening masks, and the constant anticipation of the unknown can cause anxiety. You may also find haunted houses and other Halloween-related experiences very uncomfortable.
I Can't Watch Scary Movies
Scary movies are a big part of the spooky season, but I can't tolerate them. The vivid and disturbing images in horror films, along with the suspenseful music and tension, can be too much for my sensitivity level. I have a strong emotional response to the portrayals of fear, death, and suffering in movies, making it nearly impossible to enjoy these films without feeling overwhelmed or distressed.
I Don't Like Images Of Death, Witches, or the Occult
I have a heightened empathy for others, even fictional characters. When I see images and themes centered around death, witches, or the occult during Halloween, it unnerves me. While some may find these themes fascinating or entertaining, my sensitivity makes it difficult for me to disengage my emotions and simply enjoy them like others do.
Overall, Halloween's focus on fear, suspense, and dark imagery can be challenging for me. While others may enjoy these aspects, it's okay that our sensitivity makes it difficult for us to partake in the same way.
Fall Means Holiday Stress is Coming
I Don't Love Getting Ready for Holidays
It's normal to feel overwhelmed by the upcoming holiday season. Preparing for family gatherings, planning dinners, and making sure your home is ready for guests can be stressful. It's important to remember that you're not alone in this and that it's okay to ask for help from friends or family if needed. Break your tasks into smaller chunks and prioritize them, so that you can focus on what truly matters – spending quality time with your loved ones.
Hosting Large Gatherings Such as Thanksgiving and Christmas
Hosting Thanksgiving or Christmas dinners can leave you feeling frazzled and exhausted. However, you don't have to do it all by yourself. Delegate some responsibilities to other family members and friends – for instance, ask your parents or children to help with cooking or setting the table. Don't hesitate to accept offers of help, whether it's someone bringing a dish or a neighbor taking care of the decorations. Creating a backup plan for unforeseen circumstances, like having a potluck dinner if you don't have time to cook everything yourself, can ease your stress and ensure a successful gathering.
Stress Of Buying Everyone Gifts for Christmas
The pressure to find the perfect gifts for everyone on your list can be overwhelming. Instead of stressing over gift shopping, consider implementing thoughtful traditions to create lasting memories with your loved ones. For instance:
Organize a Secret Santa or White Elephant gift exchange to minimize the number of gifts you need to buy.
Craft homemade gifts that showcase your talents or special memories.
Offer your loved ones a heartfelt letter or a day spent together doing their favorite activity.
While fall means the holidays are around the block, keep in mind that the holidays are about celebrating togetherness and creating cherished memories, not expensive presents. Stay within your budget and focus on what truly matters – the love and camaraderie between you and the people you care about.
Free HSP Webinar on Sensory Overload
Sensory Overload tends to be one of our biggest challenges as HSPs. It is when our senses take in more information than our brain can keep up with processing. You might be surprised that it is often the culprit of symptoms of emotional reactivity, anxiety, irritability, sleep issues, exhaustion, and even loss of productivity, creativity, and focus. What makes it extra hard is that the world isn't set up for those of us with high sensitivity. Have you been challenged by your sensitivity and labeled as "too sensitive" or "overly emotional"? Do you know how Sensory Overload impacts you? Join me to learn more and uncover solutions that will help you thrive to your fullest level of wellness.
Sensory Overload & The Highly Sensitive Person Webinar with Julie Bjelland
Frequently Asked Questions
What steps can we take to avoid triggering someone's phobias on Halloween?
To avoid triggering someone's phobias on Halloween, you can start by being mindful of the decorations and costumes you choose. Opt for less scary and more whimsical or funny themes to create a welcoming atmosphere. When planning a party or gathering, consider reaching out to guests to inquire about any specific concerns or phobias they may have. This will allow you to tailor the experience to meet everyone's needs. Additionally, provide clear warnings about any potentially triggering elements you might include, to give guests a heads-up and allow them to prepare or decide whether to attend.
What alternatives to scary costumes can be considered?
There are plenty of alternatives to scary costumes that are just as fun and creative. Consider dressing up as characters from your favorite movies, books, or TV shows that are light-hearted or inspirational. You can also explore different decades or historical figures, tap into the world of fantasy, or take inspiration from animals or mythological creatures. The key is to focus on fun and imagination instead of fear, which will create a more enjoyable and inclusive experience for everyone.
How can we educate others about the importance of sensitivity during Halloween?
Educating others about the importance of sensitivity during Halloween can start with open and honest conversations. Share your own experiences or concerns about the holiday, and explain why it's crucial to be mindful of the fears and phobias that others may have. You can also share resources, such as articles or blogs, that delve into the challenges some people face during Halloween, particularly for highly sensitive children. Hosting inclusive events and demonstrating respectful behavior towards others' boundaries are also powerful ways to lead by example and foster understanding among friends, family, and the community.
Be sensitive, be free
*This post contains affiliate links and I will be compensated if you make a purchase after clicking on my links*