Table of Contents
Highly Sensitive People, or HSPs, comprise 15-20% of the population, according to the researcher, Dr. Elaine N. Aron. As highly sensitives, we often wrestle with overprocessing, overthinking, and overstimulation because of the additional mirror neurons in our brains that cause us to notice more stimuli, feel things more deeply, and react differently to the world around us. There are many great qualities of the HSP and perhaps my favorite is our ability to process the world around us deeply. For this reason, keeping a journal or using a workbook created specifically for Highly Sensitive People can be extremely helpful. Workbooks for the Highly Sensitive Person can help shed light on the trait in positive ways and help find health, self-acceptance, and joy.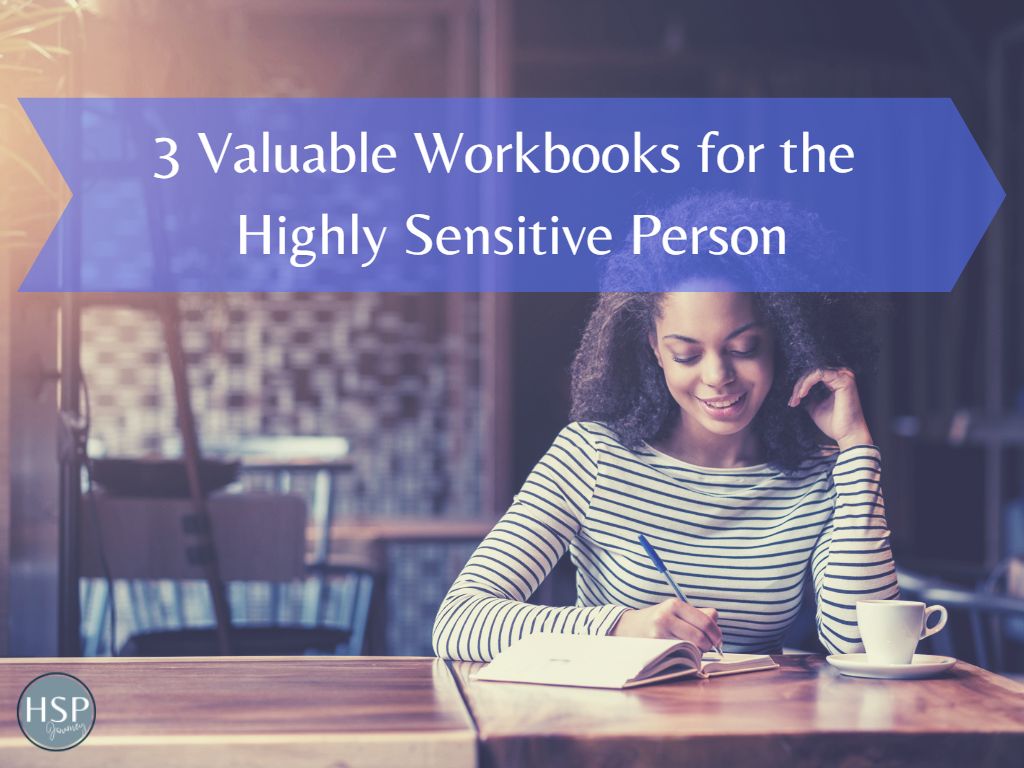 Below are three valuable workbooks for the Highly Sensitive Person (HSP):
#1 – The Highly Sensitive Person's Workbook by Elaine N. Aron, Ph.D.
The subtitle of this workbook by Dr. Elaine N. Aron is: The Practical Guide for Highly Sensitive People and HSP Support Groups by the Bestselling Author of The Highly Sensitive Person. Dr. Aron is the founder of the HSP movement and has devoted her life's research to this trait. This 317 page workbook for Highly Sensitive People is the most comprehensive and mirror's her seminal work. It is used by individuals, counselors, therapists, coaches, and support group leaders to walk people through betting identifying and understanding their trait of high sensitivity.
Contents include: Getting to know your sensitivity, going deeper into who you are, taking care of your sensitive self, your childhood and your sensitivity, HSPs in the social world, vocation, work, and sensitivity, developing your close relationships, working with the deeper wounds, becoming mindful around media care and medications, guidelines for HSP discusion groups, and discussion group guides for various leader and leaderless groups.
#2 – The Empath's Empowerment Journal by Judith Orloff, MD
This book is more of a free-flowing journal than a structured workbook, but I've found it very valuable to respond to the journal prompts which include championing one's gifts as an empath or Highly Sensitive Person through drawing pictures, jotting down phrases and words to describe your positive qualities as they relate to being an empath.
The reader is welcome to use colorful markers or pens, to respond by writing all over the book, and to use their creativity to unlock their inner strength. Each page has a different layout and the book's corners are rounded, giving this book a gentle, edge-free feel. It's small enough to fit inside your purse or backpack and take with you to a coffee shop for an outing with yourself. As sensitives, it is vital to speak kindly to yourself, to be your own best friend, and to champion your best and most sacred qualities. This lovely journal will help you do just that.
#3 – Find Your Strength: A Workbook for the Highly Sensitive Person by April Snow, LMFT
This elegantly designed workbook by psychotherapist April Snow, LMFT, offers you a series of exercises that will help you overcome the obstacles and harness the benefits of your empathetic gifts.
If you often feel anxious, burned out, and overstimulated, you're not alone. Some people are born highly sensitive to the emotions of others and to their surroundings, but this can be a source of great strength if you learn simple methods to care for yourself and to enable yourself to thrive. With this workbook, you can find strength and healing as you:
Explore and honor your innate sensitivity
Create a lifestyle that supports your needs
Learn how to navigate relationships and create healthy boundaries
Discover methods to help you thrive at work
Turn your sensitive nature into a force for good in your life and in the world
Journaling and writing prompts will deepen your awareness of your unique needs and experiences, while stories and metaphors will help you understand how HSP characteristics show up in real life. Exercises include helpful scripts to kickstart conversations to easily explain your sensitivity in your personal and professional life. This supportive, enjoyable workbook is an insightful, educational guide that's straightforward and easily accessible for anyone coping with overwhelm and anxiety.

The Wellness Workbooks series from Wellfleet Press offers guidance on a wide range of self-help and mental health topics. Each book presents a thoughtful, evidence-based collection of straightforward exercises in an accessible, enjoyable format that will keep you engaged and inspired. With a distinctive design and full-color illustrations throughout, these workbooks deliver a practical path to personal growth in a beautiful package.
How do I know if I am a Highly Sensitive Person?
This is a great question and it's important to spend a good amount of time research and reading about HSPs to see if you think this trait is a good fit for you. Our HSP 101 article has a basic foundational description of this trait based on the work of Dr. Elaine N. Aron. You can also take a few different quizzes to see what scores you get and if the Highly Sensitive Person trait fits how you feel about yourself.
What are some of the challenges that Highly Sensitive People face?
HSPs frequently face misunderstanding in childhood, often by their own parents. Sometimes they were given negative feedback about their sensitivities to sound, light, and sensory input. As children, teens, and adults, many Highly Sensitive People struggle with anxiety and depression more than other non-HSPs, but these are overcomable with mindfulness, therapy, and good self-care.
Be sensitive, be free
*This post contains affiliate links and I will be compensated if you make a purchase after clicking on my links*