Highly sensitive people (HSPs) are individuals who have a heightened sensitivity to their environment, including emotions, sounds, and physical sensations. While this trait can be a challenge in many situations, it can also be a strength in the right career. For HSPs, it's important to find work that aligns with their strengths and preferences, allowing them to thrive in their professional lives. One who considers him or herself a Highly Sensitive Person finds that they are highly creative, attuned to their environment, and willing to work hard at uncovering their inner calling of purpose in the world. This article shares 25 good jobs for the Highly Sensitive Person, I hope it provides some great ideas as you consider the work that you hope to do.
So, what are some good jobs for highly sensitive people? The answer is not one-size-fits-all, as each HSP has their own unique set of skills and interests. However, there are certain careers that tend to be well-suited for individuals with heightened sensitivity. These jobs often involve helping others, creative expression, or working in a quiet and controlled environment.
In this article, we will explore some of the best jobs for highly sensitive people, taking into account the unique strengths and preferences of this group. Whether you're an HSP looking to find a fulfilling career or someone who works with or employs highly sensitive individuals, this guide will provide valuable insights into the world of work for sensitive people.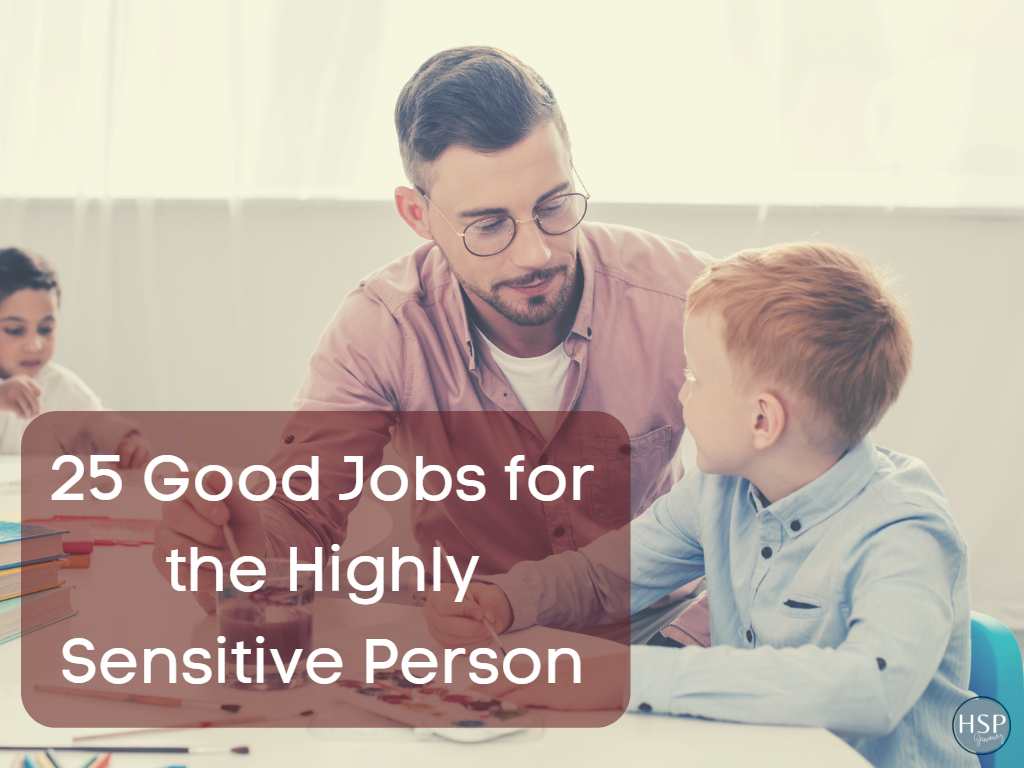 Table of Contents
Understanding Highly Sensitive People
Highly sensitive people (HSPs) are individuals who have a heightened sensitivity to their surroundings. They tend to feel more deeply, are more aware of subtle cues, and are more empathetic toward others. This sensitivity can be both a strength and a challenge, depending on the situation.
According to Truity, HSPs make up approximately 15-20% of the population. They tend to process information more deeply and are easily overwhelmed by bright lights, loud noises, and strong smells. They may also be more sensitive to caffeine and other stimulants.
It's important to note that being an HSP is not a disorder or a condition that needs to be fixed. Instead, it's a personality trait that can be leveraged to find fulfilling and meaningful work.
Some common characteristics of HSPs include:
Intuitive
Caring
Giving
Empathetic
Detail-oriented
Deeply reflective
It's important to understand that not all HSPs are the same. Each individual has their own unique set of strengths and challenges. Some HSPs may thrive in certain careers, while others may struggle in the same field.
Factors to Consider When Choosing a Job
For highly sensitive people, finding the right job can be a challenge. It's important to consider several factors when choosing a job to ensure that it fits your personality and needs well. Here are some factors to consider:
Culture and Environment
The culture and environment of a workplace can have a significant impact on an HSP's well-being. It's important to look for a workplace that values empathy, compassion, and emotional intelligence. A supportive and inclusive work environment can help HSPs feel more comfortable and confident in their role.
Additionally, consider the physical environment of the workplace. HSPs may be sensitive to noise, bright lights, or strong smells. Look for a workplace that is quiet and calm, or one that provides accommodations for sensory needs.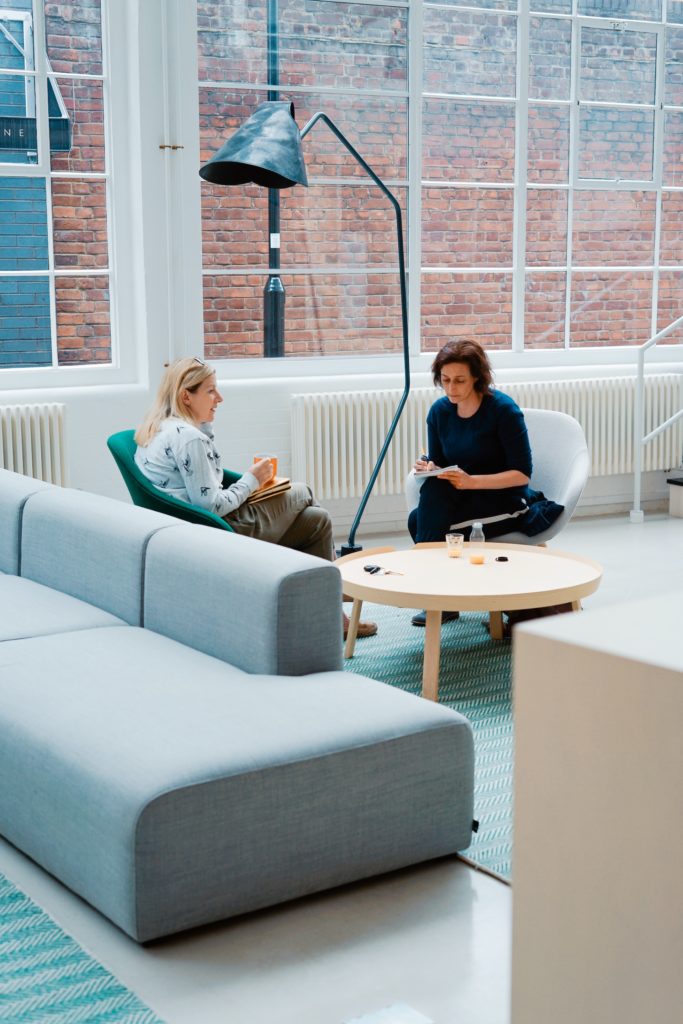 Job Duties and Responsibilities
It's important to consider the job duties and responsibilities when choosing a job. HSPs may be drawn to careers that involve helping others, such as social work or counseling. These careers allow HSPs to use their natural empathy and compassion to make a positive impact on others' lives.
On the other hand, HSPs may struggle in high-stress or high-pressure jobs that require quick decision-making or multitasking. It's important to find a job that allows HSPs to work at their own pace and focus on one task at a time.
Flexibility and Work-Life Balance
Flexibility and work-life balance are important factors for HSPs to consider when choosing a job. HSPs may need more downtime to recharge and process their emotions. Look for a job that allows for flexible scheduling, remote work, or part-time hours.
Additionally, consider the work-life balance of the job. HSPs may feel overwhelmed or burned out if they are working long hours or constantly taking work home with them. Look for a job that allows for a healthy work-life balance and prioritizes self-care.
Free HSP Webinar on Sensory Overload
Sensory Overload tends to be one of our biggest challenges as HSPs. It is when our senses take in more information than our brain can keep up with processing. You might be surprised that it is often the culprit of symptoms of emotional reactivity, anxiety, irritability, sleep issues, exhaustion, and even loss of productivity, creativity, and focus. What makes it extra hard is that the world isn't set up for those of us with high sensitivity. Have you been challenged by your sensitivity and labeled as "too sensitive" or "overly emotional"? Do you know how Sensory Overload impacts you? Join me to learn more and uncover solutions that will help you thrive to your fullest level of wellness.
Sensory Overload & The Highly Sensitive Person Webinar with Julie Bjelland
Good Jobs for Highly Sensitive People
Highly Sensitive People (HSPs) are known for their ability to pick up on subtle cues and their empathetic nature. This makes them well-suited for certain types of jobs that require these skills. Here are some good jobs for HSPs, broken down into sub-sections:
Creative Jobs
HSPs often have a heightened sensitivity to aesthetics and can be very creative. Here are some creative jobs that might be a good fit:
Art Director
Graphic Designer
Writer
Musician
Actor
Helping Professions
HSPs are often very empathetic and compassionate, making them well-suited for helping professions. Here are some jobs in this field:
Social Worker
Therapist
Counselor
Nurse
Teacher
Research and Analysis
HSPs are often detail-oriented and observant, making them well-suited for research and analysis jobs. Here are some jobs in this field:
Researcher
Analyst
Archivist
Librarian
Scientist
Technical Jobs
HSPs often have strong attention to detail and can be very analytical. Here are some technical jobs that might be a good fit:
Programmer
Web Developer
Quality Assurance Tester
Technical Writer
Database Administrator
Self-Employment
HSPs may find that self-employment is a good fit for them, as it allows them to work in a quiet environment and set their own schedule. Here are some self-employment options:
Freelance Writer
Artist
Photographer
Consultant
Virtual Assistant
Overall, there are many good jobs for HSPs that allow them to use their unique skills and abilities. By considering their strengths and preferences, HSPs can find a fulfilling career that suits their needs.
The Bottom Line
Highly sensitive people possess unique qualities that make them well-suited for certain jobs. Their high empathy, intuition, and attention to detail can make them excellent in careers such as counseling, social work, and teaching.
It is important for highly sensitive people to consider their sensory needs when choosing a career. Jobs that involve high levels of stimulation or stress may not be the best fit for them. Instead, they should seek out careers that allow them to work in quieter environments or have flexible schedules.
Some of the best jobs for highly sensitive people include:
Social worker
Counselor
Teacher
Artist
Writer
Psychologist
Librarian
Massage therapist
Veterinarian
Highly sensitive people should also consider remote work or self-employment as an option. This allows them to work in environments that are more comfortable for them and have more control over their work schedule.
Overall, highly sensitive people have a lot to offer in the workplace. By choosing careers that align with their strengths and needs, they can thrive both personally and professionally.