Table of Contents
If you identify as a Highly Sensitive Person (HSP), chances are you have realized that you need more self-care than the average person. You may struggle with loud environments, bright lights, and crowded restaurants, and prefer quiet, calm, low-stress situations and relationships. You need more downtime. You require more rest and quiet than others. You might be introverted AND an HSP meaning that you need to monitor how much time you are with people and how to recoup alone to regain your energy. The more you understand yourself as a Highly Sensitive Person, the more you'll find the need for self-care practices and tools.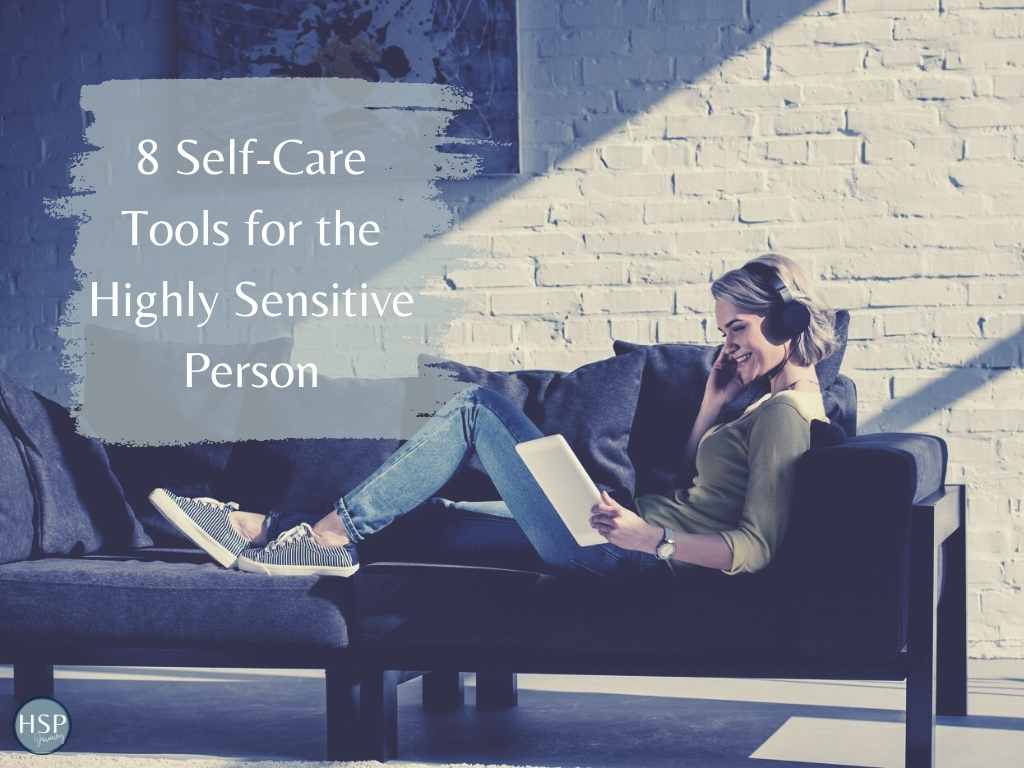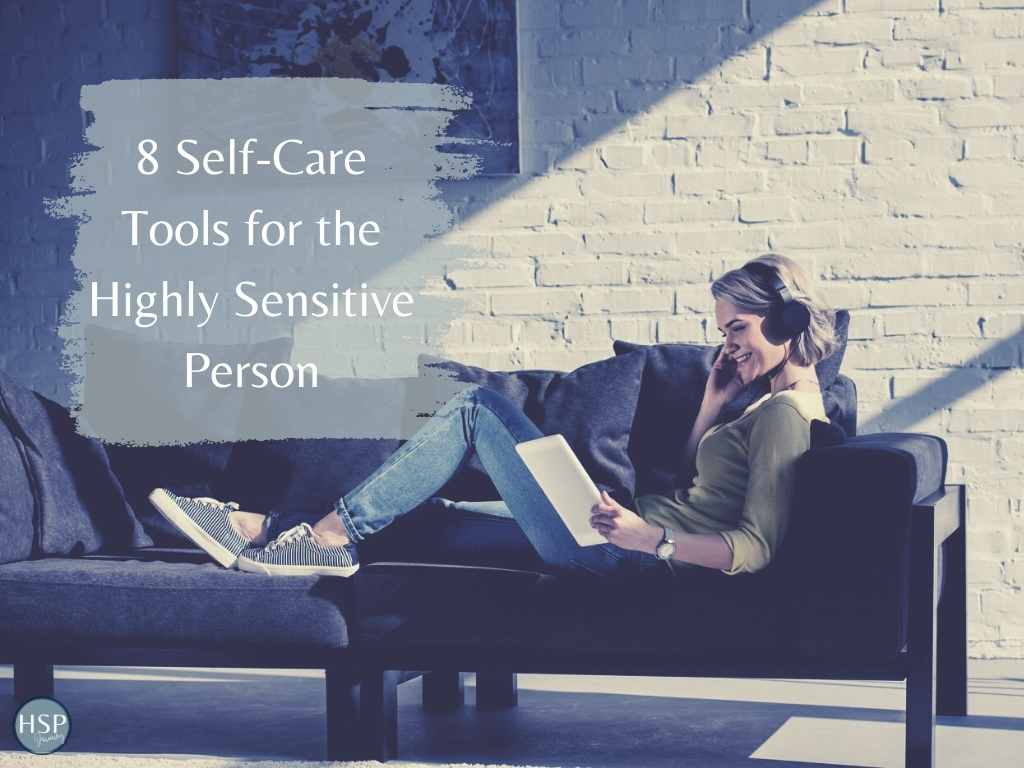 In this article, we share 8 self-care tools for the Highly Sensitive Person to better equip you for your self-care needs:
#1 – Deep Tissue Massage Gun
When my husband developed back problems, we looked into a few different massage guns that were similar but not quite as expensive as the ones used at our chiropractor's office. This massage gun works quite well and when used daily, really helps your muscles remember how to loosen and relax. This massage gun can be used on your partner to give them a custom massage, or you can use it on yourself quite successfully to unwind. The massage gun charges up using a normal wall outlet, then you can unplug it and use it cordlessly for quite a few days before it requires a recharge. This is an excellent self-care tool for the Highly Sensitive Person.
#2 – Aromatherapy Essential Oil Diffuser
There is power in scent and for many highly sensitives, scent plays a huge impact in their self-care. This aromatherapy diffuser can be used at work or at home with a variety of essential oils to help you relax, energize, sleep, or calm down. This Essence Diffuser has a 400 ml capacity and uses state-of-the-art wave diffusion technology to atomize essential oils for ultimate wellness. The Essence diffuser includes seven ambient light modes with two intensity settings for 14 different light combinations. It also includes 4 timer settings and a convenient auto-shutoff feature for low water levels. Essence is made of BPA-free plastic with a beautiful printed wood grain design. Aromatherapy can be a great self-care tool for the Highly Sensitive Person.
#3 – Weighted Microwavable Heating Pad for Neck Shoulders
If you're anything like me, you carry stress and anxiety in your head, neck, and jaw area. This microwavable weighted heating pad has a brilliant design. The weight provides a feeling of being grounded. The herbs inside warm up and smell heavenly, plus the heat really helps with neck tension. This contouring microwavable heating pad is a large curved shape with high-collar and extension-shoulder. It is filled with natural herbs and delivers instant relief by soothing moist heat which better results in alleviating the body pain. The weighted neck pad can also be stored in the freezer for cold therapy. Do note that it won't get quite as cold as a gel freezer pad, but it is a great option if you'd like to use it for both cold therapy and heat therapy. This weighted neck wrap can be a great self-care tool for the Highly Sensitive Person.
# 4 – Bose QuietComfort 45 Bluetooth Wireless Noise Cancelling Headphones
I have this exact same pair of Bose QuietComfort 45 Bluetooth Wireless Noise Cancelling Headphones and I don't leave home without them. From the library to my favorite coffee shop, to my desk during times when all my kids are home, to the conference and video calls — these headphones are nothing short of AMAZING. They are super high quality (hence, the price tag) and come with a study case. They block out all background noise making it so much easier to concentrate in any environment where there are people talking, eating, yelling, or just breathing (can I get an AMEN?). If I could manage to sleep in these, I would. They stay charged up super long and ALWAYS connect to my phone and computer the first time. These noise cancelling headphones are a great self-care tool for the HSP.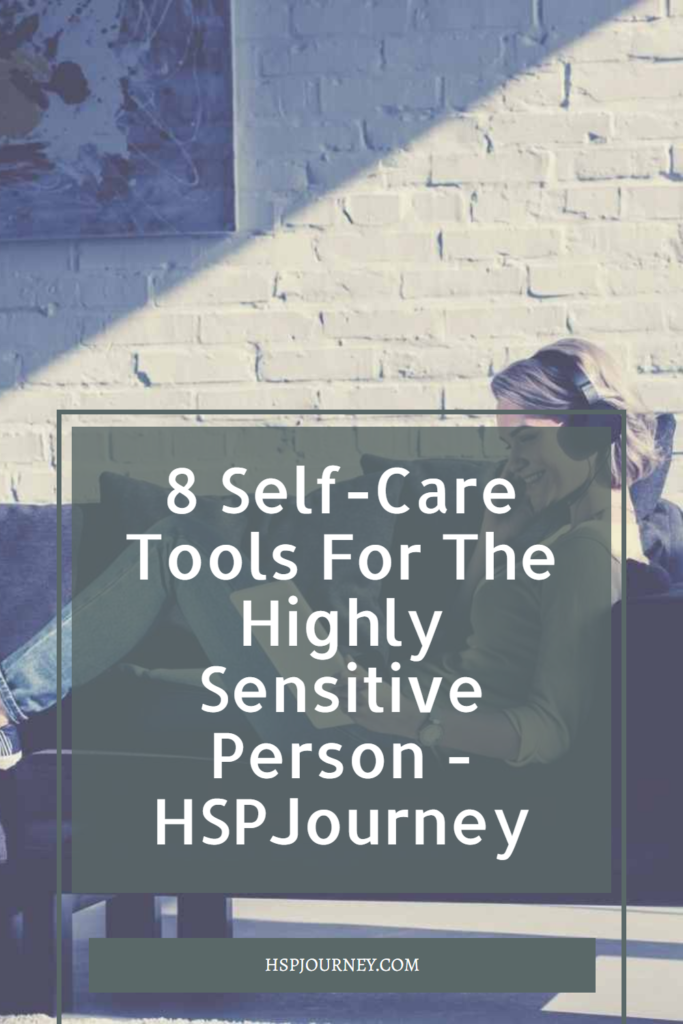 #5 – Back Massage Cushion for Home or Car
This handy back massage cushioned mat can be used upright in a chair, in a recliner, flat on the floor or on a bed, and, when you switch to the car adapter cord, can be used in the car. We have this massager for my husband and he found it to be a lifesaver during a phase of acute back pain. Driving to and from work included a massage when he used his massage cushion and it made all the difference. Include this massage pad in your self-care routine, either in the morning, at lunch, or just before bed to remind your muscles they need to relax and unwind. Take care of your highly sensitive self by purchasing this massage pad for your HSP self-care toolbox.
#6 – Sleep Spray
I love the scent of lavender and have now begun using a bedtime pillow spray to help me sleep. You can use this with your diffuser or without it. Take it with you when you travel and it will remind you of sleep just like when you're at home. Cue your brain to know that it's time to unwind and get ready to sleep by using lavender only at night before bed. I find this work for me and my HSP self-care routine.
#7 – Find Your Strength: A Workbook for the Highly Sensitive Person
This lovely workbook is quite the gem. It feels delicate yet sturdy and is girly in that it's pink and gold with an elastic to keep the journal closed. The layout is fresh and clean and walks the reader through participation in their self-care experience. Build this journal into your daily wind up (morning) or wind down (evening) routine. This HSP workbook can help you listen to your inner intuition, build a self-care practice, honor your emotions, and help you take excellent care of your complex, highly sensitive self.
#8 – HoMedics White Noise Sound Machine
I'm on my second HoMedics sound machine. It takes one nine volt battery and can be packed for camping or hotel stays. Granted most of us use white noise apps on your cell phone, I have found many uses for this noise machine including using it outside my office door to make my private conversations less audible from closed doors. It's also great to use in a child's room. The ocean sound is my favorite unwind sound for short naps or meditation. The white noise sound is perfect for sleeping and I use it all night long, every night for optimal sleep. Personally, every little noise wakes me up, so having white noise on fairly loud drowns out the sounds I don't want to hear. This little device is affordable and can be moved to any location, It works great on camping trips in the text right next to my sleeping bag.
So there you have it: 8 self-care tools for the Highly Sensitive Person to better equip you for your self-care needs. I wish you the best as you purchase one or more of these products to boost your self-care routine. It really can make a difference in the day-to-day ways you take care of yourself.
How do I know if I'm a Highly Sensitive Person (HSP)?
This is a great question. Many people who are highly sensitive feel that they were not understood as children. They were frequently told they were too sensitive or cried too often. You can reference our list of HSP quizzes to see how you score and this can inform whether or not you are a Highly Sensitive Person.
Be sensitive, be free
*This post contains affiliate links and I will be compensated if you make a purchase after clicking on my links*