The people I work with who consider themselves Highly Sensitive Persons (HSP) are experts at caring for other people. They are generous and concerned, giving whatever it takes to help the people they care about most feel safe, comfortable, and loved. In this article, we'll look more deeply at unpacking these key ingredients a what it takes to build HSP relationships that last.
Part of what makes HSPs orient so strongly toward others is our profound capacity for empathy and connection. Imaging studies have found that HSP brains show more activity in regions associated with awareness, empathy, and action planning. In other words, we are wired to notice other people's emotions and figure out what to do in response. 
While our highly sensitive brains will always inform how we relate to people, we can learn how to connect without burnout.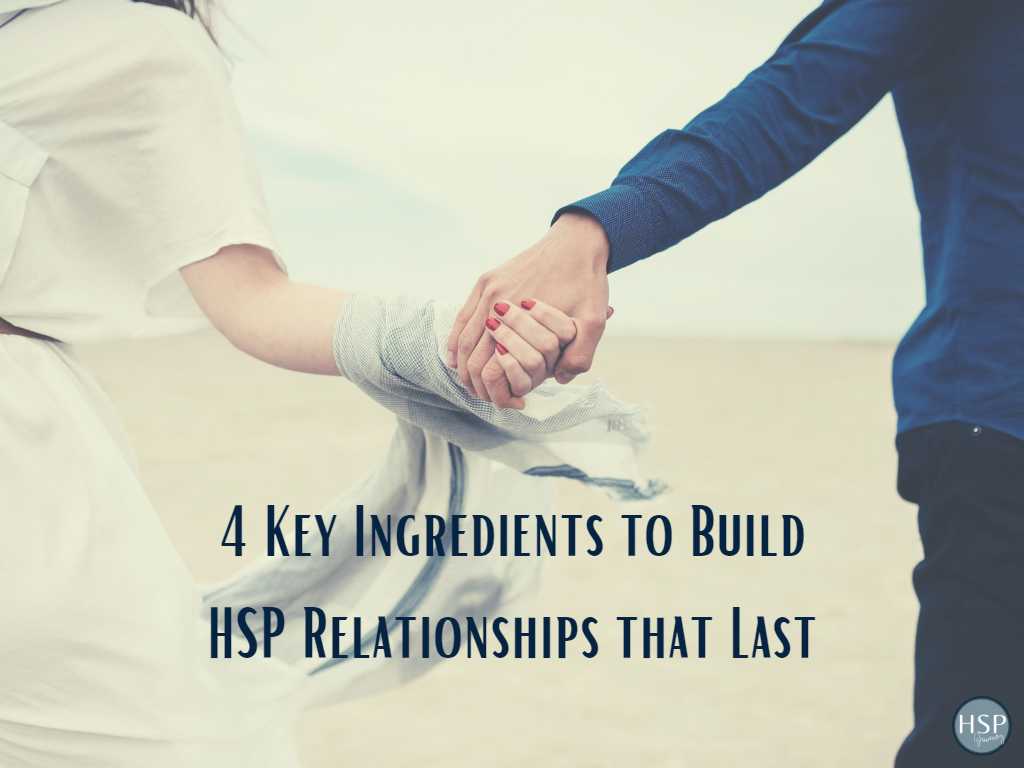 These four "grounds" are the keys to building healthy, lasting HSP relationships:
Table of Contents
Key Ingredient #1: Approach the Grounds to Build HSP Relationships
However we enter a relationship—being born into it, marrying, joining an organization, or choosing a friendship—we can choose how to approach the grounds of that relationship. We can reflect on how we want to relate to a person, what internal and external obstacles there are to doing so, and what plan will move us toward our interpersonal goals.
Ask yourself how you can approach a new relationship or the future of an existing relationship with openness, a willingness to be vulnerable, and without seeing the person exclusively through the lens of past experiences. If we have been hurt, it is too easy to keep our guard up so high that we are not truly open to connecting with someone in the present moment. This creates a shaky foundation that makes it hard for a relationship to endure.
Set intentions for how you want to behave in a relationship. Some examples may include:
I am safe and open to connecting with others.
I take care of myself while in relationships.
I am empowered today to improve the health of my relationships.
Intentions are most effective when they challenge your mindset but still seem plausible. Work on crafting language that passes your internal censor's criticism, but nevertheless is motivating and encouraging to you.
Key Ingredient #2: Common Ground to Build HSP Relationships
Creating a relationship that lasts over time requires that we build genuine connections. There must be a give-and-take that allows both parties to feel heard, respected, and able to meet their needs and desires.
The irony of many HSP relationships is that they are profoundly unbalanced. We often give more than we get, especially if we have internalized the belief that we should always put others' needs ahead of our own. We get into a cycle of people-pleasing and martyrdom. Rather than supporting people, we end up in a rescuer role. We end up feeling resentful, which is likely to sabotage our relationship in the long run.
Creating a true sense of common ground in our relationships means that we experience reciprocity: we give and take. Over the course of the relationship, there is a balance of supporting and being supported. Mutual understanding develops over time. That may mean educating the other person about what it means to be an HSP and how our needs and preferences show up in relationships.
If you are looking to build common ground, use your HSP powers of observation and notice when you are doing things that get in the way of reciprocity in your relationships. Then challenge yourself to break patterns that keep you from having a common ground in your relationships.
Key Ingredient #3: Grounds to Vacate to Build HSP Relationships
Sometimes, HSPs get into relationships that end up being unhealthy for us. Certain people may overwhelm our boundaries, act like energy vampires, or disregard, use, or take advantage of us.
When we sense this happening, especially in the early stages of a connection, we have grounds to vacate the premises. Vacating can mean literally ending a relationship. For instance, if you are starting to get to know someone new and realize they are in some way toxic for you, then it would be prudent to remove yourself from that relationship. Begin to put up firm boundaries and withdraw from the person for the sake of your own well-being.
On the other hand, if the person is a family member, boss, or someone else who you feel "stuck" with, you can learn to vacate by changing the way you relate to that person. In addition to shoring up your boundaries, you can work to cultivate loving detachment, as beautifully described by HSP expert Alane Freund. In doing so, we are vacating the old patterns where we allowed ourselves to suffer based on other people's unhealthy behaviors.
Key Ingredient #4: Hold Your Ground to Build HSP Relationships
If you are committed to making a relationship last, you need to decide to hold your ground. Sometimes HSPs are frightened to take a bold stand, fearing that they do not know enough to make a commitment to a person. Our deep thinking can lead us to continue to look for evidence that we are making the right decision, that a person can be trusted, and the like. Consider using a strategy like journaling to externalize your thoughts, making it easier to move into an action phase.
It is easier to hold your ground if you are taking excellent care of yourself. Be sure that you are monitoring your own energy and levels of stimulation. Take time to let your nervous system settle—usually, this means getting consistent time alone, quiet, and basic physical upkeep like adequate sleep and nutrition. When we care for ourselves, we paradoxically have more resources to care for others, which is a prescription for lasting relationships.
Your Heart is Precious
As you nurture your relationships, remind yourself of how precious your HSP heart is and how much you give to others. You deserve to receive the same kinds of love and care in return. With a foundation of true reciprocity, your HSP relationships can last.
Be sensitive, be free
*This post contains affiliate links and I will be compensated if you make a purchase after clicking on my links*