Table of Contents
When I started researching sensitivity, I wasn't sure what the differences were between the term "empath" and the term "highly sensitive person (HSP)." It seemed to me that they could mostly be used interchangeably, yet there were some subtle differences between the terms even though the difference between a Highly Sensitive Person and an empath can be nuanced.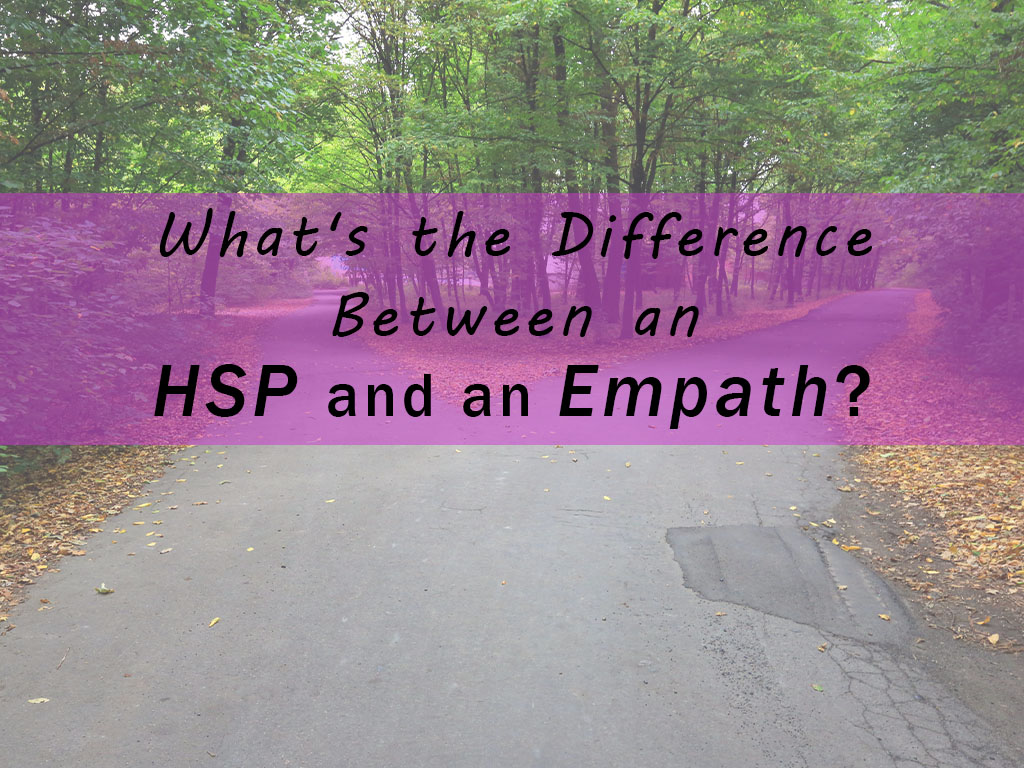 Are you an empath or a highly sensitive, what's the difference?
When you hear empathic, you will probably have images of fortunetellers, mind readers, or New Age Thought come to mind. This seems right given how empathetic people are depicted on film and television.
The Star Trek television series is one of those examples. If you have watched this film, you may recall Deanna Troi played by Marina Sirtis. Part human and part Bedavast, she was the Enterprise's ship counselor. As a teen, I watched Star Trek with rapt attention. Not only did she look flawless in that red jumpsuit (no VPL), she was smart, intuitive, funny, and a good leader and example of a woman in power. Her empathic powers allowed her to sense other people's emotions and sometimes communicated with others almost miraculously.
The Definition of an Empath
An empath intuitively senses the situation involving another human being – but absorbs the emotions that are involved. Dr. Orloff has been called the "godmother of the empath movement" and specializes in treating empaths and highly sensitive people. Her helpful book, The Empath's Survival Guide: Life Strategies for Sensitive People, is a primer on what an empath is.
In this book, Orloff breaks the term, empath, down into these ten traits:
Empaths are highly sensitive
Empaths absorb other people's emotions
Many empaths are introverted
Empaths are highly intuitive
Empaths need alone time
Empaths can become overwhelmed in intimate relationships
Empaths are targets for energy vampires
Empaths become replenished in nature
Empaths have highly tuned senses
Empaths have huge hearts but sometimes give too much (by Dr. Judith Orloff)
Empaths tend to absorb the emotions of other people and even animals. Dr. Orloff describes several different kinds of empaths including: Emotional empaths, physical empaths, intuitive empaths, plant empaths, and animal empaths. While a person can be more than one type of empath, it's rare for a person to embody all of these traits.
Dr. Orloff combines her traditional medical training with "cutting edge knowledge of intuition, energy, and spirituality and passionately believes in the power of integrating this wisdom for total wellness," according to her website.
Some people who identify as being highly sensitive can also be empathic. Likewise, some but not all empathic people are highly sensitive.
Empath and Highly Sensitive People are Closely Linked
While empaths and the HSPs sound similar, they are somewhat different. Julie Bjelland argues that most empaths are HSPs, but not all HSPs are empaths. Dr. Orloff says empaths possess many qualities that HSPs possess, such as increased intelligence and spongey innate abilities for absorbing emotions and feelings. "You increase the volume from HSP into empath," explains Orloff.
"DOES" Acronym Helps Understand the Highly Sensitive Person Trait:
D is for Depth of Processing
O is for Overstimulation
E is for Emotional Reactivity
S is for Sensing the Subtle
So, while some people may only have HSP traits, others might be considered HSP and empathic.
Anxiety is a Risk for Empaths and Highly Sensitive People
Those who have sensitive feelings take up lots of information that's coming out of their environment. Eventually, these feelings can cause heightened fear and anxiety. Dr. Orloff noted a similar issue in the case of empath phobias. Talking to a therapist may prove very helpful if you have both of these types of personalities to improve your mental health.
Take HSP and Empath Quizzes to Uncover What You Are
There are many wonderful HSP and empath quizzes available online so that you can determine if you are an HSP or both HSP and empath. By taking both the quizzes for the HSP trait and the empathic trait, you might find that you're a Highly Sensitive Person with animal empathic traits. Remember the film, The Horse Whisperer? Yeah, pretty sure he was an animal empath.
How do you know if you're an empath or a Highly Sensitive Person?
When you're parenting kids who might be sensitive, know that sometimes kids gently grow out of some of their sensitivities. Babies can be recovering from a traumatic birth and their sensitivities are not innate. Other times, family life and stages can play into how your child responds to light, noise, and sound. Sometimes sensory processing sensitivities are at play. As you embark on your journey to uncover what type of sensitive you are, know that there are many people out there who have traversed this path before you.
How do you know for sure if you're an empath?
Unfortunately, there's no scientific test to know for sure if you're an empath. The traits are very similar to the trait, Highly Sensitive Person, as researched and understood by Dr. Elaine Aron. As with any trait that isn't detectable in a person's DNA, you'll want to read books, take quizzes, meet with a professional counselor, advisor, or coach to get confirmation.
Is it important to know what type of empath you are?
If you're like many HSPs and empaths, you find introspection and a deep understanding of yourself vital to your happiness and self-discovery. There are many different types of empaths: Emotional empaths, physical empaths, intuitive empaths, plant empaths, and animal empaths. While a person can be more than one type of empath, it's rare for a person to embody all of these traits. It can be helpful to research the traits of each specific type of empath to see which ones resonate with you the most.
Be sensitive, be free
*This post contains affiliate links and I will be compensated if you make a purchase after clicking on my links*