Table of Contents
It's amazing how much we can learn from the comfort of our own homes. Many professionals have created online Highly Sensitive Person courses to develop a better understanding of ourselves and find resources. Finding out that you're a Highly Sensitive Person can feel unsettling at first; thankfully, there are many trained, insightful teachers who can help you learn more about the trait of high sensitivity and boost your confidence in all areas of life.
Here are seven online Highly Sensitive Person (HSP) courses to choose from:
Sensitive people are unique in the world. They're also 20 percent of the population. You might feel like you don't fit in, you're not sure why you feel the way you do, and sometimes question how sensitive you are. But you're not alone! Julie's courses will help you to work with your unique nervous system, calm your mind, embrace your gifts, grow a heart-centered business, and learn how to harness your superpowers.
Courses come with eight free weeks in Julie's Sensitive Empowerment community, which deepens your experience and helps you to connect with other HSPs. Julie also has a monthly club where HSPs can be supported by other like-minded HSPs.
Julie offers a wide variety of courses including: HSP Brain Training, Blooming Brilliantly as an HSP, Heart-Centered Business Course for HSPs, and the HSP Calming Guide.
Cost: Courses begin at $199
April's Sensitive Self-Care Online Course is created for Highly Sensitive People who:
Have recently discovered that you're a highly sensitive person and are figuring out what you need to feel your best.
Are doing all the self-care things, but still feeling overwhelmed or unfulfilled.
Struggle with constant feelings of overwhelm, stress, or overstimulation and are anxious as a result.
Feel guilty when you take time for yourself or set boundaries.
Enjoy deep-diving into self-reflection practices.
Need guidance to kickstart an HSP-friendly self-care practice.
Want to lean into the good parts about being highly sensitive!
April offers several other courses for therapists and sensitive professionals. Self-Care Sessions are her monthly support club offered to all HSPs. She's also the author of The Mindfulness Workbook for Stress Relief and The Empowered Highly Sensitive Person's Journal.
Cost: Monthly sessions begin at $25/month and the full Self-Care Online Course is $129
Transforming the face of psychiatry, Judith Orloff MD asserts that we are the keepers of an innate intuitive and empathic intelligence so perceptive that it can help us heal — and prevent illness. Yet these qualities along with spirituality are the very aspects of our wisdom often disenfranchised from conventional health care. With a unique approach, she brings her medical science experience to the table to unpack sensitivity in new ways through her courses, books, and workshops.
Her online courses include the Empath's Survival Guide Online Course, Techniques for Empaths to Strengthen Their Intuition & Protect Their Energy, Surrender to the Power of Intuition, and Support for Empaths During Stressful Times just to name a few. She is best known to the HSP community for her books using the term, "Empath:" Her best-selling book, The Empath's Survival Guide, is a must-read.
Cost: $40 to $129
Patricia Young offers online coaching and courses for Highly Sensitive People. Her course is taught live over 10 weeks and includes modules on 1) mindfulness and self-compassion, 2) identifying negative messages, 3) perfectionism, 4) embracing our emotions, 5) self-care, 6) boundaries and conflict, 7) communication, vulnerability, and authenticity, and 8) creating an HSP-friendly lifestyle. Patricia has 30 years of HSP consulting and coaching experience.
Cost: $600 for early registration, next session begins April 25, 2022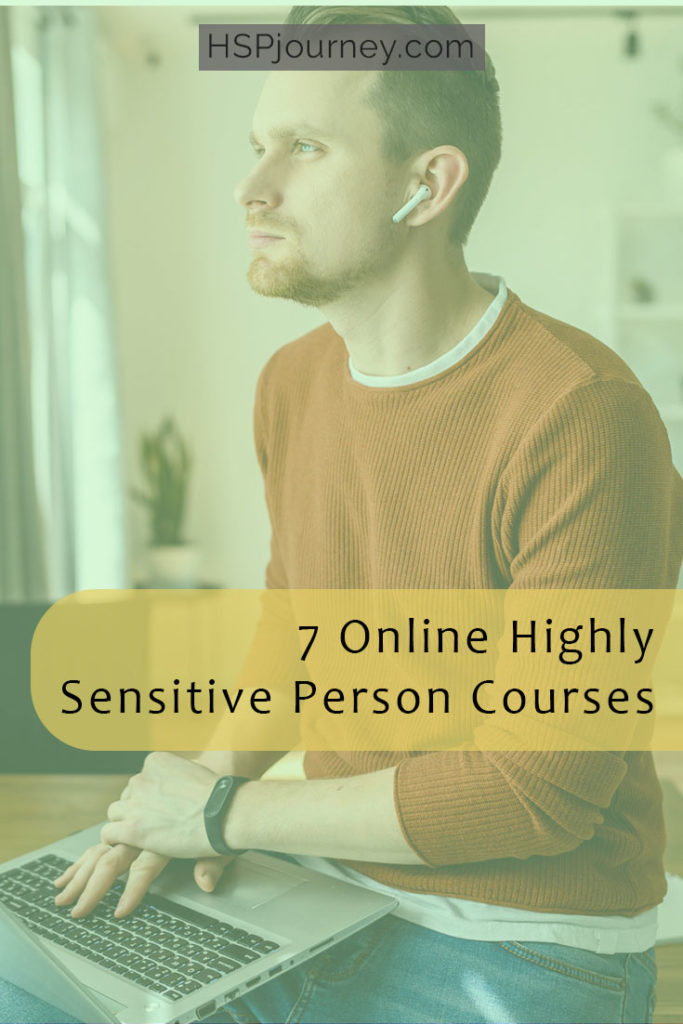 Here are three more Highly Sensitive Person (HSP) courses:
Imagine being so centered in yourself, so that the energies & emotions from other people no longer throw you off balance… so that you can do the things you want to do without feeling overwhelmed. Irene's online course, Thriving with Sensitivity, will help you do that. The tools and guided meditations in this course will give you a strong energetic foundation so that you can deal with other people's energies and stressful situations in a much more empowered, joyful, and balanced way.
Cost: $147 euro including 21% VAT
The course was created by Maria Hill, founder of Sensitive Evolution. She is a lifelong explorer and synthesizer of the sensitive experience. Her explorations of old wisdom and new emerging frameworks give her a unique perspective on the experience of sensitive people and their potential contribution to the world.
Maria is the author of The Emerging Sensitive: A Guide For Finding Your Place In The World, through which sensitive people can discover their natural place in a changing world. Her special gift comes from her understanding of the relationship between the sensitive experience and the hidden frameworks that drive human development and culture. She is committed to helping sensitive people acquire the tools to transform their understanding of themselves and their life journey so their talents and lived experience become an asset and source of joy. Maria's course opens once a year, in January.
Cost: Not listed
How to Live an Empowered Life and Thrive as a Highly Sensitive Person is an online eight-week course by Jules De Vitto for Highly Sensitive People. As part of this course, you will get access to an abundance of resources, meditations, workbooks, community support as well as pre-recorded workshops with guest experts in the field. You will not only learn how to manage emotional and sensory overwhelm, but feel empowered and thrive as a Highly Sensitive Person.
Cost: £397.00
Created by Jeannette Folan, this course is for professionals working with Highly Sensitive People. It covers various assessments, mistaken conditions, health-related issues, and challenges with identity, relationships, boundaries, as well as traditional/alternative therapies. This looks like a fantastic program for anyone interested in taking their coaching, writing, or personal HSP understanding to the next level.
Cost: $427
Be sensitive, be free
*This post contains affiliate links and I will be compensated if you make a purchase after clicking on my links*