Many highly sensitive people report experiencing Season Affective Disorder that interferes with their ability to wake up easily. Waking up can be difficult if you struggle to get a good night's sleep. Sometimes a sensitive person has too much on their mind and has trouble winding down. Getting a good night's sleep is extremely important, especially for those with Sensory Processing Sensitivity, called the Highly Sensitive Person trait. Purchasing a sunrise alarm clock can be a good remedy for HSPs with Seasonal Affective Disorder.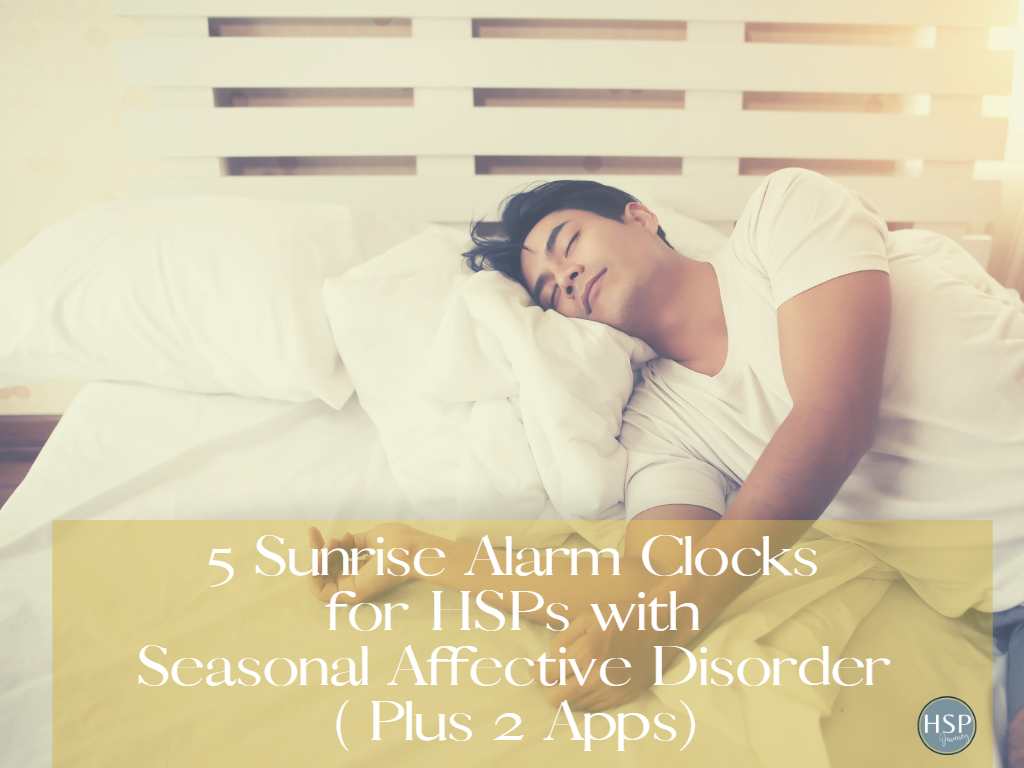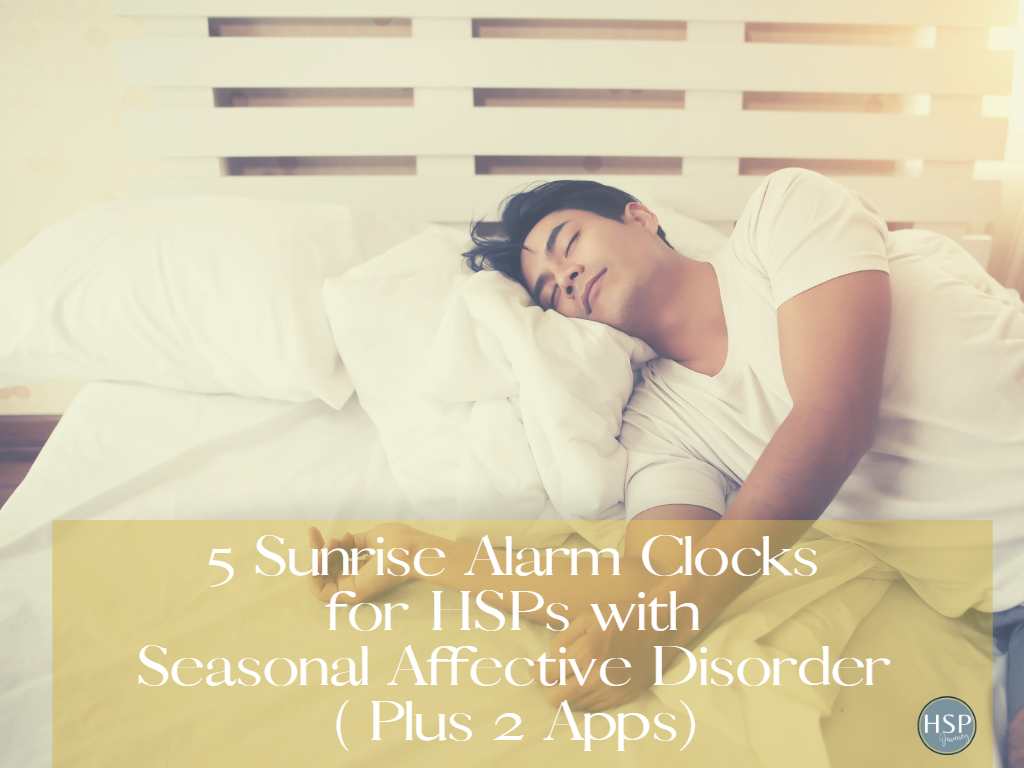 Table of Contents
What is Seasonal Affective Disorder (SAD)?
Many people report feeling blue, sad, or depressed during winter months when there is less sunlight. In colder climates such as the Pacific Northwest, Alaska, Montana, North Dakota, Wisconsin, and many of the upper US states, people struggle to get enough sunlight for vitamin D and seratonin. Another name for SAD is the "winter blues." It's not too uncommon to feel a little more sad when the weather is bad and most time is spent indoors.
People who experience SAD find that it begins in the fall and ends in the spring, but can depend much on the weather in a particular year, as weather patterns change from year to year. The symptoms of SAD can mimic regular depression and might possibly include: feeling depressed much of the day, losing interest in activities, changes in appetite or weight, experiencing problems with sleep, feeling tired and irritated, general low energy, and having difficulty concentrating,
Those with winter pattern seasonal depression experience oversleeping (hypersomnia), overeating (especially carbohydrates), weight gain, and social withdrawl.
Who is prone to seasonal affective disorder?
Those who experience summer pattern seasonal depression experience trouble sleeping, poor appetite or weight loss, restlessness, anxiety, and possibly episodes of violent or agressive behavior.
Women seem to be affected by SAD more than men and is more common for those who have bipolar, specifically bipolar 11.
In general, those who identify with the Highly Sensitive Person trait take in more stimuli than other people and often find that they experience more sensitivity to the weather, hot and cold conditions, as well as lack of sunlight. It is also generally recognized that HSPs are more prone to depression than other people. Those prone to depression might be more sensitive to external stimuli that contribute to additional depression symptoms.
To help with waking up more easily and dealing with the symptoms of Seasonal Affection Disorder (SAD) we recommend trying a sunrise alarm clock to gently wake up in the mornings and regulate your sleeping in a nature, non-stimulating way.
Here are 5 best Sunrise alarm clocks to help HSPs with Seasonal Affective Disorder:
Many of these sunrise alarm clocks have a host of wonderful features that can include: sound machine sounds such as white noise and waves, alarm clock functions, touch control, snooze, dual alarms, phone charging, bluetooth speaker, Some speakers offer sunset as well as sunrise lighting features. It's like a mini self-care device ready to assist you in multiple ways.
Sunrise Alarm Clock #1 – Hatch Restore Sunrise Alarm Clock
This is the gold-standard of sunrise alarm clocks and is more pricey than others. But with over 6,800 four start reviews, many users say they can't live without this alarm clock. Do be warned, to access all of Hatch's features, there is an annual subscription fee. Many users report they can get by just fine with the free plan, but to access the integrated app's many while noice features and other nuanced controls, you'll want to purchase the annual plan. Additionally, this device doesn't offer a USB port to plug in and charge your phone because they promote good sleep hygene, which doesn't include sleeping next to your phone.
After years of agreeing with these militant sleep hygene habits, we let our home phone line go, so I personally keep my phone charging by my bed but have night time settings that allow only emergency calls from people on my favorites list.
Sunrise Alarm Clock #2 – Philips SmartSleep Connected Sleep and Wake-Up Light
This clock is a little larger than the others on the market and users also report that the actual time on the clock is a bit hard to read, but there are 2,220 positive Amazon reviews of people who swear by this clock. At nearly $200, it is the most pricely sunrise clock on the market. Features include an app that 'maps' your sleep for a personalized sleep. There is a non-app enabled version of the nightlight that is $50 less, so check out this option if you're sold on the donut-ring style clock that puts the sunrise light right in your face.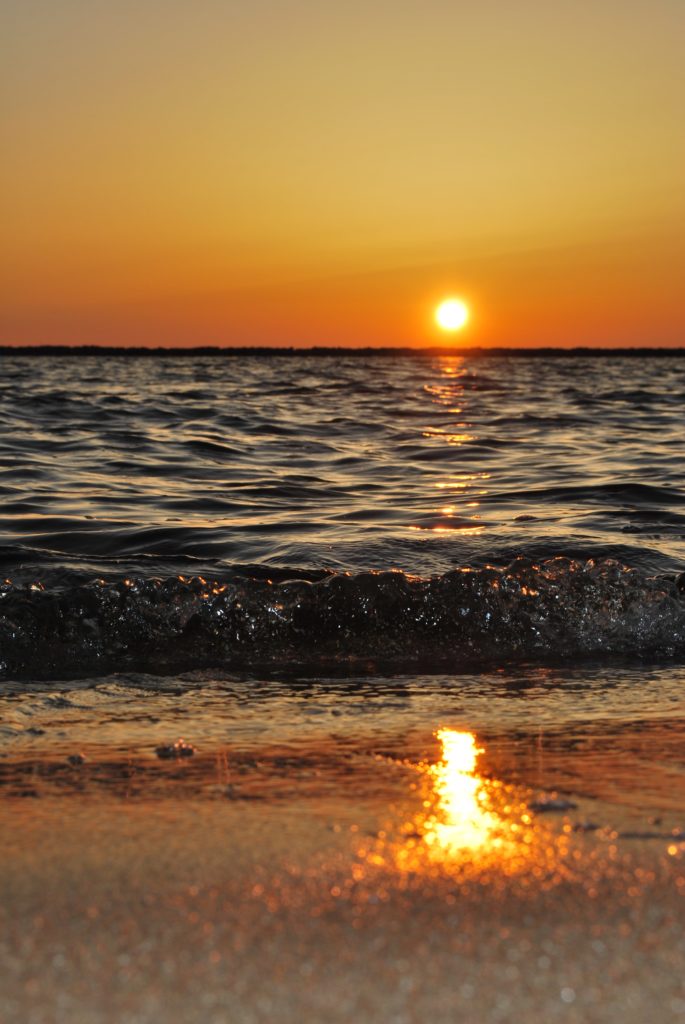 Sunrise Alarm Clock #3 – Antdalis Sunrise Alarm Clock 
This clock comes equipped with seven different wake up sounds, 10 volume levels, and 20 brightness settings to customize your wake up experience. The snooze function allows for a nine minute snooze with just one tap (this would be a dangerous feature for me). Users can set the light to glow in eight different colors including red, orange, yellow, green, blue, purple, teal, or magenta.
Sunrise Alarm Clock #4 – Apuzom Sunrise Alarm Clock
Many reviewers report that this sunrise alarm clock helps with their Seasonal Affective Disorder quite nicely. The clock itself has a midcentury modern look to it. Top comments stated that the light wasn't super bright but could be brighter. This clock does have many customization features including sound and light combinations including options to make the light brighter and the sounds louder. You can also customize your wake up times by the day for those with different wake up schedule needs. This clock also has eight or so color options. I would opt for yellow or orange to simulate the sunrise. This display also includes the temperature and day of the week. One reviewer commented that you could power the clock display all the way off for sleeping in total darkness, which is a huge pro for those who like to sleep in complete darkness. This clock is also under $50, which is fantastic.
Sunrise Alarm Clock #5 – Aurora Light
This sunrise alarm clock seems to be targeted to kids and teens. It boasts fun wake up colors that mimic an aurora borealis. It has dual alarm clocks, customizable settings for the brightness of the light as well as the sound. It also comes in two bezels: white and woodgrain. Many reviewers state that it is a wonderful product that they enjoy and it helps them wake up more easily. Some commenters go as far as to say they will never use another alarm clock again.
If you find that you budget doesn't allow for purchasing a new sunrise alarm clock, you may want to consider one of these two phone apps that performs similarly.
2 Sunrise Alarm Clock App Options
Sunrise App #1 – Gentle Wakeup: Sun Alarm Clock
This app for Android is a great option if you don't have the money for a dedicated sunrise alarm clock. It has many features that are free including a 20 minute natural wake up using your phone's screen for the sunrise light. You can select it to play ocean waves or birds chirping to go along with your sunrise. It begins the light and a general increase in sounds 20 minutes prior to your wake up time. It has has some great features including white noise, power naps, and in-app purchases to customize the sleeper's experience using this alarm clock. The app uses the back camera (flashlight) funtion, so you'll want to face your phone down or tilt the back side of your phone toward your bed so that the light has the greatest chance of waking you up.
Sunrise App #2 – Wake Up Light – Sunrise Alarm
This app works with HomeKit enabled light bulbs for Apple products. It does require a subscription, but many users say that it is far more valuable than having a dedicated sunrise alarm clock. This app is for iOS only, so bring your iPad or iPhone to this sunrise alarm party. Apple Home Hub is required to use with this app, but it boasts many cool features such as duration settings, sounds, and customizable timers.
Be sensitive, be free
*This post contains affiliate links and I will be compensated if you make a purchase after clicking on my links*