As a Highly Sensitive Person (HSP), you were born with an exquisitely responsive nervous system that takes in detailed information about your environment. You thoroughly process your thoughts and emotions, and you care deeply about other people and the natural world. Imperfect journaling is a type of practice for the HSP that can allow you the freedom to explore while taking good care of yourself and your emotional needs.
The trait of sensitivity includes aspects of the sensory processing sensitivity (SPS) trait, and these traits stay with us for life. In order to live more comfortably with this trait, we need to learn to manage how it shows up in our lives. Otherwise, it is easy to get lost in our heads (or our hearts) and suffer from overwhelm and overstimulation.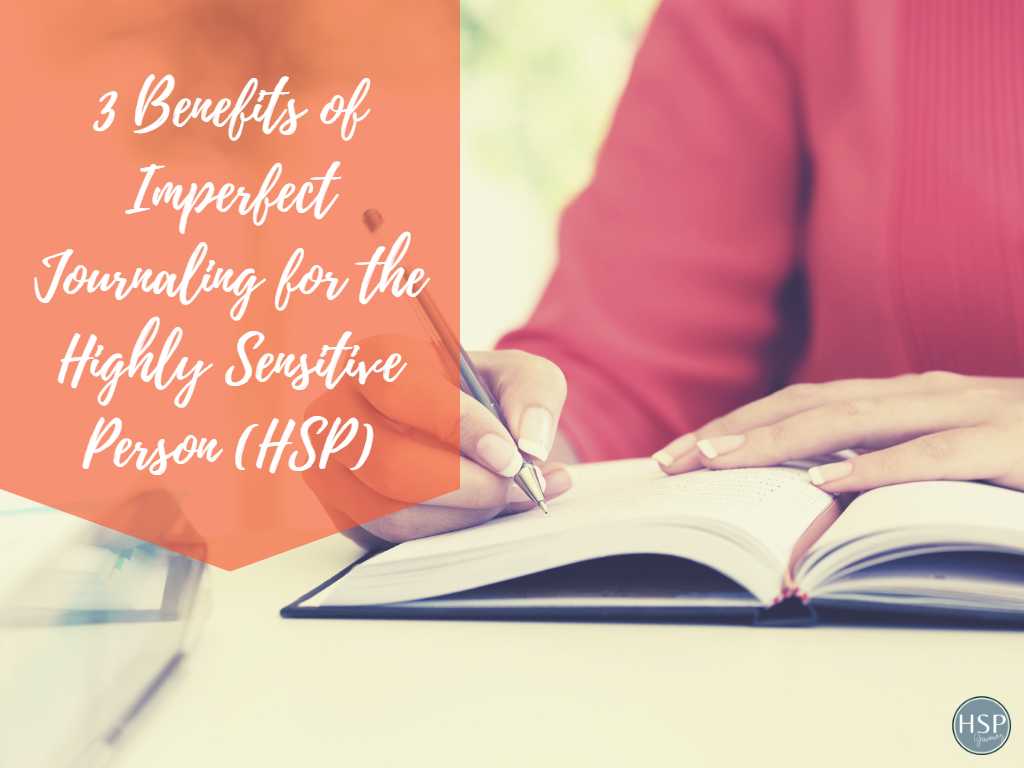 Table of Contents
Imperfect Journaling Can be a Powerful Tool for the Highly Sensitive Person (HSP)
One of the biggest obstacles to journaling is perfectionism. People have internalized the message that journaling has to be completed in a particular way that may include large quantities of daily writing and use of proper grammar.
Journaling is intended to be meaningful and helpful to you. For some people, that may mean aspiring to a daily practice of writing several pages of flowing prose. For others, journaling might mean jotting down a word or phrase whenever they need to get something out of their head.
Over and over, I've found that imperfect journaling practices are just enough for HSPs. If we are creating a safe space to reflect on our thoughts, feelings, and relationships, we are doing enough. We can get the benefits of journaling while at the same time practicing living with imperfection.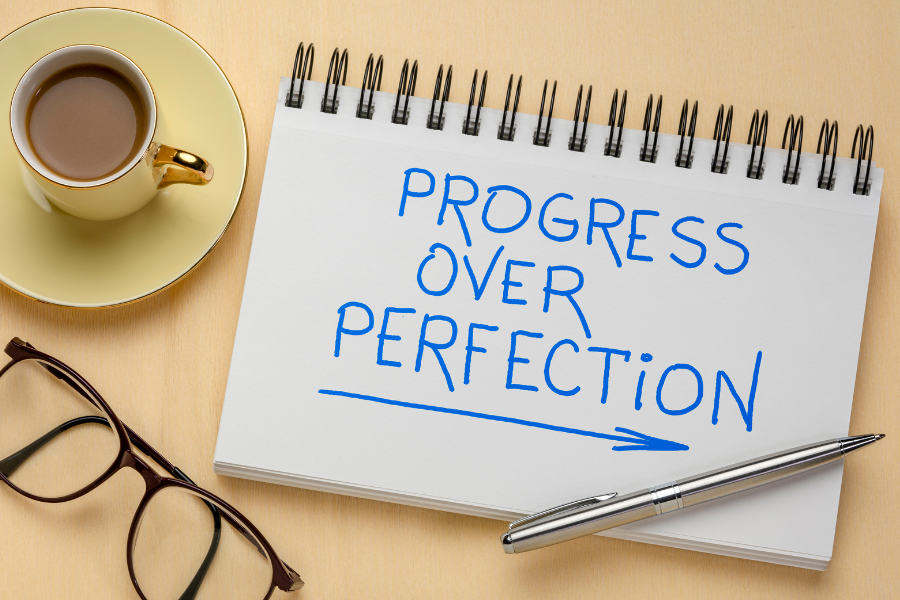 Why Imperfect Journaling is a Fabulous Tool for the Highly Sensitive Person (HSP)
As a psychologist who specializes in working with HSPs, I use journaling as a central part of my Singularly Sensitive approach to therapy. Journaling helps us manage all the aspects of sensory processing sensitivity that I described.
Journaling is an accessible practice that you can use outside of therapy or to complement work with any therapist.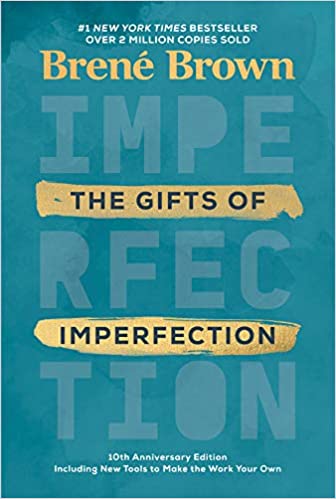 Here are three benefits journaling can offer HSPs:
Benefit #1 – Imperfect Journaling Can Help You Process Your Emotions
Imperfect journaling can help you reflect on and process your emotions. The act of writing down your feelings can help you gain some distance from their intensity. Journaling encourages this observer stance and helps us decide what to do in response to our emotions.
Benefit #2 – Imperfect Journaling Can Help You Clarify Your Thinking
Imperfect journaling can help you clarify your thinking. By slowing us down to the speed that we write or type, journaling helps us begin to recognize individual ideas amid the racing or swirling mass of thoughts. Journaling offers us a helpful distance that makes it easier to evaluate the quality of those thoughts and recognize if we are distorting or exaggerating particular ideas. We can then use our journals to write a story that serves us better than our initial thoughts.
Benefit #3 – Imperfect Journaling Helps Us Stop Taking Things Too Personally
We can stop taking things so personally when we pause to process our emotions and reactions using imperfect journaling as a tool. As HSPs, we are likely to be extremely conscientious about how our actions could impact others. Not everyone is similarly careful, so they may inadvertently hurt us. Or we react with hurt to something that triggers our sensitivity. Journaling can help us depersonalize these situations and focus on what we need to do to soothe ourselves or resolve an issue.
How to Develop the Habit of Imperfect Journaling
It can be hard to start a new habit, especially one that is as personal and intimate as journaling. Manage your expectations about what your journaling practice should look like. If you have never been a jogger, you would not expect to successfully run a marathon tomorrow. In a similar vein, if you are new to journaling or just out of the habit of doing it, don't set yourself up for struggles by aspiring to start journaling for an hour a day.
Set micro goals for yourself. The idea is to start small and commit to doing a bare minimum that moves you in the direction of the journaling habit you want to form. For example, commit to writing for one minute at a time, three times this week. When you find that you're meeting that goal, increase it slightly. If you don't meet it, ask yourself what might be getting in the way and see if you can adjust your practice.
Here are Four Additional Ways to Incorporate Imperfect Journaling into Your Self-Care Routine:
#1 – Use Reminders to Cue Yourself to Journal Imperfectly
Some people set an alarm. Other people tie journaling to a habit they already have established, such as journaling during their morning coffee or before they read at bedtime.
#2 – Experiment with Being Imperfect on Purpose
Experiment with being deliberately brief, messy, and incomplete. See how that feels and how to build tolerance for imperfection.
#3 – Have Self-Compassion for Missed Goals
Plan for how you'll respond to yourself when you miss your goals. Self-compassion is a must. Be gentle with yourself when the inevitable happens and you miss your goals. Aim to focus on the process, not the product.
#4 – Slow Yourself Down to Reflect and Learn to be Comfortable with Imperfection
The process of slowing yourself down, reflecting on your experiences from a distance, and living with imperfection is more important than the number of pages you write, how aesthetically pleasing they appear, or how many days you keep your journaling streak going.
Wishing You Well as an Imperfect Journal Writer
I hope that after reading about imperfect journaling, you may have developed some curiosity about how it could help you thrive as a Highly Sensitive Person. You don't need any special tools or materials. All it takes is some paper and a pen (or your favorite device), a comfy place where you can be uninterrupted, and the desire to start journaling.
If you would like to journal on a theme, I offer free guided journaling prompts, but it is also perfectly fine to write about whatever matters to you at a given moment. Above all else, just start. You don't have to have everything in place in order to begin. You can use what you have and start small. I trust that you will come to enjoy the benefits of your imperfect journaling practice.
How do I know if I'm a Highly Sensitive Person (HSP)?
This is a great question. Many people who are highly sensitive feel that they were not understood as children. They were frequently told they were too sensitive or cried too often. You can reference our list of HSP quizzes to see how you score and this can inform whether or not you are a Highly Sensitive Person.
Be sensitive, be free
*This post contains affiliate links and I will be compensated if you make a purchase after clicking on my links*