Addressing highly sensitive male communication needs can be challenging due to the societal pressure to conform to the stereotypical image of masculinity. These men often find themselves in a conundrum, torn between these expectations and the essential task of prioritizing their emotional, mental, and physical well-being. Therefore, expressing one's needs, especially as a highly sensitive man, can be daunting. However, communicating one's needs is vital for leading a healthy and fulfilled life. This article will provide some communication tips for highly sensitive men, enabling them to prioritize their emotional, mental, and physical well-being while still being empathetic to others.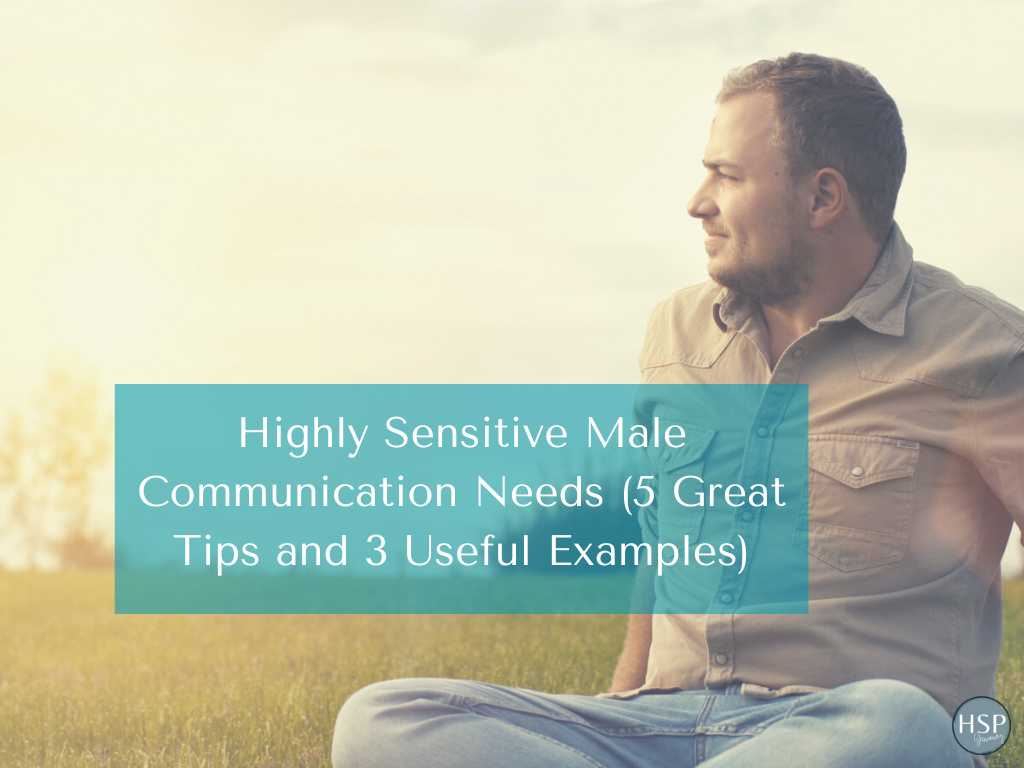 Table of Contents
Understanding and Honoring Your Highly Sensitive Male Communication Needs
Distinguishing between needs and wants is a fundamental aspect of effective communication, especially when considering highly sensitive male communication needs. This distinction aids in prioritizing essential needs over mere desires. Needs are the core requirements for survival and overall well-being, while wants represent non-essential desires that can enhance the quality of life.
Neglecting one's needs can lead to physical, mental, and emotional exhaustion, posing a significant threat to one's health, particularly for individuals with highly sensitive male communication needs. Highly sensitive individuals often have distinct needs that may differ from those less attuned to environmental stimuli. These needs can sometimes be misconstrued by individuals who are not highly sensitive, necessitating clear communication for better understanding.
Emphasizing self-care is paramount for maintaining sound mental and emotional health, especially for those with highly sensitive male communication needs, and it commences with self-compassion. As highly sensitive individuals, we frequently encounter skepticism regarding the necessity of our unique needs, which may appear trivial to others. Nevertheless, we possess an awareness of our requirements, and we must prioritize self-care in our lives to address these needs.
Hence, as a highly sensitive man, effective communication of your needs, including your highly sensitive male communication needs, is indispensable for a fulfilling life. It is unwise to assume that others will intuitively grasp your needs; instead, it is essential to share them openly. Moreover, refrain from compromising on your requirements. Instead, extend yourself the compassion you deserve and stand resolute in advocating for your needs.
Free HSP Webinar on Sensory Overload
Sensory Overload tends to be one of our biggest challenges as HSPs. It is when our senses take in more information than our brain can keep up with processing. You might be surprised that it is often the culprit of symptoms of emotional reactivity, anxiety, irritability, sleep issues, exhaustion, and even loss of productivity, creativity, and focus. What makes it extra hard is that the world isn't set up for those of us with high sensitivity. Have you been challenged by your sensitivity and labeled as "too sensitive" or "overly emotional"? Do you know how Sensory Overload impacts you? Join me to learn more and uncover solutions that will help you thrive to your fullest level of wellness.
Sensory Overload & The Highly Sensitive Person Webinar with Julie Bjelland
5 Helpful Communication Tips for HSP Men
"Prioritize Needs Over Approval" – embracing and internalizing Jacquelyn Strickland's wisdom as a guiding principle in your life. The essence lies in emphasizing your essential requirements and articulating them without seeking external approval or validation. This isn't an act of selfishness but a means to convey your authentic needs, ultimately empowering you to flourish.
Communication Tip #1 – Utilize "I" Statements
When expressing your needs, employ "I" statements to assertively and respectfully communicate without assigning blame. Approach the conversation with the assumption that the other person may not be aware of your needs.
Communication Tip #2 – Practice Active Listening
Foster deeper connections and mutual understanding by actively listening to others and acknowledging their emotions while effectively conveying your own needs.
Communication Tip #3 – Set Clear Boundaries
Establish distinct boundaries for yourself and others and communicate them assertively and respectfully to prevent overextension. Ensure you also convey the consequences of not respecting these boundaries.
Communication Tip #4 – Identify Your Needs
Take the time to clearly identify your needs, which may encompass both those related to high sensitivity and others. All your needs are valid, so understanding them is essential.
Communication #5 – Seek Support
Surround yourself with individuals who validate and support your needs and emotions. While this can be challenging at times, especially with family or colleagues, it's important to find your support network, which need not exclusively consist of highly sensitive people.
3 Examples of Honoring Highly Sensitive Male Communication Needs
Example 1: Respecting the Need for Alone Time Without Guilt or Selfishness
Acknowledging your need for alone time is vital for HSP men. This time allows you to recharge and prevent emotional exhaustion.
Example 2: Expressing the Need for Emotional Support Without Expecting Problem-Solving
Emotional needs play a significant role in fostering meaningful relationships. It's crucial to assertively and respectfully communicate these needs without expecting others to solve your problems.
Example 3: Establishing Boundaries with Toxic Individuals While Maintaining Empathy and Compassion
For highly sensitive men, setting boundaries with toxic individuals is essential. This should be done while preserving empathy and compassion, recognizing that these are also highly sensitive male communication needs.
Expressing your needs as an HSP man may pose challenges, yet it remains crucial for your emotional, mental, and physical well-being. Prioritizing and assertively, respectfully communicating your needs enables you to lead a fulfilling life without harboring guilt or self-centeredness. Keep in mind that self-care and self-compassion are not selfish; they are essential for your overall well-being. Armed with these communication strategies, you can effectively honor your needs while maintaining empathy and consideration for others.
Be sensitive, be free
*This post contains affiliate links and I will be compensated if you make a purchase after clicking on my links*