You may have heard about the growing conversation around highly sensitive men, a topic that brings light to an often misunderstood trait. A new documentary, Sensitive Men Rising, focuses on this very subject, examining the lives and experiences of men across the globe who identify as highly sensitive. It offers a unique opportunity for viewers to understand and empathize with these men, shedding light on how sensitivity can manifest in different ways and how it can bring depth and richness to their lives.
As you explore the topic, you'll learn that sensitivity is a trait found in 20% of the population, both in men and women. Through the lens of this documentary, the stories of 13 highly sensitive men from various backgrounds and experiences are brought to the forefront. These brave individuals share their personal journeys and struggles, ultimately showcasing their strength, resilience, and extraordinary qualities as highly sensitive men.
The film Sensitive Men Rising serves as an eye-opening experience for those not acquainted with the concept of high sensitivity and as an affirming and validating resource for those who are. So, get ready to dive into the world of highly sensitive men and explore how their unique traits can lead to personal growth and empowerment.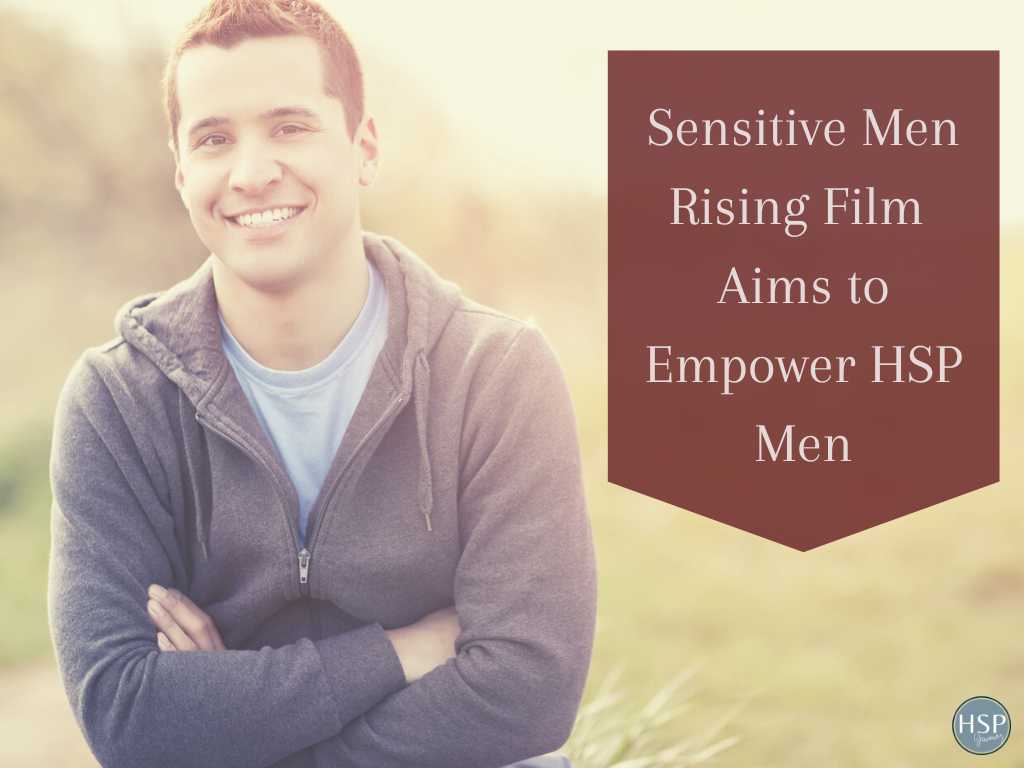 Table of Contents
Sensitive Men Rising Film
Documentary Overview
"Sensitive Men Rising" is a new documentary film focusing on highly sensitive men (HSPs). The film aims to provide a deeper understanding of Sensory Processing Sensitivity (SPS) in men and debunk some common myths surrounding HSP traits. If you're one of the billion men with high sensitivity, this documentary can be a valuable resource for you.
Film Dedicated to Ted Zeff
This film is notably dedicated to Ted Zeff for his tenacity, bravery, drive, and insight to embrace this one-time divisive innate trait. Some men described it as a "superpower," while some shunned it as an inhibited man's feature, and others said it was the smart gentleman's trait.
Dr. Zeff's accuracy about how and why the trait works in so many positive ways is cause to commemorate and pay tribute to Ted Zeff, Ph.D. – author, therapist, and passionate champion for high sensory boys and men. He was likely the first man to deeply embrace this wonderful and powerful trait. Dr. Zeff is the author of two books on sensitivity including The Strong, Sensitive Boy and The Highly Sensitive Person's Survival Guide: Essential Skills for Living Well in an Overstimulating World.
Director Will Harper
The man behind the camera is Will Harper, a director known for tackling sensitive subjects. He has a deep understanding of the issues facing highly sensitive men and is committed to providing a comprehensive portrayal of this trait in the documentary.
Dr. Elaine Aron
Dr. Elaine Aron is a key figure in the world of high sensitivity research. She first identified the HSP trait and has written extensively about it. In the documentary, she shares her expertise on the subject, helping to provide a solid foundation for understanding the experiences of highly sensitive men.
"[The research] must be methodologically sound and arrive at conclusions based on data! Frankly, I think you will agree when you see it (SMR) that this film could have a huge positive impact on the world. As some of you know, I have a special place in my heart for Highly Sensory processing Sensitivity Men. I really do like them. That is part of why I want to see this film made about them. What makes them different from other men?"

-Elaine Aron Ph.D.
Sensitive-The Untold Story
Before Sensitive Men Rising, Will Harper directed another groundbreaking film called "Sensitive-The Untold Story". This film served as an eye-opener for many viewers, shedding light on the complex lives of highly sensitive people. With its success, Sensitive Men Rising continues the journey to create more awareness about this unique trait.
Highly Sensitive Person (HSP)
A Highly Sensitive Person (HSP) has Sensory Processing Sensitivity, which means they tend to feel more deeply, process information more thoroughly, and are more affected by their surroundings. This documentary showcases the experiences of highly sensitive men, allowing non-HSPs and fellow HSPs to better understand and empathize with this unique trait.
As you watch this documentary, remember that HSPs are not weak or overly emotional; they simply process the world differently. By appreciating the unique perspectives and experiences of highly sensitive men, we can support them and create a kinder, more understanding world.
Understanding Sensitivity
Sensory Processing Sensitivity
Sensory Processing Sensitivity (SPS) is a term used to describe the heightened sensitivity that some people experience. If you're highly sensitive, you may pick up on more subtle stimuli like sounds, smells, and emotions. As a result, your brain processes information more deeply, which can lead to a richer emotional response to the world around you. The Sensitive Men Rising Film offers insights into the experiences of men who have heightened sensitivity.
The Biology of High Sensitivity
High sensitivity is a biological trait found in both men and women. It is believed to have evolved as a survival strategy, helping individuals to quickly detect and respond to changes in their environment. Today, 20-30% of the population is estimated to be highly sensitive. If you're a highly sensitive person (HSP), your nervous system is more reactive, leading to increased awareness of subtle cues in the environment.
Emotions and Vulnerability
Being highly sensitive often means you experience emotions more deeply and can be more vulnerable than the average person. You may connect more easily with others' feelings, making you more empathetic and understanding. In the context of the film, this vulnerability is explored, showcasing the experiences of sensitive men who learn to navigate their emotions and form strong connections with others.
Men, Women, and Sensitivity
Although men and women both experience heightened sensitivity, societal expectations, and traditional gender roles can make it challenging for sensitive men to express their emotions freely. The film Sensitive Men Rising delves into the challenges faced by sensitive men, specifically addressing the "boy code" that often enforces emotional suppression in males. By understanding and embracing sensitivity, men can break free from these stereotypes and foster more meaningful connections with others.
Highly Sensitive Men and Love
When it comes to love and romance, highly sensitive men (HSMs) experience emotions intensely and deeply, which can lead to stronger connections with their partners. Sensitive Men Rising, a documentary film, aims to explore the unique challenges and strengths that highly sensitive men bring to relationships.
As a highly sensitive man, you may appreciate subtleties in your environment and have a rich inner life. This same sensitivity allows you to be more empathetic and understanding in romantic relationships. You can connect deeply with your partner and intuitively anticipate their needs.
However, some aspects of love and romance might be more challenging for you as an HSM. Vulnerability, for instance, might feel more intense, making it harder to open up fully to a partner. But if you can embrace your sensitivity, it can become a strength in your relationships. Communicating your needs and boundaries effectively, which is essential in any relationship, can help both you and your partner navigate these challenges together.
The film also explores how traditional and modern-day masculinity intersects with sensory processing sensitivity in men. As a sensitive man, you may struggle with societal expectations to be strong, stoic, and emotionally invulnerable. This often does not resonate with your sensitive nature, but by embracing your sensitivity, you can redefine masculinity for yourself and forge more authentic connections with your loved ones.
In conclusion, love and romance can be a beautiful and transformative journey for highly sensitive men. If you are sensitive, remember to honor your vulnerability, practice open communication, and challenge societal expectations to cultivate deep, meaningful, and loving relationships.
Challenges and Successes
The Struggle for Happiness
In the film Sensitive Men Rising, you'll discover the challenges highly sensitive men face as they navigate their daily lives. Often misunderstood, these men must find ways to embrace their traits and redefine what masculinity means to them. One prevalent challenge is the struggle for happiness. Many sensitive men feel overwhelmed by societal expectations and the emotions of those around them, making it difficult to find balance and contentment.
Success Stories and Insights
Despite the challenges, many highly sensitive men have found success through self-awareness, self-acceptance, and authentic connections with others. These success stories, as showcased in the film, provide insights into how these men have thrived and embraced their unique qualities. By sharing their struggles and triumphs, they offer valuable lessons on coping strategies and how to leverage sensitivity as a strength.
Some of the key insights include:
Recognizing your innate sensitivity as a gift
Building healthier boundaries to protect your emotional well-being
Developing a solid support network
Supporters and Critics
The Sensitive Men Rising film is greeted with a mix of support and criticism. On one hand, supporters appreciate the documentary for shedding light on highly sensitive men's experiences and needs, challenging stereotypes, and promoting acceptance of diverse expressions of masculinity. These supporters often comprise highly sensitive individuals, mental health professionals, and people seeking to better understand their loved ones.
On the other hand, critics might argue that the film is too focused on a niche group, or that it perpetuates the idea of male sensitivity as a weakness or abnormality. They may question the need for such a film in an already complex dialogue on gender and mental health.
However, by engaging in an open conversation and acknowledging different perspectives, the film aims to foster understanding and compassion for highly sensitive men who are working to find happiness and success, just like anyone else.
Masculinity and Sensitive Men
In the world of masculinity, there's a growing awareness of the concept of highly sensitive men. A new documentary called Sensitive Men Rising is challenging the traditional notions of masculinity by showcasing the lives of highly-sensitive men and their important role in redefining manhood.
As you explore this topic, you'll learn that around 20-30% of the population possesses an innate trait called "sensory processing sensitivity" (SPS), which is more commonly referred to as "high sensitivity." Interestingly, 1 billion of these highly-sensitive individuals are men who possess a unique perspective on masculinity and the world around them.
The Sensitive Men Rising film aims to start a conversation about the different ways that men can express their masculinity, going beyond the typical expectations placed upon them by society. By delving into the experiences and viewpoints of these highly-sensitive men, the documentary hopes to break down barriers and promote understanding.
As you watch the film, you'll see that these men are not only capable of deep emotional connections but also possess a high level of empathy, which allows them to form strong bonds with others. Their sensitivity also fosters creativity, resilience, and a strong sense of intuition – qualities that positively contribute to the diverse landscape of masculinity.
In conclusion, the Sensitive Men Rising film is an important step in promoting inclusivity and understanding amongst men of all backgrounds, specifically those who are highly sensitive. It serves as a valuable reminder that there is no one-size-fits-all approach to masculinity, and embracing diversity leads to a richer and more compassionate society for everyone.
Best-Selling Author-Psychologist
The Sensitive Men Rising Film owes its inspiration to the work of best-selling author-psychologist Dr. Elaine Aron. Known for her groundbreaking research on the highly sensitive person (HSP), Dr. Aron has made significant advancements in public awareness surrounding this unique temperament trait. Her dedication to presenting profound and honest insights into this innate characteristic has created a solid foundation for the film.
As you explore the film, you'll discover key takeaways from Dr. Aron's research and findings, allowing for a deeper understanding of HSPs. Her science-based publications and commitment to methodologically sound conclusions help in shedding light on the life experiences of highly sensitive individuals. The Sensitive Men Rising Film highlights the significance of Dr. Aron's contribution to raising global awareness on this often misunderstood trait.
Embrace the friendly tone of this resource as it breaks down complex concepts into accessible and relatable points. This is especially helpful in creating a positive and supportive environment for highly sensitive men who often feel misunderstood or marginalized. By engaging with the film, you'll have the opportunity to learn more about your own sensitivities and discover how best to navigate and celebrate the unique aspects of being highly sensitive.
Remember, Dr. Elaine Aron's expertise and dedication to researching and understanding HSPs form the basis of the Sensitive Men Rising Film. As you watch it, keep her work in mind as a source of valuable information and inspiration in support of your own journey as a highly sensitive person.
Sensitive Celebrities
In the Sensitive Men Rising film, you will be introduced to some well-known and successful men who happen to be highly sensitive. This unique trait allows them to experience emotions more deeply, which can be reflected in their work and their relationships.
Alanis Morissette, a famous empath, and Highly Sensitive Person, has been an outspoken advocate for embracing sensitivity. While she may not be in the Sensitive Men Rising film directly, her involvement in the 2015 documentary Sensitive: The Untold Story brought attention to the subject of high sensitivity in the population.
This new documentary, Sensitive Men Rising, delves into the lives of 13 highly sensitive men who bravely share their stories with the world. By actively participating in this project, these individuals, along with Alanis Morissette, aim to raise awareness about sensitivity in men and break the stereotypes surrounding it.
Sensitive Men Rising is essential for understanding the challenges faced by those with sensory processing sensitivity. For anyone who identifies as highly sensitive, the film promotes self-acceptance and highlights the unique strengths of sensitivity. So keep an eye out for the release scheduled on June 18, 2023.
The trait of high sensitivity, found in about 15-20% of the population, allows these sensitive celebrities to navigate their careers with a heightened sense of empathy and creativity. As you watch the film, you will find it easy to relate to their personal stories and appreciate their unique contributions to society.
The John Hughes Connection
You might be curious about how John Hughes, a successful IT executive, author, and speaker, is connected to the Sensitive Men Rising film. Well, it turns out that John has strong ties to the highly sensitive men community and has been a driving force in creating awareness about this trait.
In 2020, John worked alongside pioneers Dr. Elaine N. Aron and Dr. Tracy Cooper to facilitate the first-ever seminar exclusively for Highly Sensitive Men. His belief is that while Highly Sensitive Men aren't superior, they have the potential to be the best leaders.
As a highly sensitive man himself, John understands the importance of breaking down societal expectations and fostering an inclusive environment. In the Sensitive Men Rising documentary, they delve into the stories of sensitive men from various backgrounds and explore how they've chosen to redefine traditional masculinity.
Having experienced life as a highly sensitive man in London, John Hughes relates first-hand how the fast-paced nature of the city can overwhelm someone with this trait. As a featured participant in the documentary, he's one of the 13 sensitive men sharing his personal story.
Thus, the John Hughes connection is a testament to the critical need for conversations around sensitivity in modern masculinity, paving the way for a healthier and more understanding society. The Sensitive Men Rising film aims to deepen our understanding of sensory processing sensitivity in men, and John Hughes plays a crucial role in bringing this message to a wider audience with his own experiences and expertise.
Frequently Asked Questions
What films showcase the experiences of highly sensitive men?
There are numerous films that showcase the experiences of highly sensitive men, either as main characters or in supporting roles. From well-known movies like Good Will Hunting and Dead Poets Society to indie films like The Perks of Being a Wallflower and Moonlight, these movies often demonstrate the unique struggles and strengths of highly sensitive male characters.
Where can I watch the Sensitive Men Rising documentary?
You can learn more about the Sensitive Men Rising documentary on their official website. As the film is still in development, information on release dates and streaming platforms will be available closer to its premiere date.
Which documentaries explore the highly sensitive person trait?
There are a few documentaries that specifically focus on the trait of high sensitivity. One notable example is Sensitive: The Untold Story which provides an in-depth look at the temperament trait found in 20% of the population, including both men and women.
How do highly sensitive men navigate relationships in movies?
Relationships can be complex for highly sensitive men in movies. Characters often navigate relationships with empathy, deep emotional connections, and vulnerability. However, they may also face challenges in balancing sensitivities with societal expectations. These interactions highlight the unique characteristics of highly sensitive men in diverse relationships.
What are some influential films featuring highly sensitive male characters?
Some influential films with highly sensitive male characters include The Hours, which follows the lives of three interconnected individuals, and Magnolia, a mosaic of intersecting storylines. Independent films such as Little Miss Sunshine and A Beautiful Mind also showcase highly sensitive male characters dealing with various challenges.
How do films address the challenges faced by highly sensitive men?
Films addressing the challenges faced by highly sensitive men often focus on personal growth, emotional resilience, and self-acceptance. The characters may grapple with societal pressures, self-doubt, or mental health issues. Through their journeys, these films can open up dialogues about the reality, depth, and strength of highly sensitive men in a world where their sensitivity is often overlooked or undervalued.
Be sensitive, be free
*This post contains affiliate links and I will be compensated if you make a purchase after clicking on my links*