Books can offer children a world filled with stories, knowledge, and insight. For sensitive kids, finding the right books to help them champion their trait of high sensitivity can be helpful as they develop and come to better understand themselves. Sensitive children may require books that take into account their unique needs and difficulties, while still providing the opportunity to build their literacy skills.
Books for sensitive kids often cover topics related to strong emotions, diverse experiences, and self-discovery. These books can help children build empathy, develop resilience, and learn valuable life lessons. The right book will open young minds to different perspectives, cultures, and ways of thinking while being mindful of not overwhelming their sensitivities.
When choosing books for sensitive kids, it's crucial to consider factors such as the appropriateness of the content, the complexity of the story, and the child's interests. The book should be age-appropriate and address any potential triggers with tact and sensitivity. Additionally, the child's hobbies, preferences, and personal experiences should be taken into account to ensure the book will capture their attention and encourage further reading. You might also encourage your child (or assist them) to take this online quiz developed by Dr. Elaine Aron to determine if your child has the HSP trait.
Our team has spent considerable time curating a list of the best books for sensitive kids, taking into consideration the factors mentioned above. These titles will provide young readers with engaging stories and valuable lessons while promoting a positive reading experience.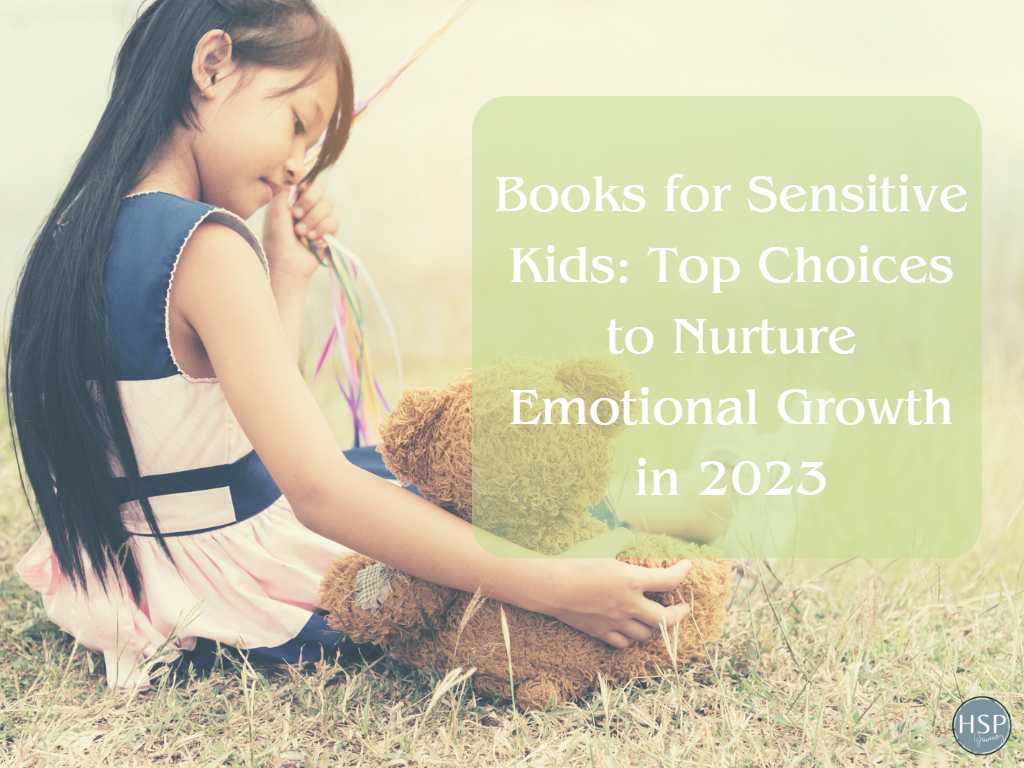 Table of Contents
Best Books for Sensitive Kids
Discover a curated selection of the best books for sensitive kids that will help them navigate their emotions and the world around them. Dive in and find the perfect book to encourage your child's emotional growth.
This book provides valuable insights and guidance for those looking to better understand and support highly sensitive children in their lives.
Pros
Valuable advice to help parents better understand their sensitive child
Easy to read and concise, making it accessible to a wide range of readers
Offers real-world examples to demonstrate concepts
Cons
Some reported grammatical errors in the text
May not provide in-depth information for those already familiar with the subject
Focused primarily on general understanding rather than specific strategies
If you have a sensitive child in your life or suspect that your child may be highly sensitive, Understanding the Highly Sensitive Child: Seeing an Overwhelming World through Their Eyes is a reliable and informative resource to help guide you. This book will provide an understanding of what it means to be a highly sensitive child and how you can support them in a way that caters to their unique abilities and challenges.
The author presents valuable information in an easy-to-read format, making it a quick and informative read for anyone looking to become more informed on the subject. Through real-world examples, you'll gain a better understanding of what it is like to be a highly sensitive child and how their experiences differ from those of other children.
However, some readers have reported grammatical errors throughout the book, which may be a slight drawback for those who are particular about polished writing. Additionally, if you are already well-acquainted with the concept of highly sensitive children, this book may not provide significantly new information or strategies, as it primarily focuses on providing a general understanding of highly sensitive children and their unique experiences.
In conclusion, this book will be helpful for parents, teachers, and caregivers who wish to develop a better understanding of highly sensitive children and support them more effectively in daily life. The pros and cons listed above should be considered before purchasing, but overall, it remains a valuable resource for those searching for guidance on this unique topic.
This insightful book is a must-read for parents and caregivers of sensitive children looking for actionable, practical advice.
Pros
Easy to read and understand
Action steps for immediate use
Complements "The Highly Sensitive Child" book
Cons
May be too basic for some readers
Contains spelling errors
Relies heavily on examples
Supporting the Highly Sensitive Child: Making Sense of Meltdowns focuses on practical guidance for parents and caregivers of sensitive children who experience emotional meltdowns. The book, which is part of the "A Nutshell Guide" series, touches on various aspects of understanding and supporting sensitive children in an easy-to-digest format.
The author uses relatable examples within family settings, making it easier for you to relate and apply the lessons learned to your own experiences. While the book is helpful for understanding the challenges faced by highly sensitive children (HSC), it does not delve deeply into the science or psychology behind the condition.
It's evident that the book is meant to complement the more comprehensive book, The Highly Sensitive Child by Dr. Elaine Aron, as it refers to it several times throughout the text. For a quick and straightforward resource, Supporting the Highly Sensitive Child: Making Sense of Meltdowns is an excellent choice. However, if you're looking for a more in-depth exploration of the topic, you may consider reading the longer, more detailed book.
Overall, Supporting the Highly Sensitive Child: Making Sense of Meltdowns is a valuable read for those looking to gain a better understanding of sensitive children and their unique needs. With its practical advice and relatable examples, it empowers you to become a more supportive parent or caregiver for the sensitive children in your life.
My Great Big Feelings is an insightful book that can help sensitive children understand and embrace their unique traits.
Pros
Relatable story for sensitive children
Beautiful illustrations
Encourages acceptance of sensitivity
Cons
Short length
Some expectations of more content for the price
May be better suited for younger kids
My Great Big Feelings is a wonderful book specially crafted for sensitive children. It tells a heartfelt story that sensitive kids can easily relate to, helping them understand their emotions and the world around them. The story is crafted in a way that promotes acceptance and self-awareness, allowing sensitive children to appreciate their natural traits instead of feeling overwhelmed by them.
The book is filled with beautiful illustrations that not only enhance the story but also keep the little readers engaged. The artwork focuses on various sensory experiences that sensitive children go through daily, making it easier for them to connect with the story, and ultimately, the book's message.
One of the downsides of My Great Big Feelings is that it is quite short, with only 24 pages. Some readers have expressed that they expected more content for the price of the book. Additionally, while the book is designed for children aged 8 – 12 years, younger kids, especially those who have just started school, may find it more helpful.
In conclusion, My Great Big Feelings is a wonderful resource for sensitive children and their parents, providing a relatable story and illustrations to help kids understand their emotions and embrace their unique traits. While it may not be a perfect fit for everyone due to its length, those who find solace in its content will undoubtedly appreciate the message it conveys.
Discover effective and empowering strategies to nurture your highly sensitive child in this comprehensive audiobook bundle.
Pros
Provides practical advice for understanding and supporting sensitive children
Offers insights on building healthy self-esteem in kids
Narrated in a soothing and engaging manner
Cons
May not cover all aspects of childhood anxiety
Some information might seem too basic for experienced parents
A few listeners found the content lacking depth
As a parent of a highly sensitive and anxious child, navigating daily challenges can be overwhelming. The audiobook The Empathic Parent's Guide to Raising a Highly Sensitive and Anxious Child by Freeda Meighan is your ally in guiding you to raise your child with love, care, and understanding. The two-books-in-one bundle is a valuable resource to learn how to talk to kids effectively and empower them to believe in themselves.
Upon listening to this audiobook, you'll gain insight into your child's sensitivities, and learn tactics for helping them manage emotions in everyday situations. These strategies will foster a strong parent-child bond and better equip you to support their emotional needs.
One drawback is that this audiobook might not cover every aspect of childhood anxiety. If your child has more specific needs, you may find yourself seeking additional resources for a comprehensive approach. Nevertheless, the audiobook remains a valuable starting point for building a strong foundation in understanding highly sensitive children.
In conclusion, The Empathic Parent's Guide to Raising a Highly Sensitive and Anxious Child is perfect for those seeking guidance on supporting sensitive kids. While it may not be an all-encompassing solution, it offers practical advice and compassionate strategies to empower both you and your child on this journey.
A must-read for parents seeking guidance on raising sensitive children and understanding their emotional needs.
Pros
Easy to understand
Practical advice and strategies
Addresses parent-child relationships
Cons
Limited to highly sensitive kids
Some tips might not apply to all
Not available in multiple formats
In Parenting Your Highly Sensitive Kids and Teens, you'll find a valuable resource that helps navigate the often-challenging journey of raising highly sensitive children. The author provides easy-to-understand concepts and strategies, which make it an enjoyable read that doesn't overwhelm the reader with technical terms or jargon.
As you dive deeper into the book, you'll appreciate the focus on practical tips for handling day-to-day situations and fostering a healthy parent-child relationship with your highly sensitive kids. The author emphasizes the importance of understanding your child's unique needs and effectively addressing them.
However, some readers might find that not all the tips and techniques presented in the book are applicable to their specific situation, or they may desire additional formats such as an audiobook or ebook. Despite these minor drawbacks, "Parenting Your Highly Sensitive Kids and Teens" is still a highly recommended read for parents eager to better understand and support their sensitive children, leading to happier and more harmonious households.
A heartwarming and educational read that teaches sensitive children about embracing diversity and self-acceptance.
Pros
Engaging story promoting inclusiveness
Lovely illustrations capturing kids' attention
Encourages open conversation about feeling different
Cons
Simplistic storyline for older children
Text size and background could be improved
Narrower age range recommended (2-5 years)
Diversity Is Our Superpower is a beautifully crafted picture book that introduces the concepts of neurodiversity, introversion, and sensitivity to children in an accessible and engaging manner. The story revolves around Tim, a shy and highly sensitive child, who embarks on a journey of self-discovery and friendship. The book also highlights the importance of compassion, recognizing differences, and teamwork.
The illustrations featured in this book are charming and visually appealing, ensuring that young readers are captivated by the story. The images also serve as a great way to spark conversations between parents and their children, fostering a deeper understanding of the themes presented in the book.
However, it is worth noting that the storyline may be relatively simple for older readers. While it is advertised for children aged 2-8, it might be better suited to a younger audience in the 2-5 age range. Additionally, the text size and background could be improved for better readability.
In conclusion, Diversity Is Our Superpower is a touching and impactful resource for teaching sensitive children about embracing their unique qualities and the power of unity in diversity. If you have younger kids who would benefit from learning about acceptance and understanding, this book is a fantastic choice.
Buying Guide
When looking for books for sensitive kids, it's crucial to consider several factors to ensure you're selecting the best-suited material for your child. Following are a few key aspects to keep in mind while browsing for appropriate books:
Age-appropriate content: Make sure the books are tailored to your child's age and developmental level. This ensures the content will be both engaging and easy to comprehend.
Theme and subject matter: Delve into themes and subjects that resonate with sensitive children. Topics such as friendship, emotions, empathy, and kindness are excellent choices, as they help nurture emotional intelligence.
Reading level: Pay close attention to the complexity of the language and vocabulary used in the book. Opting for a book that matches your child's reading abilities will foster an enjoyable and frustration-free reading experience.
Illustrations and visual cues: Aesthetically appealing illustrations and visual aids can significantly enhance a sensitive child's connection to the story. Consider books with thoughtful, comforting, or uplifting imagery.
Remember, investing time and thought into selecting the perfect book for your sensitive child can have an immensely positive impact on their emotional development and love for reading. Good luck and happy reading!
Additional HSP Journey Articles You Might Like:
Be sensitive, be free
*This post contains affiliate links and I will be compensated if you make a purchase after clicking on my links*