Summer is nearly here, and with it comes a focus on escaping the demands of school and work. Highly sensitive people (HSPs) who are in college, work in an academic setting, and/or have kids may be counting the days until the pressure of the school year eases and it is possible to get away from the daily grind. While taking time off sounds great, you might benefit from these much-needed vacation strategies for HSPs.
The trouble with taking time off is that this disruption to everyday routines can be hard on HSPs who thrive on having a predictable life rhythm. As much as we want to escape that routine, we may also find it hard to prepare for time off, difficult to unwind, and a lot of work to adjust to after returning to daily life.
If you are taking a vacation or having a staycation this year, there are things you can do to make the process more rewarding as a Highly Sensitive Person.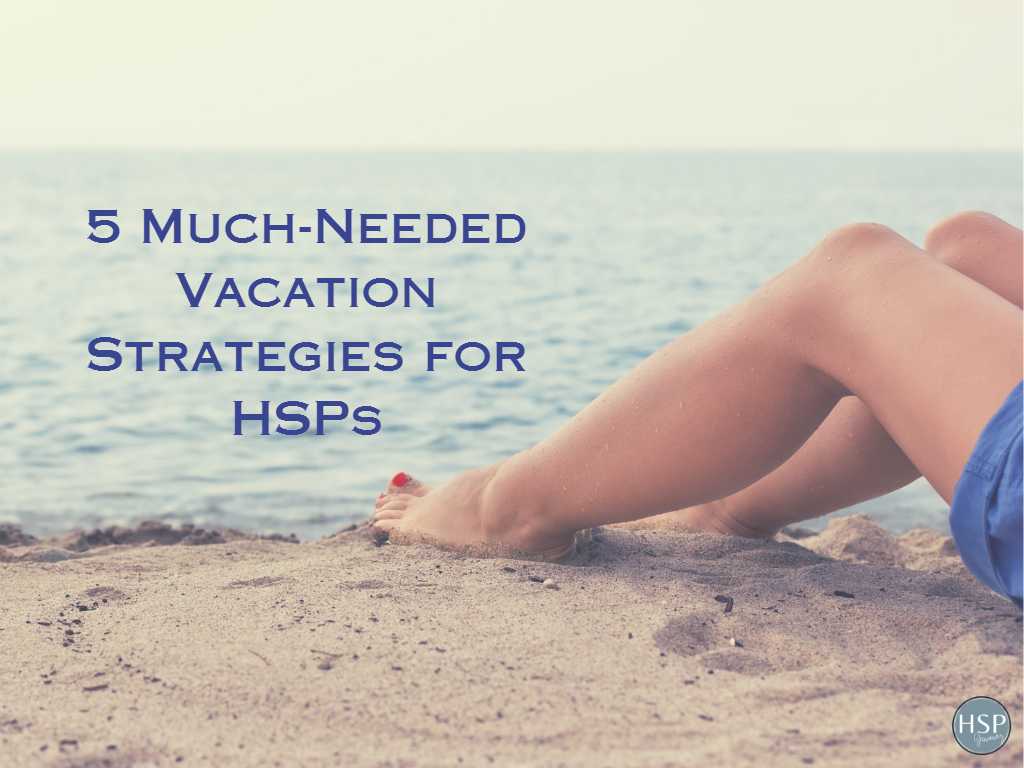 Table of Contents
#1 – Preparation for Vacation is Key for HSPs
You can play to your HSP depth of processing by spending some time reflecting and journaling about what exactly it is that you want to accomplish by taking a vacation or staycation. Tune into what your intuition is saying about what you need and want. Ask yourself some of the following questions:
Do I crave peace and quiet?
Do I need time alone?
Would time in nature rejuvenate me?
Would connection with friends or family members buoy my mood?
Am I thirsting for adventure and novelty?
Do I need an experience of wonder and awe?
Do I need to stay home, unplug, and accomplish some projects that will enhance the quality of my life?
Once you have identified what you need and want from your time away from your everyday life, you will be better able to plan a vacation or staycation that will ultimately satisfy you.
Many people feel pressured to plan an expensive vacation, and sensitive people are not immune to this pressure. However, if your intuition is telling you that this isn't the right time to miss work or go on an elaborate trip, respect what you need to do for yourself. After all, there is nothing relaxing about contorting your schedule or your finances just to say that you went on vacation. Don't allow the pressure to keep up with societal expectations to instruct your time off.
As an HSP, only you know what you need. By listening to these needs, you can tap into your personal awareness to carve out a rejuvenating, peace-inducing vacation.
#2 – Figure Out How to Actually Unwind as an HSP
We each have different ways of unwinding, but all Highly Sensitive People need more time to transition than our non-HSP counterparts. When it comes to vacation or staycation, build in transition time. This might mean giving yourself a day (or more) free at the start and end of your time off to get ready for what comes next.
Personally, I know that if I don't have that buffer, it's hard for me to shift gears between daily life, vacation/staycation, then back to daily life. I don't enjoy my time off nearly as much, since my mind needs time to adjust to the changes.
Be willing to explore what works to give you a sense of restoration during your time off. Maybe you've always gone to the beach. Try venturing into town or wandering around a museum to see if those activities might help you better unplug from everyday life. You won't know until you try something new. Use your mindfulness skills and your sensory awareness to check in with yourself about what gives you what you truly desire from your time away.
#3 – Preplan for HSP Vacation Challenges
Every vacation or staycation will have a few snafus, bad hotel rooms, challenges, or less preferred activities, especially if you are sharing the experience with other people. Remind yourself to breathe, tend to what your body needs, and stop yourself from catastrophizing if your plane is late or the kids (or grownups) are cranky one night. Try to appreciate the mix of highs and lows that vacation/staycation brings, which is not unlike everyday life.
When all else fails and you're feeling frustrated or disappointed with your vacation/staycation, you can paraphrase my husband's sentiment: a bad day at the beach is still a day at the beach.
#4 – Re-Integration After Your HSP Vacation
Hopefully, you will build in some transition time at the end of your vacation/staycation (or will next time). If you have, use this time in a variety of ways:
Reflect, journal, share stories with loved ones, or record your memories
Look at photos, make a digital album, or put together a photo book
Take a nap—extend the restfulness as long as possible
Attend to the household chores that are necessary to make daily life go smoothly once your vacation/staycation is over—groceries, a minimal amount of laundry, gas for vehicles, etc. (Save the big cleaning projects for another day.)
Consider whether you want to do anything to prepare for returning to work and how that might impact the end of your time off. Some people like to glance at their emails, delete junk mail, and have a sense of what awaits them when they return. Other people may want to see what their meeting schedule will be on their first day back. Those sorts of things are fine if they empower you to feel confident about returning. If you're likely to get absorbed in them and essentially be mentally and/or practically returning to work early, you may want to just wait until you officially return to work.
#5 – The Gift of Taking a Break for HSPs
I cannot emphasize enough how important it is to take time away from your usual work or academic routine. HSPs need time to reflect, daydream, and let their nervous systems quiet down after the frantic pace of modern life. Please take time away regularly to guard your mental health, your physical well-being, and spiritual development. This is a gift you give yourself. I hope you savor it!
Be sensitive, be free
*This post contains affiliate links and I will be compensated if you make a purchase after clicking on my links*