Table of Contents
Many Highly Sensitive Persons who grew up with parents with mismatched attachment styles find that they struggle to make deep and lasting connections as adults. In this article, we'll look at three essentials of Attachment Theory for the Highly Sensitive Person.
Attachment Theory in essence is "the lasting psychological connectedness between human beings (John Bowlby)." A person's first attachment to his or her parents as a baby and young child is of utmost importance. The theory goes on to say that it's vital for kids to bond with one main caregiver during their younger years for their mental health and physical safety–two of the biggest intrinsic needs humans have. While this makes perfect sense, when a child is highly sensitive and doesn't get their attachment needs satiated in their formative years, it can cause problems for them in future relationships.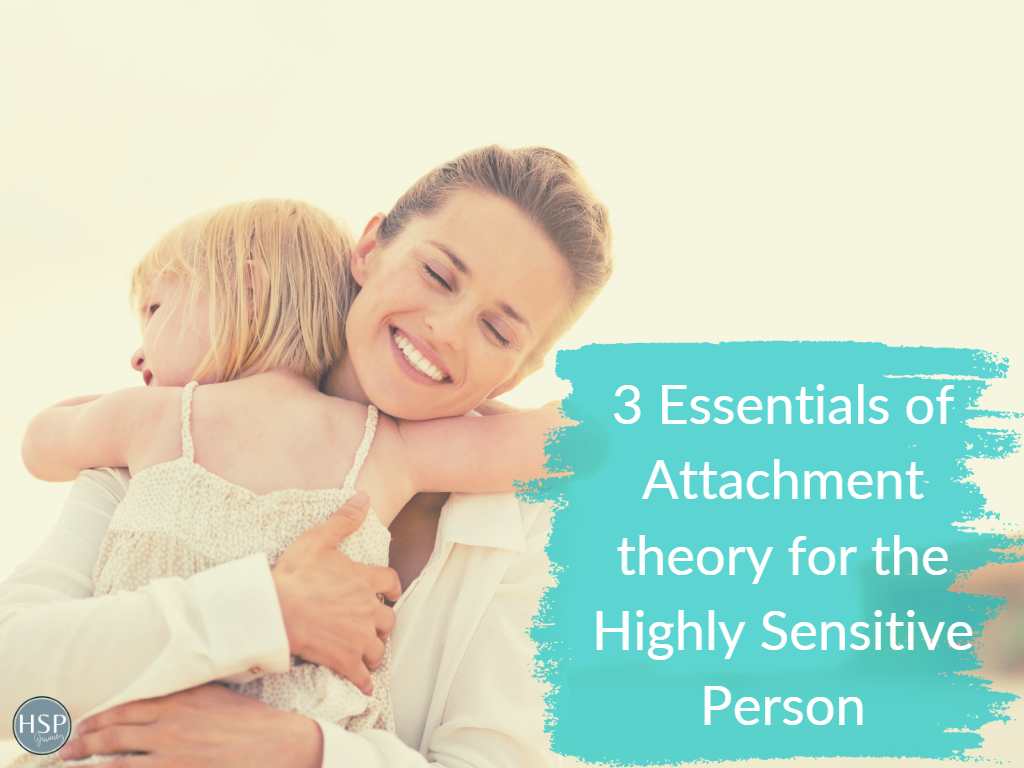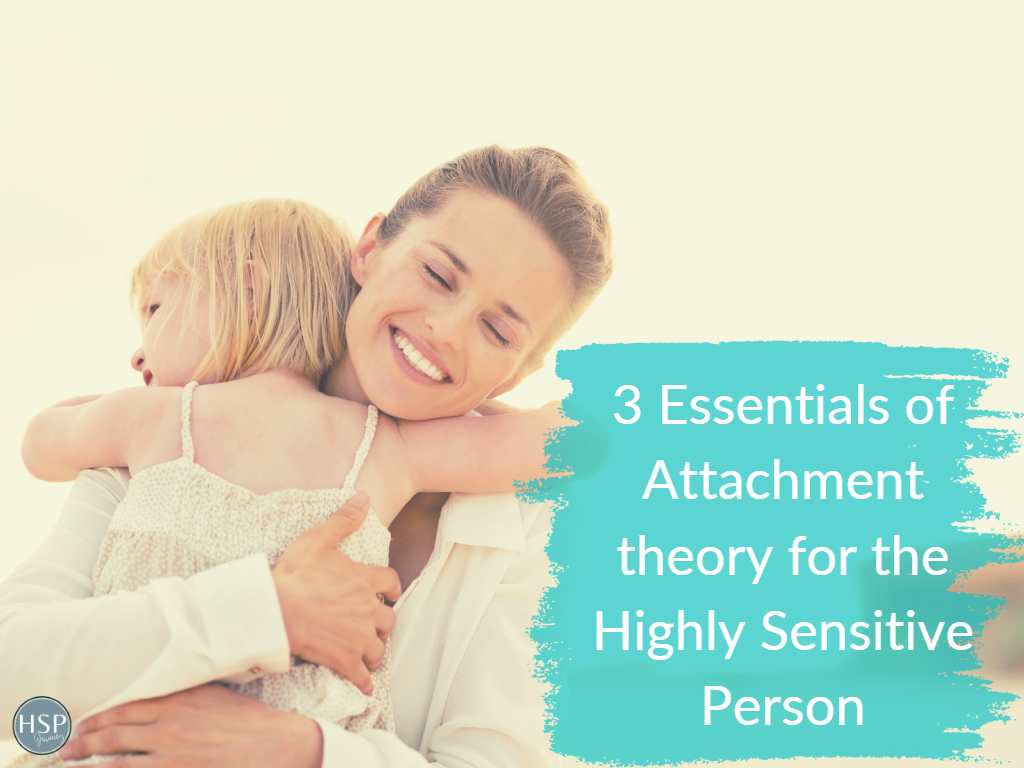 Four Main Types of Attachment Styles
There are four main types of attachment styles as defined by the bulk of work researched on attachment theory.
#1-Secure Attachment: A feeling of stability, trust, and reliability is built between a child and their caregiver.
#2-Anxious-Preoccupied Attachment: An overly dependent need to be attached at all times often resulting in separation anxiety.
#3-Fearful-Avoidant Attachment: Ambivalent or confused desire to be attached often vacillating between the desire for connection and fear of close connection.
#4-Dismissive-Avoidant Attachment: A focus on avoiding or appearing as though they don't need close attachment while putting personal needs and accomplishments above those who need care.
3 Essentials of Attachment Theory and the Highly Sensitive Person
Essential #1 – Poor Attachment Is Not Your Fault
The first essential to remember and hold dear is that you are not responsible for the negative attachment you experienced as a child. You were parented with the skills your parents had at the time. Most of us HSPs tend to internalize and take responsibility for our negative feelings. If you've had negative repercussions from your childhood, it's helpful to remember that something was done to you. You are not responsible for receiving avoidant, anxious, or disorganized attachments from your parents or caregivers. Review how you were raised and acknowledge your family of origin attachment style. Do some work in therapy or in a guided self-care journal to think about your relationship with your parents.
Essential #2 – You Can Heal From Mismatched Attachment
As HSPs grow into adults, they frequently seek out friendships and mentors who fill the void where their parents should have been. In my case, I found a mentor mom to guide me in parenting my kids when they were young. I was thankful that The Attachment Parenting Book by Dr. Sears was popular when I became a mom for the first time. It addressed lots of issues I was unaware of (well before I knew anything about the HSP trait). I also found that finding business mentors, relationship mentors, and other types of people to fill the void where I needed connection was essential to healing and understanding myself. I also started working with a therapist to work through some of my unmet needs. At it's core, Attachment Theory talks about how our most essential needs were met as children. Most people do have issues to work through as adults and unpack, as most HSPs had lots of needs that went unmet as kids.
Essential #3 – Build Secure Attachment Into All Your Relationships
Do some homework to get educated on how to build a secure attachment style. There are many books on Attachment Theory (see resource list below) that can help you better understand yourself, your childhood, and how to build in secure attachments to the people who mean the most to you. As you grow in your understanding of secure attachment, begin to treat your children, your spouse, your friends, and your extended family with the love, security, and attention they deserve.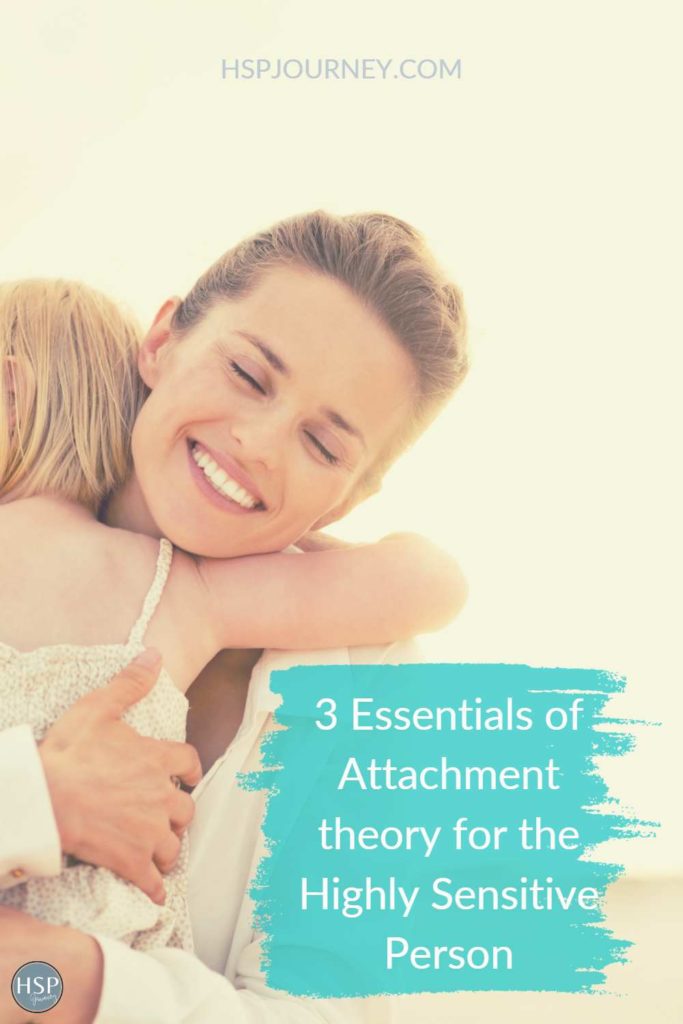 Recommended Books on Attachment Theory
Purchasing books on Attachment Theory to read and apply to your life can be a great way to grow. For those who love listening to books more than reading books, many of the suggestions below are available on Audible:
Here are a few additional articles to read on Attachment Theory and HSPs
Be sensitive, be free
*This post contains affiliate links and I will be compensated if you make a purchase after clicking on my links*