You may have heard about sensitivity in negative ways your entire life. This was mostly true for me until I came across the term, Highly Sensitive Person (HSP), at the age of 40. Called Sensory Processing Sensitivity (SPS) by researchers, this scientific term is frequently confused with another condition called Sensory Processing Disorder (SPD) which is a disorder that affects how your brain processes stimuli. You may be wondering, is HSP the same as SPS?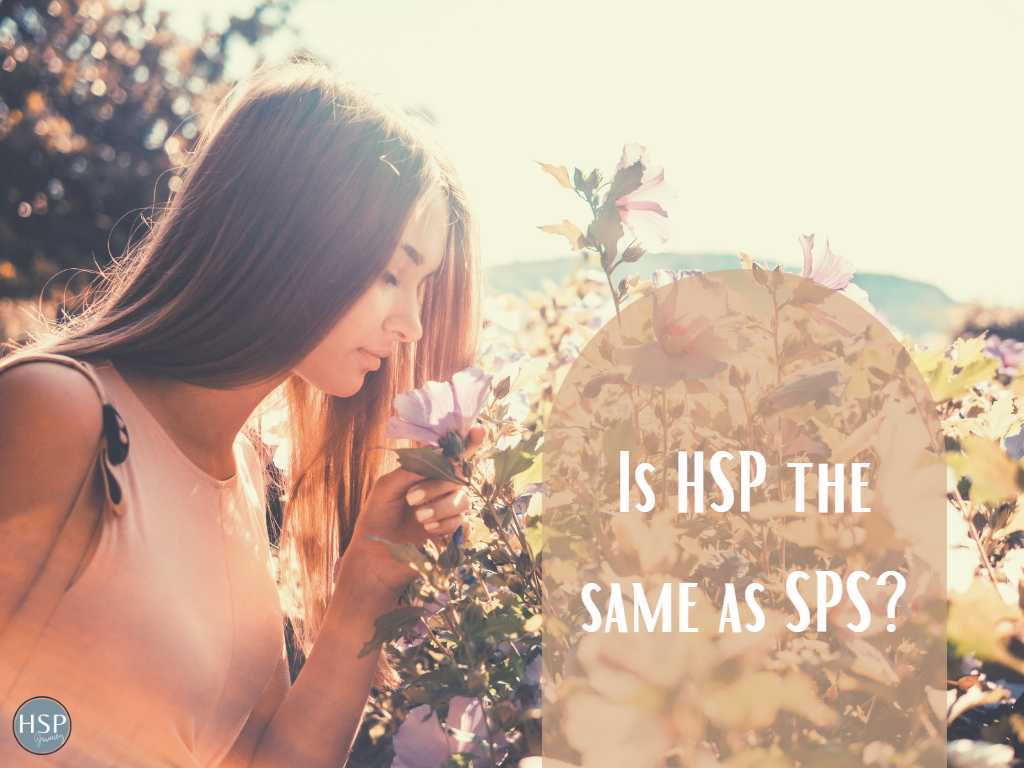 Table of Contents
What is a Highly Sensitive Person (HSP)?
HSP, or Highly Sensitive Person, is a term coined by a psychotherapist, researcher, and author, Dr. Elaine N. Aron. In her seminal book, The Highly Sensitive Person, she details her research findings that 15-20% of all people have traits that add up to increased sensitivity to their environment, stimuli, emotions, and depth of processing.
Most clinical researchers agree that HSP is the same as SPS.
What is Sensory Processing Sensitivity (SPS)?
Sensory Processing Sensitivity (SPS) is a biological trait (not a condition, disorder, or disease). Also, it is not scalable, you either have SPS or are an HSP, or are not. SPS is the same as HSP. Roughly 20% of the population has the SPS, or HSP, trait. The trait is equally found in men and women, but women typically reach out for therapy more than men because of social conditioning. Up to 70% of HSPs are introverted with 30% being extroverted (Nickerson Institute HSP Certification).
What are some commonalities between HSPs?
Many HSPS, which are the same as those with SPS, share some of the following commonalities:
Highly Creative
Writers
Artists
Musicians
Highly Organized
Intense Thinkers
Emotional
Caregivers
Social Workers
Healers
Pastors
Counselors
70% Introverted, 30% extroverted
What makes someone an HSP?
There are many different quizzes to self-diagnose if you are an HSP. I recommend that you take several of these quizzes as each sheds light on the trait in slightly different ways. You can ask yourself, do you feel things deeply? Do you have a robust and active inner life? Are you prone to feeling the emotions and energies of people you live and work with? Do you sometimes have trouble differentiating whether or not your feelings are your own or the feelings of others you are close to? Do you feel overwhelmed by bright lights, loud noises, crowds, being rushed, having too many events or activities, or not having enough downtime?
One thing I learned in my Nickerson Insitutue HSP Certification Course was that people either have the HSP trait or don't have it. Many people have high emotional intelligence but are not HSPs. Other people who've grown up in a household where there were HSPs have learned to act, speak, and conduct themselves in a sensitive-first manner, but are not HSPs. This can be very helpful as living with or being married to an HSP comes with nuanced needs.
How do I know if I'm a Highly Sensitive Person (HSP)?
This is a great question. Many people who are highly sensitive feel that they were not understood as children. They were frequently told they were too sensitive or cried too often. You can reference our list of HSP quizzes to see how you score and this can inform whether or not you are a Highly Sensitive Person.
How do I know if I'm a High Sensation Seeker (HSS)?
Some Highly Sensitive Persons find that they often get bored with the status quo. They seek unique and exciting experiences on a regular basis to be able to reach an experiential high that feeds into their work and relationships. This online quiz can be a good litmus test to find out if you're a High Sensation Seeker.
Be sensitive, be free
*This post contains affiliate links and I will be compensated if you make a purchase after clicking on my links*