There's lots of discussion in the highly sensitive community about the best jobs for Highly Sensitive People. It seems we've earned the self-imposed reputation for cultivating careers that work best for our need for quiet, self-directed, focused work. I've been a highly sensitive entrepreneur for 20 years (even though I didn't know about the HSP trait until a handful of years ago). Right out of college, I had experience cubicle life working in high-tech public relations. I knew that I would eventually go into business for myself.
Many experts on the HSP trait actually encourage Highly Sensitive People to go into business for themselves because they are able to craft their work environment, focus their work on things they care deeply about, and can have total control over how and when they work.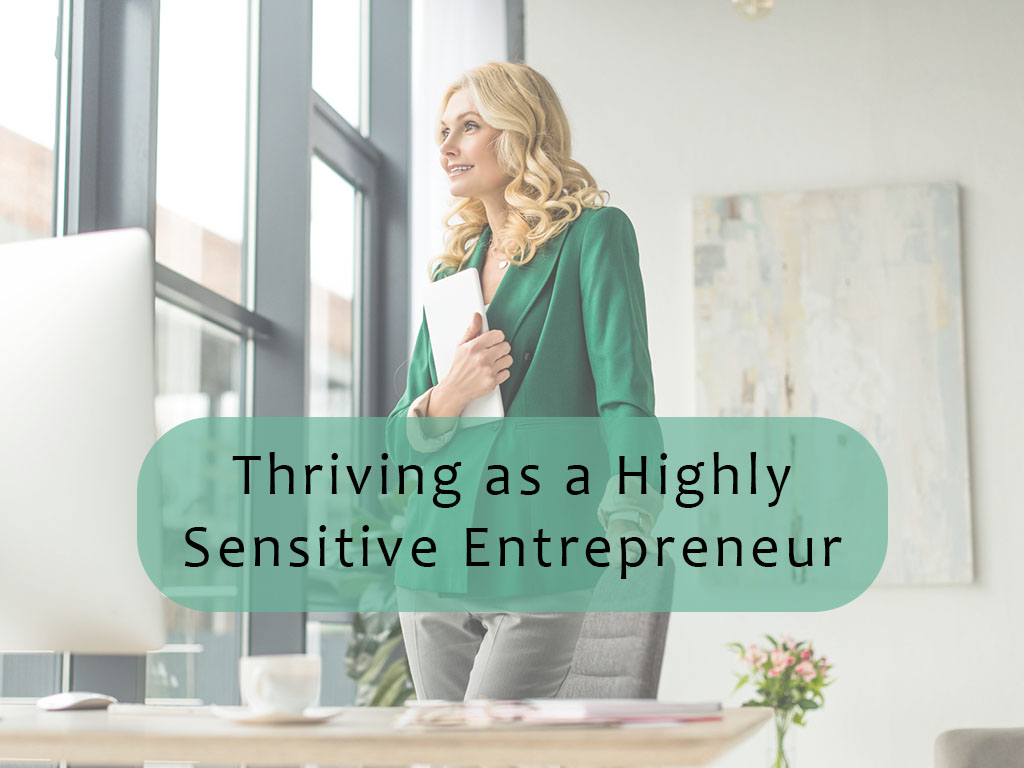 Table of Contents
HSP Entrepreneurs Can Avoid Office Frustrations
Cubicle life was okay for me–the cubicles were padded and about five feet tall and six feet square. It was a lovely amount of space with a built-in L-shaped desk. I brought a small CD player boom box (this was the 90s, y'all) with corded headphones to plug in and use for extra noise control. I could easily hide out in my cube with my headphones on and avoid excess noise, which always and still does distract me greatly. My desk was just far enough from the kitchen and not close to the bathroom (cue Bob from accounting every morning at precisely 9:17 am).
If you work in an office–whether for yourself or someone else–you'll want to negotiate where your desk is.
Do you have natural light? Are you near the elevator where people will be chatting it up just outside your door/cubicle throughout the day? Can you shut your door? Are you allowed to wear earbuds or noise-canceling headphones (I LOVE these Bose headphones and use them virtually everywhere, especially when vacuuming.)
What Should Highly Sensitive People Do?
If you don't want to work for someone else, working for yourself can be the way to carve out the perfect career in an environment that works best for you. Becoming an entrepreneur is easier than you may think. There are many resources available to you, and some of them are completely free.
Here's a quick list of ways to learn about entrepreneurship that are either free or low-cost:
Your Local Library: This is my FAVORITE resource and my go-to for virtually any subject I need to research. I use my library's online catalog to first search for the book, then I put a hold on the book and have it delivered to my preferred library (we have three in our city). When the book is in, I get an email to pick it up. Even better, if the title is available in audiobook or ebook format, I use Overdrive to download the item immediately to my phone or Kindle. Don't be afraid to check out every book you can find on say, freelance writing, so that you can learn as much as you can (can you say library binge?).
LinkedIn Learning: I recently learned that a perk of our city's library membership is a free version of LinkedIn Learning. You can sign up, then take any classes you want, which normally incur a monthly subscription fee with LinkedIn. Before you pay for this service, check your local library and see if you can get it for free. Then, enjoy research and taking online classes on everything from how to crochet to build websites to conquering writer's block. The sky's the limit on topics you can research and learn about. One of these ideas could lead to your self-employed career.
Small Business Development Center: America's SBDC is the association that represents America's nationwide network of Small Business Development Centers (SBDCs). Contact your local SBDC for no-cost business consulting and low-cost business training. I found a group in my local area and just finished a six-week SBDC business creator course with loads of resources. They also offer free business coaching, which is amazing.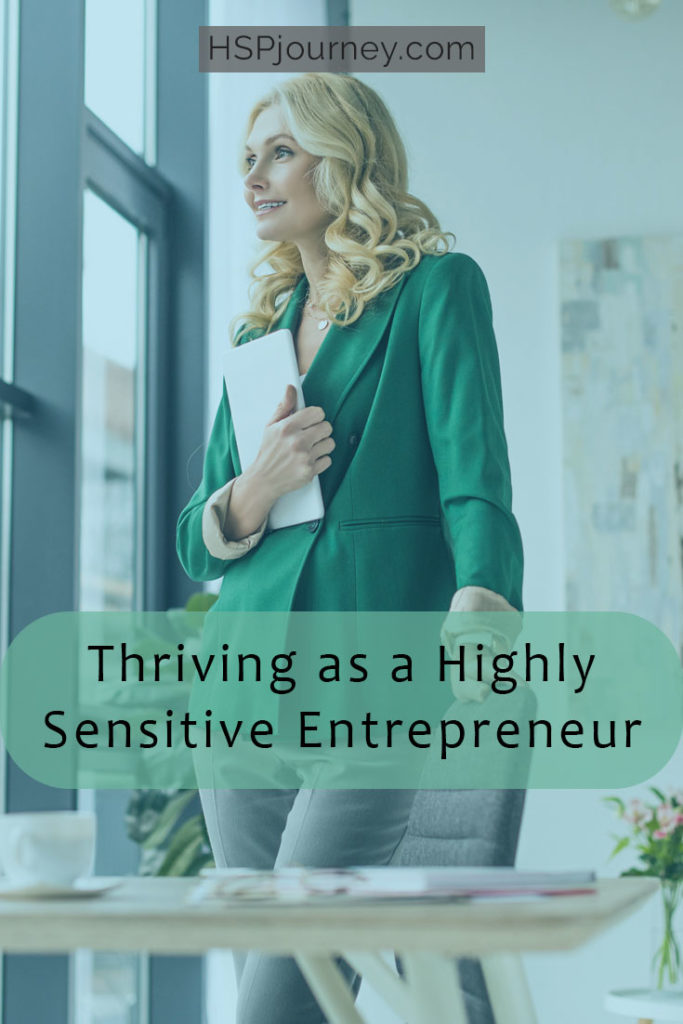 What Are Some Good Jobs for Highly Sensitive People?
These lists below are by no means exhaustive. These are a smattering of ideas to get your juices flowing.
Entrepreneurial endeavors that might be good for HSPs:
Freelance writer and copywriter
Freelance graphic designer
Freelance editor
Freelance proofreader
Marketing or content marketing consultant
Public Relations consultant
Therapist
Artist
Art teacher
Massage therapist
Teacher (teaching in public schools can present some challenges for HSPs)
Librarian
Computer scientist or engineer
Research professional
Virtually any profession can become a solopreneur option
Teacher (teaching in public schools can present some challenges for HSPs)
Librarian
Computer scientist or engineer
Research Professional
Analyst
Lawyer (certain types of law are less stressful, like contract law)
College professor
Pastor or ministry professional
Nonprofit professional
Theater production
Museum curation
One of my favorite career books, Do What You Are, has sold more than one million copies. This book uses the Meyers-Briggs personality test to help guide people to a career that might be best for them.
I discovered that I was wired to be an entrepreneur, or self-employed, early in my career. I only put in about four years doing the corporate grind as a PR professional before I moved out of the big city and opted for consulting from home. I couldn't have crafted a better home/work balance to raise my four kids. Now, I'll share how to thrive as a highly sensitive entrepreneur. All opinions are my own.
How to Thrive as a Highly Sensitive Entrepreneur:
#1 – Your Home Office Needs a Door
This might seem like a simple, obvious point, but if you are sensitive to noise, light, or the emotions and energies of other people in your household like many HSPs, having an actual room for an office is extremely valuable. When my kids were young, the only way I would have survived was to hand the kids over to my part-time nanny and shut my physical door. For us HSPs who have trouble blocking out the screaming child or dog barking at the UPS driver, the door can make all the difference in the world.
#2 – You Need to Set Boundaries with Work
If your office is in your bedroom, it can be difficult to carve the necessary boundaries needed to help you relax and fall asleep at night. For a time when we were in the first home we owned, we did not have enough bedrooms and my desk was adjacent to my bed. I quickly realized this wouldn't work long-term and we began making plans to move to a different house. For me, not spending hours on the work I do in my bedroom is the difference between sleeping and not sleeping. Whether your desk is in your bedroom or not, setting boundaries on when you'll work and when you won't are essential. When you work from home, sometimes home always feels like work. Since you survived Covid, I know you understand. Give your work some rest – perhaps don't work past 6 pm; or pick one or two days a week to work longer hours and three days a week to work shorter hours, or one night a week to work until dawn. It won't always be perfect, but setting limits for yourself will help you unplug and find joy and rest in your home environment.
#3 – You Need to Speak Kindly to Yourself
If you're a good friend to yourself, you can be a good friend to others. But treating yourself like a prisoner to your business isn't healthy and won't sustain you long term. Whether through mindfulness, positive self-talk, prayer or spirituality, or intentional quiet–being kind and encouraging to yourself as you run your home business is valid and necessary. Did you get 75% of everything on your list done this week? Celebrate. Take a nature walk or meet a friend for coffee. Did you have sick kids home, yet you still managed to get almost everything done? You're a rockstar. Put your feet up right now. Celebrating little wins is just as important as championing big wins–you matter, your work matters, and you'll be happier when you take time to stop and smell the roses.
Taking this advice to heart, you too can thrive as a highly sensitive entrepreneur.
Be sensitive, be free
*This post contains affiliate links and I will be compensated if you make a purchase after clicking on my links*