Table of Contents
Some days, it can be hard to find things to be grateful for. The baby is crying, your back hurts, and you had a fight with your partner last night and still haven't made up. This is life. However, often when we take time out to stop and truly appreciate the people around us, the life we have, and the opportunities we get each day, we have the power to turn the tides and change our perspective. Each year, November rolls around and we have a whole month where we can pause to spend a few extra minutes in gratitude each day. Because I adore this audience and am an HSP myself, I've created this unique and free gratitude journal for the Highly Sensitive Person.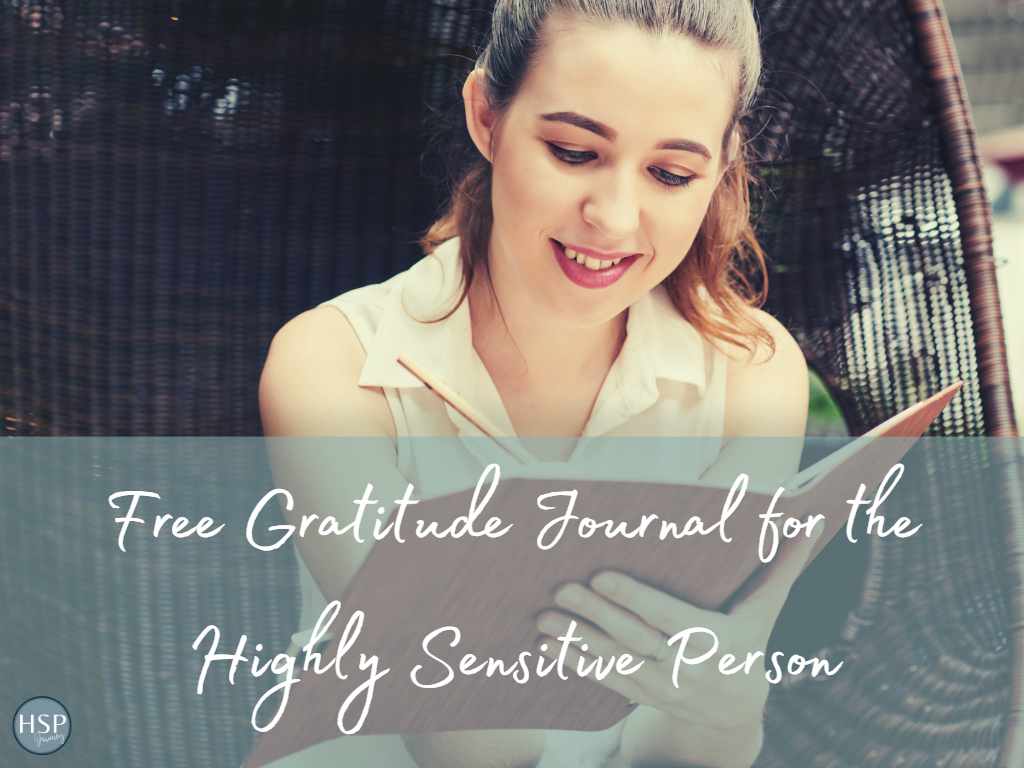 In the free gratitude journal for the Highly Sensitive Person, I've written five days of gratitude prompts for four weeks. Week one focuses on being grateful for your sensitivity, week two focuses on being grateful for your body, week three focuses on being grateful for your community, and week four focuses on being grateful for your home.
Gratitude is the healthiest of all human emotions. The more you express gratitude for what you have, the more likely you will have even more to express gratitude for.

Zig Ziglar
We have many advantages as HSPs. We notice many things others do not. We hear and see things that others often do not. We feel subtleties of the emotions in ourselves and others. We appreciate music and art in ways non-HSPs do not. We also hurt for others and the world around us in ways that are difficult at highly sensitive.
Taking Advantage of the Gratitude Journal for the Highly Sensitive Person
Sometimes, it can be difficult or overwhelming to add in something new to your already full day. While this free gratitude journal is being launched at the beginning of November (which is typically a month we Americans focus on gratitude because of our Thanksgiving holiday), this short eight-page printable PDF journal is not only simple and free, but it is short and sweet.
Hopefully, your self-care routine includes some daily down time with a hot drink, fuzzy blanket, and comfy spot to journal, pray, meditate, or read. This simple gratitude journal can be printed at home (it will print nicely if you select 'print 2-sided' from your printer settings), plus it has a fresh and clean uncluttered layout with lined sections for journaling what you're thankful for. It can be printed, started, or used by anyone, anytime, anywhere. It could even be used with older kids or within a small group of HSP. If you haven't started a brief, daily, self-care routine that includes centering, meditation, prayer, or gratitude, now is your time.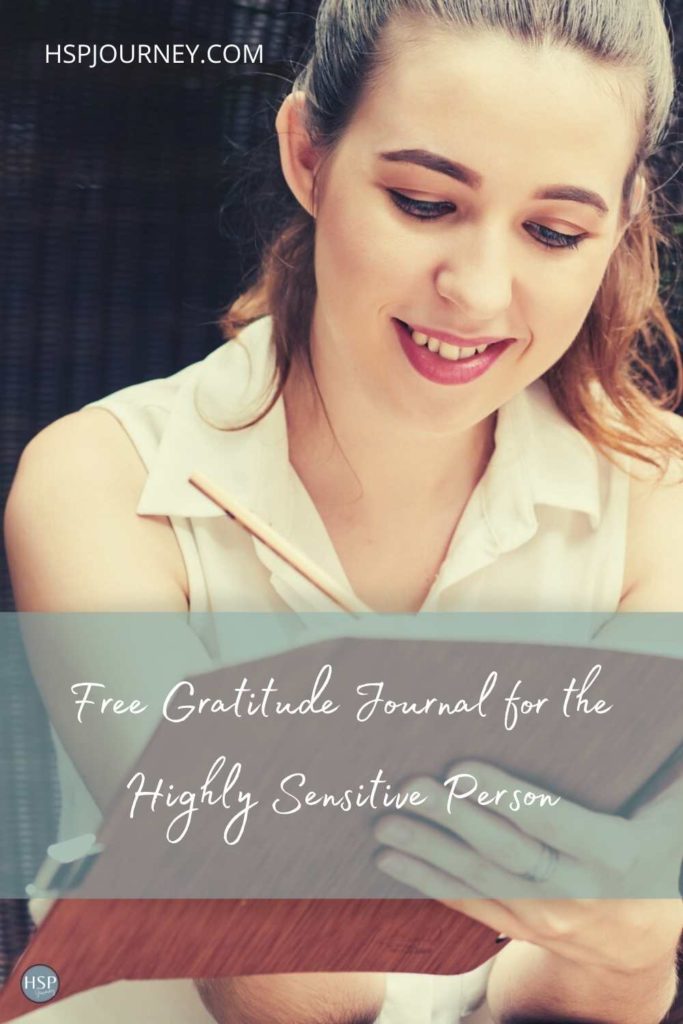 Nothing to Lose from Adding a Gratitude Practice
One way to look at this is that you don't have anything to lose from adding a gratitude practice into your life. Often, we HSPs have what's called the "pause and check" reflex. We want to avoid conflict, avoid failure, and avoid extra stress, so many Highly Sensitive Persons "pause" before agreeing to something new. We don't want to overcommit or say yes to something that might not work long term. Whether you print out this free gratitude journal and use it once a day, once a week, or once a month–it is totally up to you! You are in charge and you can decide to build gratitude into your life now or later. You decide.
One thing I know for sure is that you have absolutely nothing to lose by trying out a gratitude practice. HSPJourney.com has made it simple and easy to get going without stress or expectation.
Lastly, we do ask that you sign up for our Sensitive Weekly email in order to receive the free gratitude journal. As you know, most business provide freebies as a thank you for joining their email list. We want to be up front about this "ask" and as a thank you, will immediately send you the free journal via email which you can save to your computer for printing or viewing on your iPad or device. There is no obligation to stay on our email list and you may, of course, unsubscribe at any time. We follow all email rules and never rent or sell our list. Thank you for your support, your readership, and your care of fellow HSPs!
How do I know if I'm a Highly Sensitive Person (HSP)?
This is a great question. Many people who are highly sensitive feel that they were not understood as children. They were frequently told they were too sensitive or cried too often. You can reference our list of HSP quizzes to see how you score and this can inform whether or not you are a Highly Sensitive Person.
Be sensitive, be free
*This post contains affiliate links and I will be compensated if you make a purchase after clicking on my links*