Table of Contents
It can be hard to find your freedom in being highly sensitive. Before understanding the Highly Sensitive Person trait, I felt as though my sensitivity was a trap and something I couldn't handle well. I was afraid that I'd cry unexpectedly if someone criticized me at work. I was fearful that my boss would give me too many projects and I'd feel so quickly overwhelmed that I'd lose my cool. I avoided confrontation at all costs, knowing it would send me into a tailspin. Until I discovered the HSP trait in midlife, I had virtually no understanding of what it meant to be highly sensitive. Today, Finding your freedom as a Highly Sensitive Person is a reality within reach.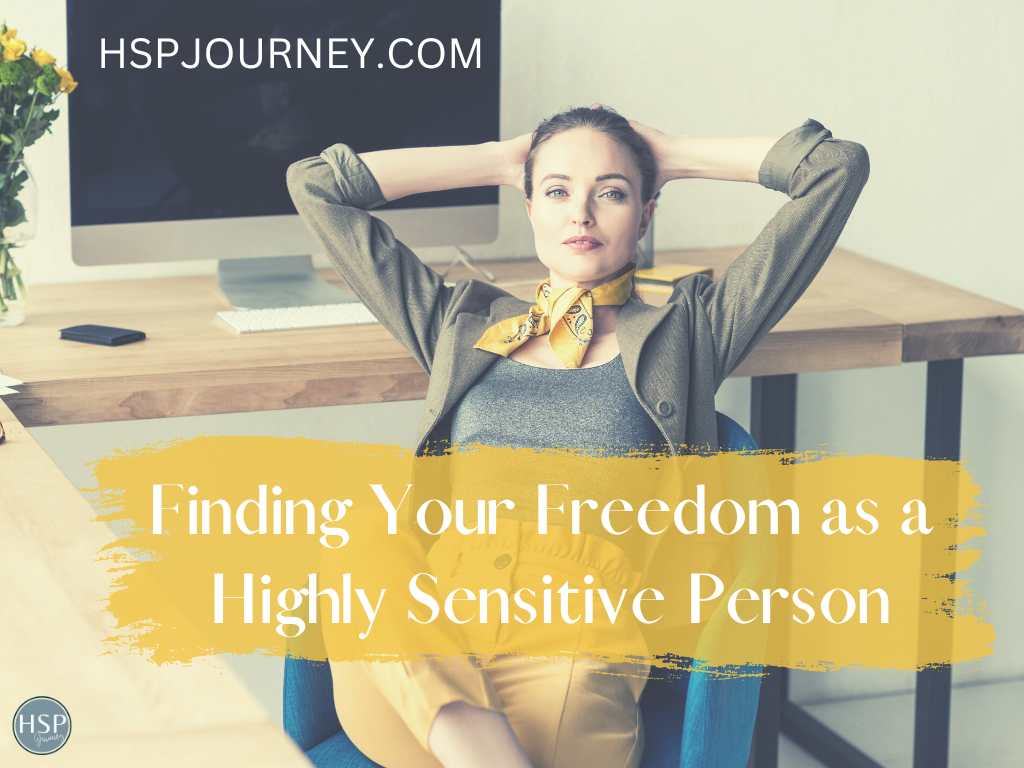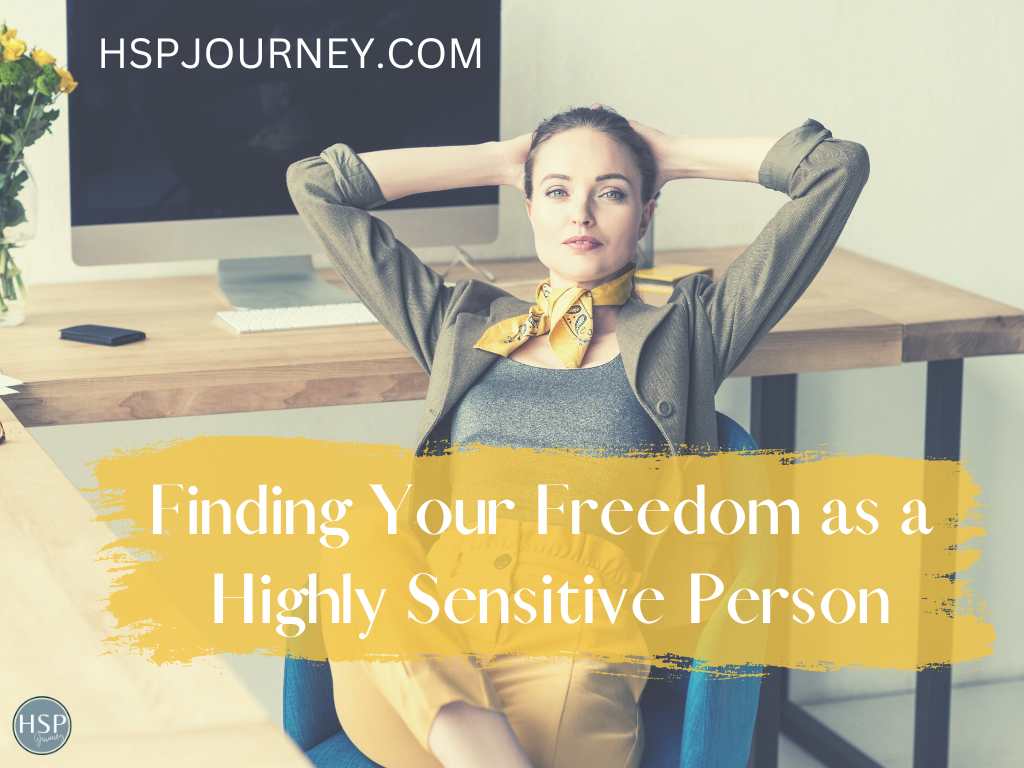 Goal #1 – Release the Shame – Finding your freedom as a Highly Sensitive Person
One of my favorite authors, Brene Brown, has spent the bulk of her career researching the topic of shame. Many of her books include data from this shame research in connection with perfectionism, leadership, and meaning.
"If you put shame in a petri dish, it needs three ingredients to grow exponentially: secrecy, silence, and judgment. If you put the same amount of shame in the petri dish and douse it with empathy, it can't survive."

Brene Brown
When we don't understand ourselves, we hear people's criticisms of us (including things our parents might have said), and absorb them as character flaws or defects. Many HSPs have a lifetime of sore spots including, "you're not strong enough," "you're too much," and "you need to be tougher." We accept these statements about ourselves throughout childhood and beyond, then find as adults we need to rewrite the script that pegs us as flawed or lesser than the non-HSPs in our lives.
In her book, The Empath Survival Guide, Dr. Judith Orloff shares the story of growing up in a family of medical doctors. While she followed in their footsteps and became a doctor as well, she knew that she was different and found her path to uncovering her sensitivity and using it to guide her medical and healing practice.
Quick Tips for Self-Care
You can acknowledge that you didn't get what you needed as a child and revisit those needs.
You can work with a therapist or coach to go through your unmet needs and find creative ways to meet those needs today.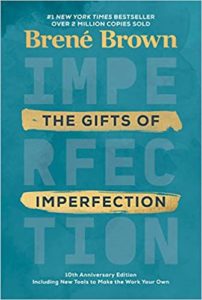 The Gifts of Imperfection by Brene Brown is a great book to order on the topic of warming up to imperfection as a good thing. If you haven't already read this masterpiece, consider purchasing Brene's 10th anniversary edition to add to your HSP book library.

–Lauren Hunter, Editor-in-Chief of HSPJourney.com
Goal #2 – Be Kind to Yourself – Finding your freedom as a Highly Sensitive Person
In her book, Give Yourself a Break, therapist Kim Frederickson shares that you need to be your very best and very own compassionate friend. When I first read this book, several years before I learned about the Highly Sensitive Person trait, I thought, all these years I've been relying on everyone around me to be kind and compassionate toward me and to treat my sensitivity as a tender gift. What I didn't realize is that this is what I needed to do for myself.
My eyes were opened to this self-care concept of speaking kindly to myself, loving myself, and appreciating my qualities as a Highly Sensitive Person. It takes time, but you too can build good habits to take care of yourself in a loving way and be kind to your sensitive soul. This type of self-loving can and will restore so much that was lost in earlier years. I promise you, you'll never regret being kind and tender toward yourself and it will bring about a newfound freedom that you deserve your own love, God's love (if you believe in a higher power), and in turn, you can experience a new kind of freedom that you didn't have before.
Quick Tips for Self-Care
You can speak kindly to yourself daily to remind yourself that you are loved, valuable, and creative.
You can listen to yourself when you are tired, weak, or worn down and treat yourself with value.
Goal #3 – Find Strength in Sensitivity – Finding your freedom as a Highly Sensitive Person
Finding your freedom through recognizing your strength in and through your sensitivity is incredibly powerful. Although many from the outside looking into the world of the Highly Sensitive Person (HSP) may think everyone is overly concerned about their sensitive natures, I have come to believe the opposite. It's in knowing my sensitivity that I'm able to cultivate strength. When I look back and see all the ways I've persevered through difficult circumstances despite my sensitive needs not being met, I find the future looks incredibly freeing because I know that taking care of my sensitive needs can and will unlock new kinds of strength inside me. Many HSPs I know are resilient, powerful, tender, compassionate, and incredible people. They are the best kinds of givers, willing to help, love, and care for those whom society tends to overlook.
We have the opportunity to step into a new kind of freedom and strength as HSPs. We know our power to intimately perceive the world around us with great detail and accuracy; we know ourselves well and can see through the fakers who lie and cheat their way through life; we also notice people around us in unique ways and can tend to those hurting or lost, championing those who need encouragement.
Quick Tips for Self-Care
You can take one or several HSP quizzes to uncover something new about your sensitivity trait. Treat this newfound information like gold and be thankful for how it added to your strength.
You can listen to yourself when you are tired, weak, or worn down and treat yourself with value.
Lastly, approaching your sensitivity as a gift and something that can and will help you through life is a wonderful way to add to your freedom as a Highly Sensitive Person. Accepting and loving your sensitivity is a wonderful gift.
Be sensitive, be free
*This post contains affiliate links and I will be compensated if you make a purchase after clicking on my links*