As a creative Highly Sensitive Person, overwhelm can often take over my landscape. However, I have found that incorporating creative self-care practices into my routine can help alleviate stress and calm my nervous system. In fact, you can curb HSP overwhelm through creativity. Even if you don't consider yourself a creative person, there are still ways to leverage creativity to reduce anxiety and feel more centered. In this section, I will share six of my favorite ways to creatively reduce overwhelm.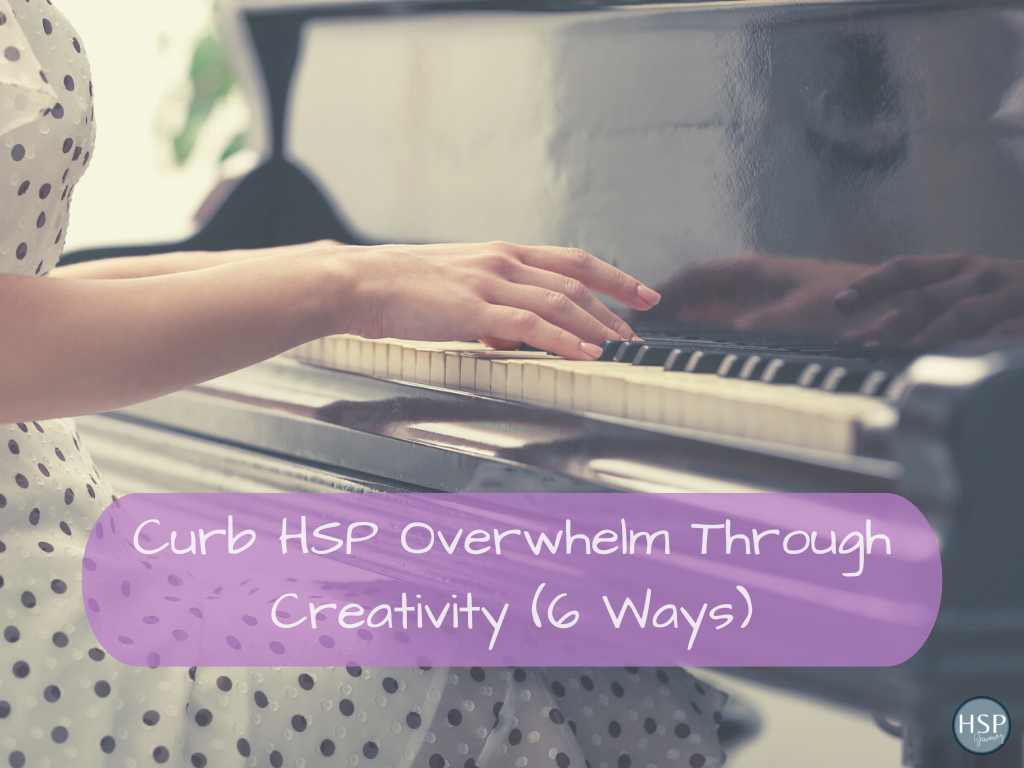 Table of Contents
#1 – Try Baking to Curb HSP Overwhelm Through Creativity
Baking is a stress-relieving activity that requires your attention and focus. I find it soothing and rewarding to take a simple recipe and turn it into something delicious. Even if you're not an experienced baker, you can try easy recipes like blueberry muffins with only seven ingredients to give yourself a break and reduce anxiety.
#2 – Musical Expression to Curb HSP Overwhelm Through Creativity
Music can be a powerful tool for self-care, even if you're not a musician. I enjoy listening to peaceful piano music, movie soundtracks, or Lo-fi beats while I work to keep me focused and calm. If you are a musician, taking a break from work to express yourself can help reduce stress. Consider taking up an instrument, buying a singing bowl, or creating soothing playlists on free services like YouTube or Spotify. I even shared an original song for a women's tea event of 400 at a local church.
#3 – Creative Journaling to Curb HSP Overwhelm Through Creativity
Journaling is an excellent way to process your thoughts and emotions. Combining the use of colored pencils or markers along with words in a lined or unlined journal can make it even more creative. You can make your journal full of self-expression or keep it basic. I like to capture notes from podcasts, sermons at church, interesting things friends say in conversation, notes from therapy sessions, as well as my own thoughts and ideas–and poetry when I'm inspired. The more I process the world around me, the better I can decrease my stress and calm down when I get worked up or emotional.
#4 – Try Painting to Curb HSP Overwhelm Through Creativity
In our digital world, it can be refreshing to go back to basics and pick up painting as a way to reduce stress and express yourself creatively. A small investment in a tabletop painting kit can make it simple to set up a small painting studio on your kitchen table or in a corner. You can search for an image online to copy or watch a painting tutorial on YouTube for inspiration.
#5 – Watch Something Funny to Curb HSP Overwhelm Through Creativity
Relaxing on the couch with a funny movie or TV show can be a great way to unwind. Engaging with something funny and laughing out loud is always good medicine and can get your creative juices flowing. Enhance the activity with some self-love by getting into your comfiest PJs and making some tea.
#6 – Peaceful Coloring to Curb HSP Overwhelm Through Creativity
Adult coloring books have become a popular trend in recent years. You can find a coloring book on almost any topic, from animals to inspirational quotes. Leave one by the couch along with a set of colored pencils so that you can do something relaxing at a moment's notice. You can even invite a child or spouse to join you in your relaxing activity.
Incorporating creative self-care practices into your routine can help reduce stress and calm your nervous system. Whether it's musical expression, baking, painting, journaling, coloring, or watching something funny, find what works for you and make it a regular part of your routine.
Free HSP Webinar on Sensory Overload
Sensory Overload tends to be one of our biggest challenges as HSPs. It is when our senses take in more information than our brain can keep up with processing. You might be surprised that it is often the culprit of symptoms of emotional reactivity, anxiety, irritability, sleep issues, exhaustion, and even loss of productivity, creativity, and focus. What makes it extra hard is that the world isn't set up for those of us with high sensitivity. Have you been challenged by your sensitivity and labeled as "too sensitive" or "overly emotional"? Do you know how Sensory Overload impacts you? Join me to learn more and uncover solutions that will help you thrive to your fullest level of wellness.
Sensory Overload & The Highly Sensitive Person Webinar with Julie Bjelland
How does creativity calm the nervous system?
Engaging in creative activities has been shown to have a calming effect on the nervous system. This is because creativity can help to reduce stress and anxiety, which can be major contributors to nervous system activation. When we engage in creative activities, such as painting, writing, or playing music, we are able to focus our attention on the task at hand, which can help to quiet the mind and reduce feelings of stress and anxiety.
Additionally, creative activities can also stimulate the release of dopamine and other feel-good chemicals in the brain, which can help to elevate mood and reduce feelings of anxiety and depression. This can lead to a sense of relaxation and calmness in the body, which can be beneficial for overall health and well-being.
Overall, creativity can be a powerful tool for calming the nervous system and promoting a sense of relaxation and well-being.
How does creativity help anxiety?
Creativity can be a helpful tool for managing anxiety in three ways:
#1 – Distraction: Engaging in creative activities can help to distract the mind from anxious thoughts and worries. When we focus on creating something, we shift our attention away from our anxious feelings and onto the task at hand.
Self-expression: Creative activities can provide a way to express our emotions and feelings in a safe and non-judgmental way. This can be particularly helpful for individuals who struggle to verbalize their emotions or who feel uncomfortable sharing their feelings with others.
#2 – Mindfulness: Many creative activities, such as painting or drawing, require a certain level of focus and concentration. This can help to promote mindfulness, which is a state of being present in the moment and fully engaged in the activity at hand. Mindfulness has been shown to be an effective tool for reducing anxiety.
#3 – Sense of accomplishment: Completing a creative project can provide a sense of accomplishment and pride, which can help to boost self-esteem and reduce feelings of anxiety.
Overall, creativity can be a powerful tool for managing anxiety by providing a way to distract the mind, express emotions, promote mindfulness, and boost self-esteem.
Be sensitive, be free
*This post contains affiliate links and I will be compensated if you make a purchase after clicking on my links*