Table of Contents
Parenthood is a nonstop, relentless, physically, emotionally, and mentally demanding job, so when Highly Sensitive Persons (HSP) become parents, they can find that their sensitivity can start to feel like a heavy burden. Over the years, nearly all highly sensitive parents that I've worked with has admitted to feeling overwhelmed, exhausted, and emotionally and physically spent. This might be your story as well.
Understanding the challenges that highly sensitive parents face can be incredibly helpful. Recognizing and accepting our sensitivity helps us to make meaningful changes – adding support, setting realistic boundaries, and engaging in self-compassion – to make the parenthood journey easier on ourselves.That said, it is equally important for highly sensitive parents to learn to recognize the strengths of being an HSP so that they can celebrate and leverage these gifts.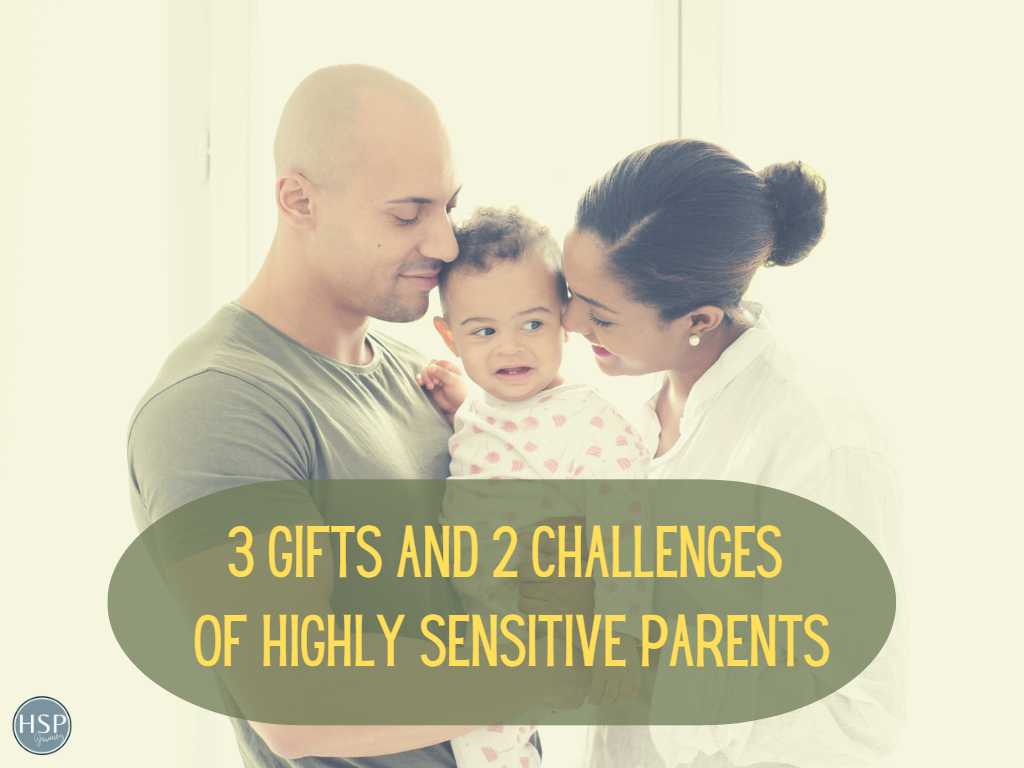 So, what are the gifts and challenges of being a highly sensitive parent? I'm going to share my favorite three gifts of being highly sensitive parents followed by the two biggest challenges I see highly sensitive parents struggling with as I've seen in my practice:
Here are 3 Gifts of Highly Sensitive Parents:
#1 Gift – Highly Sensitive Parents Feel a Deep Connection with our Children
Highly sensitive parents tend to intuitively know what their child is feeling or what they need. One of the many gifts of the HSP trait is our ability to deeply empathize, that is, to notice and understand the emotions of others. When we can notice and name our children's emotions, we help them to develop emotional intelligence. Furthermore, we can model for them how to manage difficult emotions.
For example, if we notice our child furrowing their brow and crossing their arms, we might observe "Hey, it looks like you might be feeling upset or frustrated. Do you want to talk about it?" We then can suggest ways to manage their emotion, such as "do you think listening to some music or having a cuddle would help you to feel better?"
#2 Gift – Highly Sensitive Parents are Motivated to Experience Beautiful Things with our Children
Again, the ability of the HSP to notice subtle stimuli comes in handy here. We notice subtleties – the scent of rain in the air, the harmony underlying the melody, and the beauty of two complementary colors side by side. Children, too, tend to be fascinated with and moved by beautiful things (although they may perceive beauty differently than we do). When I am able to notice the exquisite beauty of a dew-laden spiderweb, or the vibrancy of a sunset, to observe this with my children, and to see the awe and wonder on their faces, I am so grateful for the gift of my sensitivity.
#3 Gift – Highly Sensitive Parents Are Able to Reflect Meaningfully About the Kind of Parent We Want to Be
HSPs are deep processors, meaning that we reflect deeply on a variety of topics. While this can lead to frustration, it can also make us very thoughtful and intentional about the type of lives we want to lead and the type of parents we want to be. HSP parents tend to be fairly self-aware, and are unlikely to approach parenting carelessly or thoughtlessly. Rather, we consider how we want our children to feel, the type of schedule that might work best for our family, and the values and priorities that we want to model for our children. This self-awareness and thoughtfulness is an amazing gift that we can give to our children – and it's thanks to our sensitivity that we are able to offer it.
2 Challenges of Highly Sensitive Parents
#1 Challenge – Highly Sensitive Parents Often Experience Sensory Overstimulation
Being easily overstimulated is one of the hallmarks (and greatest challenges) of being an HSP. As parents, we are constantly dealing with child-related sensory inputs including toy-cluttered floors, a child crying or fussing, one or more children needed attention at the same time, or any number of demands that happen in succession without a moment of pause. While this is normal with parenting small children, it can rough for HSP parents to cope with the ever-constant demands placed on them. Of course, some of these sensory inputs can be positive, too – a sweet cuddle, our child saying "mama" for the first time, or the beauty of their little face.
For HSPs, though, even generally pleasant sensations can become too much, and can cause us to feel overstimulated and overwhelmed. When we don't get an opportunity to reduce our overwhelm, such as by taking a break, it can lead to a variety of challenges including anxiety, panic, anger, and more. With that in mind, it is critical to take small breaks when we can – going for a peaceful walk outdoors, popping in earplugs for a few moments of silence, or asking our partners or support people to watch our little ones so we can lie down in a quiet room.
If you feel guilt around needing or wanting some time away from your child, please take time to reflect on how taking time apart can benefit your well-being, and by extension, that of your child. The old phrase "put on your own oxygen mask first" rings true here: you will best be able to care for your child(ren) if you are taking good care of yourself.
#2 Challenge – Highly Sensitive Parents Often Feel Guilt and Shame
While guilt and shame are not unique to highly sensitive parents, I have noticed that many parenting HSPs have difficulty being self-compassionate. We often hold ourselves to a high standard, and this becomes particularly true when we are trying to be "the best parents we can be." Additionally, because of our empathy, we easily notice when others are upset or distressed and seek to resolve tension or pain wherever we see it.
While our empathy can be a gift to others, it can also cause HSPs to put immense pressure on ourselves to respond to a variety of demands in a short period of time. Let's say you are trying to finish a project for a work deadline, run several loads of laundry, and attend to your crying child all at the same time. While this would exhaust anyone, HSPs in particular are prone to feeling like they are "a failure" at being an employee, a partner, or a parent when they cannot meet all of those needs quickly and effectively, leading to feelings of guilt and shame.
It can be life-changing for HSP parents to give themselves permission to engage in one activity at a time, and to learn to release other pressures as best they can – at least for that moment.
Being a Highly Sensitive Person can certainly make certain aspects of parenthood more challenging – we might find parenting emotionally stressful, or find ourselves physically overstimulated by the tasks of parenthood.
The wonderful news is, your sensitivity also has many powerful gifts to offer both yourself and your children – it's time to notice and celebrate them!
If you're looking for more resources or support around being a Highly Sensitive Parent, including Amy's signature program for HSP Parents, The Highly Sensitive Parenthood Course, you can find them at www.highlysensitiveparenthood.com.
Be sensitive, be free
*This post contains affiliate links and I will be compensated if you make a purchase after clicking on my links*